Three people were killed and six others injured when a Russian missile hit a five-storey apartment building in a city in south-eastern Ukraine, police said.
President Volodymyr Zelensky said several floors of the building were destroyed in the strike, which occurred while it was dark.
The State Emergency Service said in an online statement that it had rescued 11 people so far.
Zaporizhzhia is a large city that had a population of more than 700,000 before Russia's invasion of its neighbour just over a year ago. It is the administrative capital of the partially occupied Zaporizhzhia region, which is home to Europe's largest nuclear plant.
The war largely slowed to a grinding stalemate during the winter months.
Mr Zelensky said Russia "wants to turn every day for our people into a day of terror". He added: "But evil will not reign in our land."
Meanwhile, a fierce battle continued for control of Bakhmut, a key eastern stronghold where Ukrainian officials say they might strategically withdraw.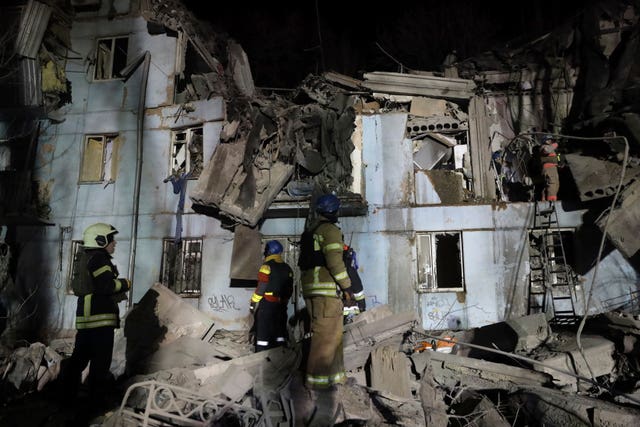 Bakhmut was among cities and villages in the Donetsk region that came under Russian shelling, according to the General Staff update.
Taking the city could not only give the Russian forces a rare battlefield gain after months of setbacks but might rupture Ukraine's supply lines and allow the Kremlin's forces to press towards other Ukrainian strongholds in Donetsk.