The Norwegian government apologised on Thursday to reindeer herders after activists spent a week protesting against a wind farm they say hinders the rights of the indigenous Sami people in central and Arctic Norway.
"I have apologised to the reindeer owners on behalf of the government," oil and energy minister Terje Aasland said after meeting the speaker of the 39-seat Sami parliament, Silje Karine Muotka.
"They have been in a difficult and unclear situation for a long time. I'm sorry about that," he said.
Ms Muotka said that receiving an apology had been "a wish from my side".
"It is crucial for us to move forward. It is important that we now have a common perception that we are dealing with a human rights violation," she said after the meeting, which was scheduled to last for an hour but took 90 minutes.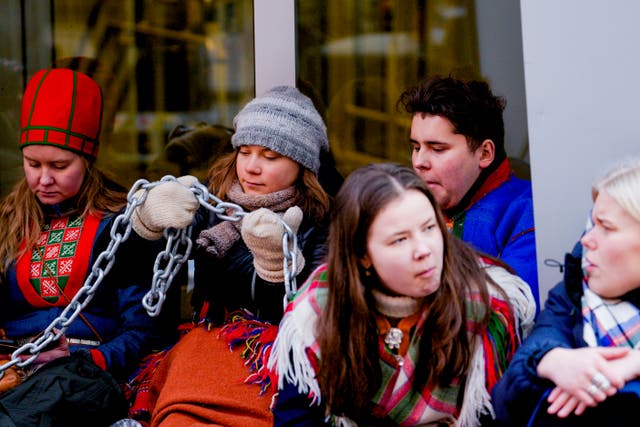 Ms Muotka will next week meet Norwegian prime minister Jonas Gahr Store, who will travel to northern Norway for a previously planned visit.
The activists, mainly teenagers, began their protest a week ago and have blocked the entrance to several ministries in Oslo, Norway's capital, since Monday.
On Thursday, police carried activists away from the finance and culture ministries, while others sang a Sami chant.
Police told Norwegian broadcaster NRK that the activists who were taken away will be fined.
At the centre of the dispute are 151 turbines at Europe's largest onshore wind farm, in the Fosen district, some 280 miles north of Oslo.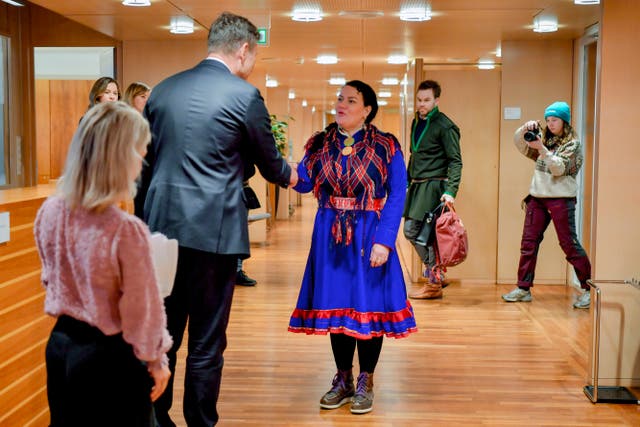 They say the wind farm is still operating despite an October 2021 ruling by Norway's supreme court that said the construction of wind turbines violated the rights of the Sami, who have used the land for reindeer for centuries.
After the supreme court ruling, the Norwegian ministry of petroleum and energy asked the owners of the two wind farms to establish whether measures could be taken to ensure reindeer herding near the turbines.
But the Sami have refused to take part in such a process.
Several of the activists protesting in Oslo wore the traditional bright-coloured clothing of the Sami, whom international organisations recognise as Europe's only indigenous people because of their unique cultural roots that predate the creation of nation states.
Formerly known as the Lapps, the Sami are believed to have originated in Central Asia and settled with their reindeer herds in Arctic Europe about 9,000 years ago.
They traditionally lived in Lapland, which stretches from northern parts of Norway through Sweden and Finland to Russia.
Across the Arctic region, the majority live on the Norwegian side of the border. Between 40,000 and 60,000 Sami live in central and northern Norway.
They once faced oppression of their culture, including bans on the use of their native tongue.
Now they have their own parliaments, schools, newspapers and broadcasts in their own language on national radio and television.
The nomadic people live mostly modern lifestyles, but still tend reindeer.