A meeting of top diplomats from the Group of 20 industrialised and developing nations has ended in New Delhi without a consensus on the Ukraine war, India's foreign minister said.
Subrahmanyam Jaishankar said there were "divergences" on the issue "which we could not reconcile as various parties held differing views".
"If we had a perfect meeting of minds on all issues, it would have been a collective statement," Mr Jaishankar said.
He added that members agreed on most issues involving the concerns of less-developed nations, "like strengthening multilateralism, promoting food and energy security, climate change, gender issues and counter-terrorism".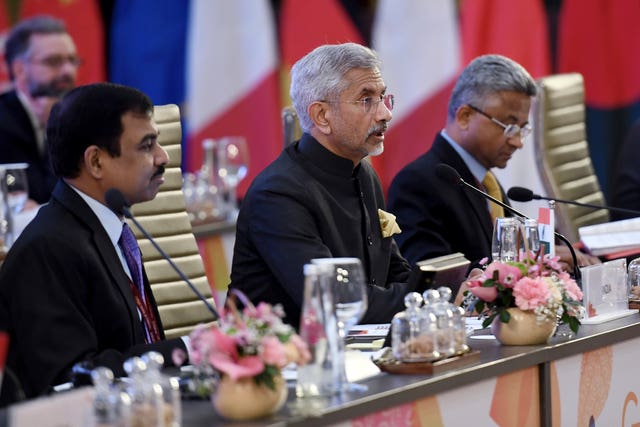 And while others, including US secretary of state Antony Blinken, chose to highlight their positive roles in addressing world crises, the divide was palpable.
Last week, India was forced to issue a compromised chair's summary at the conclusion of the G20 finance ministers meeting after Russia and China objected to a joint communique that retained language on the war in Ukraine drawn directly from last year's G20 leaders summit declaration in Indonesia.
In a video address to the assembled foreign ministers in New Delhi, Indian prime minister Narendra Modi urged the members not to allow current tensions to destroy agreements that might be reached on food and energy security, climate change and debt.
"We are meeting at a time of deep global divisions," Mr Modi told the group, which included Mr Blinken, Chinese foreign minister Qin Gang and their Russian counterpart Sergei Lavrov, whose discussions would naturally be "affected by the geopolitical tensions of the day".
"We all have our positions and our perspectives on how these tensions should be resolved," he said, adding: "We should not allow issues that we cannot resolve together to come in the way of those we can."
He lamented that the two main goals of the post-Second World War international order — preventing conflict and fostering cooperation — were elusive. "The experience of the last two years, financial crisis, pandemic, terrorism and wars clearly shows that global governance has failed in both its mandates," he said.
Mr Jaishankar then addressed the group in person, telling them that they "must find common ground and provide direction".
Mr Blinken, according to remarks released by the State Department, spent much of his time describing US efforts to bolster energy and food security but he also told the ministers pointedly that Russia's war with Ukraine could not go unchallenged.
"Unfortunately, this meeting has again been marred by Russia's unprovoked and unjustified war against Ukraine, deliberate campaign of destruction against civilian targets, and its attack on the core principles of the UN Charter," he said.
"We must continue to call on Russia to end its war of aggression and withdraw from Ukraine for the sake of international peace and economic stability," Mr Blinken said. He noted that 141 countries had voted to condemn Russia at the United Nations on the one-year anniversary of the invasion.
However, several members of the G20, including India, China and South Africa, chose to abstain in that vote.