Nigeria's opposition has demanded a revote for the country's presidential election, where the partial results show an early lead for the ruling party.
At a press conference in the capital Abuja, the three main opposition parties said the election was an insult to democracy and called for Nigeria's election chief to resign.
"The conduct of the 2023 election has been marred by widespread violence, rigging, intimidation of voters, doctoring of results and violation of the laid down electoral process, which was communicated by the national electoral body," said Julius Abure, chairman of the Labour Party.
While the press conference was taking place, dozens of protesters took to the streets of Abuja and in the southern Delta state, accusing the election commission of disenfranchising voters.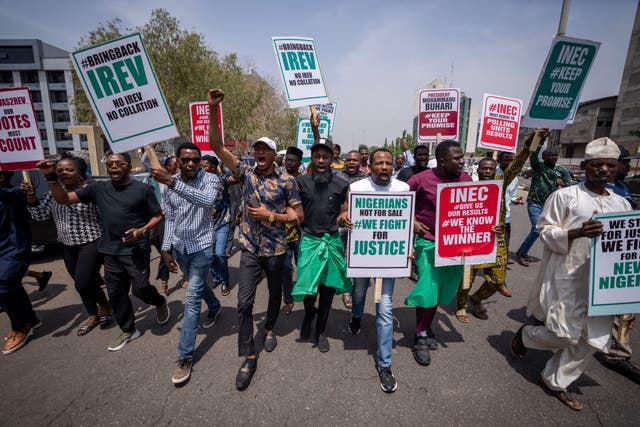 The ruling party – the All Progressives Congress – candidate Bola Tinubu is in the lead, winning six states, with the main opposition candidate from the Peoples Democratic Party, Atiku Abubakar, trailing closely with five.
Peter Obi of the Labour Party, a surprise leading candidate in what is usually a two-horse race, has won three states after a strong showing in polls before the elections.
In order to win, the candidate who leads the popular vote must also win at least a quarter of the votes in two-thirds of the states and Abuja.
Parties have three weeks to appeal against results, but an election cannot be invalidated unless it proves that the national electoral body largely did not follow the law and conducted actions which could change the final result.
The ruling party has asked the opposition to accept defeat and not cause trouble.
"We call on Atiku Abubakar and Peter Obi to emulate former president Goodluck Jonathan by conceding defeat. This election has already been won by our candidate, according to the results declared at the collation centres in the state," said Dele Alake, a spokesman.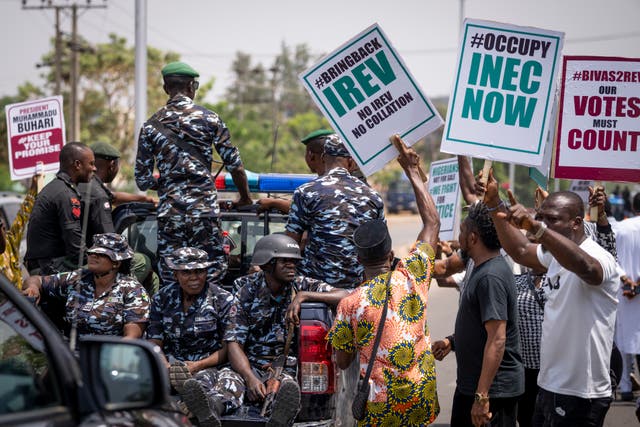 The opposition said the delay in uploading results from each of Nigeria's 176,000 voting units to the electoral body's portal made room for irregularities.
Nigeria's electoral body dismissed the call for a new election and said that the results so far point to a free, fair and credible process.
"Aggrieved parties are free to approach the courts to ventilate their concerns and wait for the matter to be resolved. Making inciting comments capable of causing violence or unrest is unacceptable," said Rotimi Oyekanmi, a spokesman for the election chief, in a statement.
The opposition's call has raised concern about growing tensions ahead of May when the new government is meant to be sworn in.
"If elections are cancelled and we have to start over again, May 29 may no longer be sacrosanct, which might lead to the declaration of a state of emergency and an interim national government," said Hassan Idayat, head of the Centre for Democracy and Development, Nigeria's largest democracy-focused group.