A Chinese scientist who sparked an ethical debate with claims he made the world's first genetically edited babies hopes to now research rare hereditary diseases in Hong Kong.
He Jiankui shocked the world in 2018 when he announced he had altered the embryos of twin girls, with many in the scientific community criticising his work as unethical.
He was convicted by a mainland Chinese court in 2019 of practicing medicine without a license and sentenced to three years in prison with a fine of three million yuan (£367,548).
He said he will consider working in Hong Kong if there is an appropriate opportunity and plans to research gene therapy for rare hereditary diseases.
"My scientific research will comply with the ethics codes and international consensus on scientific research," he said at a brief press conference.
He's announcement in 2018 sparked a global debate over the ethics of gene editing. In interviews, he said he had used a tool called Crispr-cas9 to try to disable a gene that allows HIV to enter cells in a bid to give the babies the ability to resist Aids.
The Crispr-cas9 tool has been tested elsewhere in adults to treat diseases, but many in the scientific community criticised He's work as medically unnecessary and unethical partly because any genetic changes could be passed down to future generations.
In convicting him in 2019, the Chinese court in Shenzhen said he had not obtained qualifications as a doctor, had pursued fame and profit, deliberately violated Chinese regulations on scientific research and crossed an ethical line in both scientific research and medicine.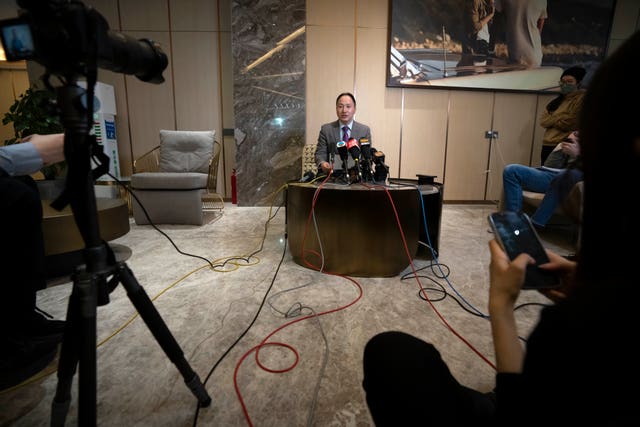 He was released last April and invited to speak at the University of Oxford next month. But he wrote on Twitter this month that he was not ready to talk about his experiences over the last three years and decided to cancel the visit.
He invited about six media organizations to his news conference on Tuesday but left after reading a statement for about two minutes. He did not respond to questions as he left.
In a later written response, he said he plans to form an advisory committee on ethics to vet his future work and make sure the process is open and transparent.
He said he plans to research Duchenne muscular dystrophy, a genetic disorder he said often causes people to die of heart and lung failure when they are about 20 years old. No medicine can cure the disease and gene therapy may help, he said.
"We hope to use AI tools to evolve the adeno-associated virus capsids to improve the efficiency of gene therapy and largely lower the costs of gene therapy so as to make it affordable for each family," he said.
In Hong Kong, the granting of a visa to He under a new programme to woo global talent raised concerns recipients may have criminal records.
Hong Kong labour minister Chris Sun refused to comment on individual cases but admitted applicants did not need to disclose any criminal record in the application process. He said applicants will have to do so starting on Wednesday.