Authorities in the Philippines are working to verify whether the wreckage of a small plane seen near a restive volcano crater is from a Cessna that went missing with four people on board over the weekend.
The Cessna 340, which was bound for Manila, vanished after taking off from Albay province south-east of the capital on Saturday morning with two Filipino pilots and two Australian passengers.
The Australians were working for a geothermal power company, officials said.
Mayor Carlos Baldo of Albay's Camalig town and other officials told reporters on Sunday that, during an aerial search, authorities spotted the suspected wreckage, including the tail, scattered about 1,150 feet from the crater on the south-western slope of Mayon Volcano but there was no sign of people.
Eric Apolonio from the government's civil aviation authority said experts and investigators from the agency will have to examine the wreckage to determine if it is the missing Cessna plane with registry number RP-C2080 and to determine the fate of the four people on board.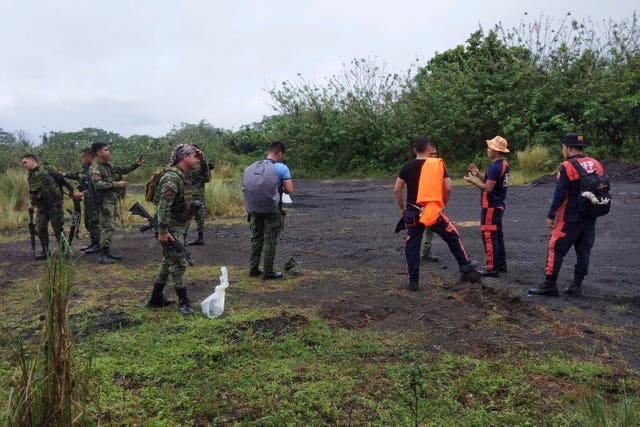 The search teams would have to be closely monitored by volcano experts and local officials given the restiveness of Mayon, one of the country's 24 active volcanoes.
"It's a very risky operation," Philippine Institute of Volcanology and Seismology director Teresito Bacolcol said. "It's a race against time and it's a matter of life and death but there's also the danger of rockfalls and volcanic lahar."
Rescue contingents could enter a permanent danger zone 3.7 miles around the volcano because "it's an extraordinary situation", but the search and rescue should be carried out by well-trained experts, who should be backed up by standby emergency contingents and made aware of the high risks involved, Mr Bacolcol said.
A popular tourist attraction because of its near-perfect cone, Mayon last erupted in 2018, displacing tens of thousands of villagers.
It is currently under the second of five volcano alert levels, meaning volcanic earthquakes, steam and gas emissions, ground deformation and intermittent ash and steam blasts have been sporadically detected. Alert five means a major and deadly volcanic eruption is underway.
Separately, a single-engine Cessna plane that went missing on January 24 with six people on board in the northern Philippine province of Isabela is still missing. Officials said a search for the plane is continuing on and off, depending on the weather, in a remote mountainous hinterland in Isabela.