Ukrainian President Volodymyr Zelensky has urged Western allies to quicken their military support for Ukraine, warning at a major international security conference that delays would play into Russia's hand as the invasion approaches its first anniversary.
"There is no alternative to speed, because it's speed that life depends on," Mr Zelensky told the Munich Security Conference in Germany on Friday.
About 40 heads of state and government, as well as politicians and security experts from almost 100 countries, including the United States, Europe and China, were due to attend the three-day gathering.
"It's not just about Ukraine. The point is Goliath must lose and there is no alternative to this," the Ukrainian leader said by video link. "Because the Kremlin can break the security and peace of all who are represented here in Munich."
Mr Zelensky vowed that his country would ultimately prevail over Moscow's aggression but warned that Russia "can still destroy many lives".
"That is why we need to hurry up," Mr Zelensky said. "We need the speed."
For the first time in two decades, conference organisers did not invite Russian officials to Munich. Western countries have sought to isolate Russia diplomatically over the invasion of Ukraine that began on February 24 2022.
German Defence Minister Boris Pistorius said Russia's war in Ukraine would overshadow the proceedings. Western officials and analysts say the conflict is approaching a critical phase as it enters its second year next week.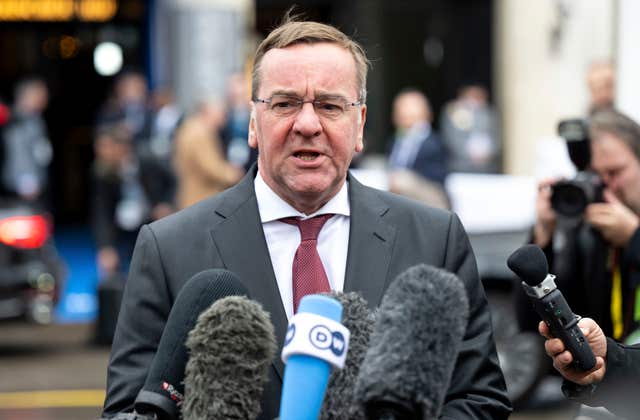 US Vice President Kamala Harris was set to join the leaders of France, Germany and the UK at the Munich conference.
At the same conference last year, held just days before Russian President Vladimir Putin sent troops into Ukraine, Ms Harris shared US warnings that Russia was about to attack its neighbour and said: "Not since the end of the Cold War has this forum convened under such dire circumstances."
In a speech scheduled for Saturday, the vice president will lay out what is at stake in the war and why it matters, to bolster the case for maintaining US support for Ukraine for as long as it takes, the White House said.
Kyiv, after receiving Western pledges of tanks and more ammunition, is now hoping for fighter jets, but some countries have balked at sending them.
Frans Timmermans, the executive vice president of the European Union's executive commission, said the 27-nation EU so far has maintained unity on the issue.
"I think everyone can see how important it is for Ukraine to win this war," Mr Timmermans said. "This is important for our Europe, too, because Putin isn't just attacking Ukraine, he is also attacking us in the sense that he doesn't support our values."
He said it was important to make clear that Europe will support Ukraine however long the war lasts. "Putin is in difficulty," Mr Timmermans said, adding that the Russian leader would seek to put severe military pressure on Ukraine in the coming weeks and months.
Timmermans also expressed hope that China could exert pressure on Russia to end the war.