North Korea has threatened to take "unprecedently" strong action against its rivals, soon after South Korea announced a series of planned military drills with the United States to hone their joint response to the North's increasing nuclear threats.
North Korea has halted weapons testing activities since its short-range missile firing on January 1, although it launched more than 70 missiles in 2022 — a record number for a single year.
Friday's warning suggests the North's testing could resume soon over its rivals' military training, which it views as an invasion rehearsal.
"In case the US and South Korea carry into practice their already announced plan for military drills that (North Korea), with just apprehension and reason, regards as preparations for an aggression war, they will face unprecedentedly persistent and strong counteractions," the North Korean Foreign Ministry said in a statement carried by state media.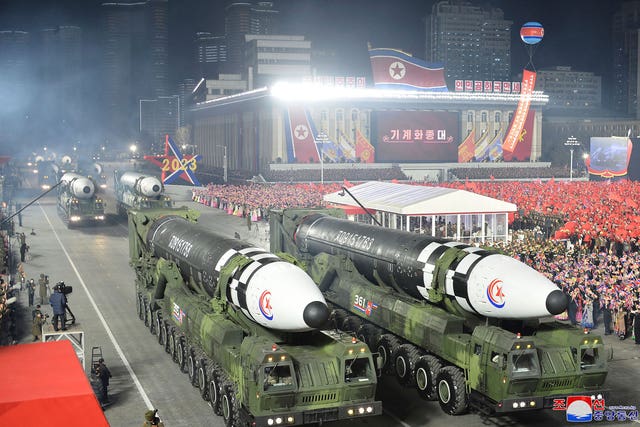 "This predicts that the situation in the Korean Peninsula and the region will be again plunged into the grave vortex of escalating tension," the statement said.
It did not specify which US-South Korean military trainings it was referring to. But North Korea has typically slammed all major regular military drills between Washington and Seoul as a practice to launch an invasion and responded with its own weapons tests.
Some experts say North Korea has used various South Korea-US drills as a chance to test and perfect its weapons systems. They say North Korea would eventually aim to use its enlarged nuclear arsenal to win international recognition as a legitimate nuclear state and win sanctions relief and other concessions.
Seoul and Washington have said their training is defensive in nature.
Earlier on Friday, Heo Tae-keun, South Korea's deputy minister of national defence policy, told politicians that Seoul and Washington will hold an annual computer-simulated combined training in mid-March. Mr Heo said the 11-day training would reflect North Korea's nuclear threats, as well as unspecified lessons from the Russia-Ukraine War.
Mr Heo said the two countries will also conduct joint field exercises in mid-March that would be bigger than those held in the past few years.
The allies had downsized or cancelled some of their regular drills in recent years to guard against the Covid-19 pandemic and support now-dormant diplomacy on North Korea's nuclear programme.
Earlier on Friday, Seoul officials said that South Korea and the US will hold a one-day tabletop exercise next week at the Pentagon in Arlington, Virginia, to sharpen a response to a potential use of nuclear weapons by North Korea.
The exercise, scheduled for Wednesday, would set up possible scenarios where North Korea uses nuclear weapons, explore how to cope with them militarily and formulate crisis management plans, South Korea's Defence Ministry said in a statement.
Seoul's security concerns about North Korea's nuclear programme deepened after Pyongyang last year adopted a law that authorises the preemptive use of nuclear weapons, and tested nuclear-capable missiles that put South Korea within striking distance.
In response to the intensifying North Korean threats, South Korea and the United States have expanded their joint military drills and stepped up pressure on the North to abandon its nuclear programme. In January, Defence Secretary Lloyd Austin said the US would also increase its deployment of advanced weapons such as fighter jets and bombers to the Korean Peninsula.
During their annual meeting in November, Mr Austin and South Korean Defence Minister Lee Jong-Sup agreed to conduct tabletop exercises annually and further strengthen the alliance's information sharing, joint planning and execution.
Mr Austin reiterated a warning that any nuclear attack against the US or its allies would result in the end of North Korean leader Kim Jong Un's regime.