Five former Memphis police officers are making their first court appearance on Friday on murder and other charges in the violent arrest and death of Tyre Nichols.
Tadarrius Bean, Demetrius Haley, Desmond Mills Jr, Emmitt Martin III, Justin Smith and their lawyers are expected to appear before a judge in Shelby County Criminal Court in Memphis, Tennessee.
The officers were dismissed after an internal Memphis Police Department investigation into the January 7 arrest of Mr Nichols, who died in a hospital three days later.
In addition to second-degree murder, the officers also have been charged with aggravated assault, aggravated kidnapping, official misconduct and official oppression. They are all on bail.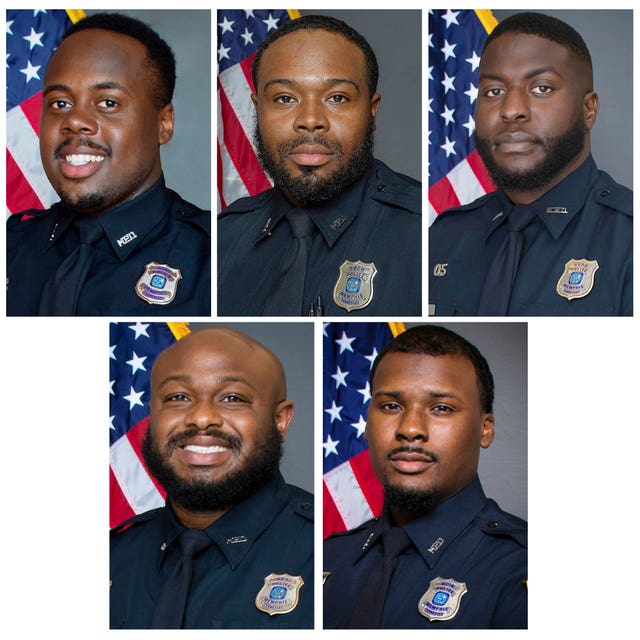 Mr Nichols was stopped for an alleged traffic violation and pulled out of his car by officers who swore, with at least one brandishing a gun, records showed. An officer hit Mr Nichols with a stun gun, but Mr Nichols ran away towards his nearby home, according to video released by the city.
Officers, who were part of a crime-suppression team known as the Scorpion unit caught up with Mr Nichols and punched, kicked and slugged him with a baton as he yelled for his mother.
After the beating, officers stood by and talked to one another as Mr Nichols struggled with his injuries on the ground, video showed. One officer took photos of Mr Nichols as he was propped up against an unmarked police car, according to video and records.
Mr Nichols was taken to a hospital in an ambulance that left the scene of the beating 27 minutes after emergency medical technicians arrived, authorities said.
Police said Mr Nichols had been suspected of reckless driving, but no verified evidence of a traffic violation has emerged in public documents or in video images. Memphis Police director Cerelyn "CJ" Davis has said she has seen no evidence justifying the stop or the officers' response.
She disbanded the Scorpion unit, which she created in November 2021, after Mr Nichols' death.
One other white officer who was involved in the initial traffic stop has been sacked. An additional officer who has not been identified has been suspended.
Three Memphis Fire Department employees who were present at the site of the arrest have also been sacked. Two Shelby County sheriff's deputies who were also there have been suspended without pay for violations including failing to keep their body cameras on.
Mr Nichols' family, their lawyers, community leaders and activists have called for changes within the Police Department on issues related to traffic stops, use of force, transparency and other policies.
Some of the relatives and lawyers have praised Ms Davis and the department for the swiftness of their response and said it should be the standard for other investigations into police brutality.