Ukrainian President Volodymyr Zelensky is wrapping up a whirlwind tour of his major European backers, seeking assurances that Ukraine could one day become part of the European Union.
Mr Zelensky will already head home with heaps of goodwill and commitments of more military aid.
He arrived to the European Parliament on Thursday to rapturous applause, cheering and hoots from legislators, insisting in his plenary speech that Ukraine's fight against Russia was one fought for the freedom of Europe as a whole.
"A Ukraine that is winning is going to be member of the European Union," Mr Zelensky said to applause, building his address around the common destiny Ukraine and the 27-nation bloc face in confronting Russia head-on.
"Europe will always be and remain Europe as long as we are together and as long as we take care of our Europe as we take care of the European way of life," he said.
Mr Zelensky said Russia wants to destroy the European way of life but "we will not allow that."
He held up an EU flag after his address and the entire legislature stood in somber silence as the Ukrainian national anthem and then European anthem Ode To Joy were played.
Mr Zelensky then headed to the urn-shaped Europa building, where the 27 EU leaders were meeting to push those same points.
Before Mr Zelensky spoke, European Parliament president Roberta Metsola said allies should consider "quickly, as a next step, providing long-range systems" and fighter jets to Ukraine.
Ms Metsola said the response to Russian President Vladimir Putin's war against Ukraine "must be proportional to the threat – and the threat is existential".
Ms Metsola told Mr Zelensky: "We have your back. We were with you then, we are with you now, we will be with you for as long as it takes."
EU leaders were hoping to impress on Mr Zelensky that the powerful bloc is steadfast in its support for Ukraine as Russia is feared to be making moves for a new offensive around the February 24 anniversary of the war.
The latest draft of the summit conclusions says "the European Union will stand by Ukraine with steadfast support for as long as it takes".
German Chancellor Olaf Scholz said the bloc will send Mr Zelensky "this signal of unity and solidarity, and can show that we will continue our support for Ukraine in defending its independence and integrity for as long as this is necessary".
Estonian Prime Minister Kaja Kallas said "it is my plea that everyone will do what they can. The price will go up with every delay".
Mr Zelensky's high-profile pursuit of more western military aid came as evidence mounted that Russia's anticipated offensive around the anniversary of the invasion is starting to take shape.
The Kremlin's forces "have regained the initiative in Ukraine and have begun their next major offensive" in the eastern Luhansk region, most of which is occupied by Russia, the Institute for the Study of War said in its latest assessment.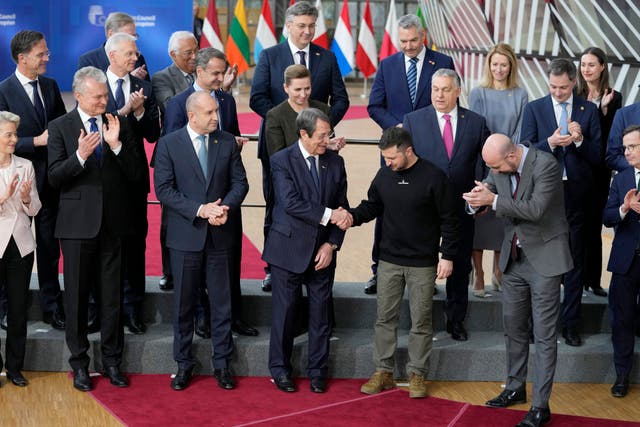 Mr Zelensky used the dais of the European Parliament hoping to match Wednesday's speech to Britain's legislature in which he thanked the nation for its unrelenting support.
That same support has come from the EU. The bloc and its member states have already backed Kyiv with about 50 billion euros (£44.4 billion) in aid, provided military hardware and imposed nine packages of sanctions on the Kremlin.
French President Emmanuel Macron's office has already confirmed the bloc "will reiterate Europeans' unwavering support to Ukraine and the Ukrainian people". Few would expect anything less.
The EU is in the midst of brokering a new sanctions package worth about 10 billion euros (£8.9 billion) before the war's anniversary. And there is still plenty of scope for exporting more military hardware to Ukraine as a Russian spring offensive is expected.
Russia is also watching Mr Zelensky's movements closely. On Wednesday, Russian state television showed the flight path of a British air force plane that Mr Zelensky used to travel to London taken from a flight monitoring site. The anchor noted the plane flew from the Polish air base in Rzeszow which serves as a hub for western arms deliveries to Ukraine.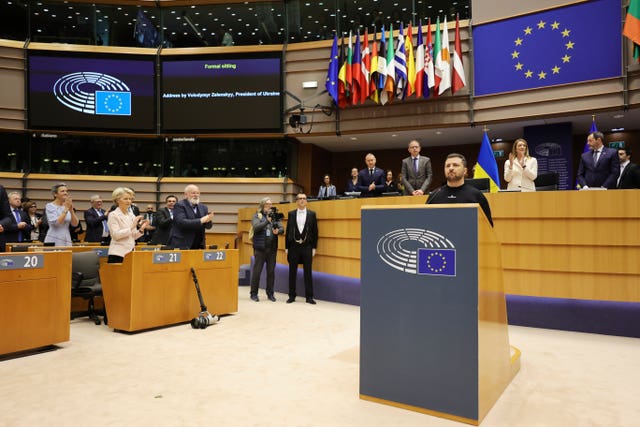 A high-profile visit to EU headquarters can only add to the goodwill to help his country on to the road of accession talks. Ukraine is talking about joining the EU in a matter of years, while practice has shown it can take decades before aspiring members are considered fit to join.
Mr Zelensky knows well that the EU sometimes moves at a snail's pace while he had to be lightning fast to stave off an early Russian victory and set up a defence of his vast nation that very few would have deemed possible a year ago.
Now, after initial hesitation, EU nations have finally started to step up their military contributions as well.
Germany, Denmark and the Netherlands said on Tuesday they plan to provide Ukraine with at least 100 refurbished German-made Leopard 1 battle tanks in the coming months. The announcement followed Germany agreeing last month to allow deliveries of the more modern Leopard 2 tanks to Ukraine.
Beyond EU top officials like the summit host, European Council president Charles Michel and European Commission president Ursula von der Leyen, Mr Zelensky should find time for bilateral meetings with leaders to press for more hardware, ranging from ammunition to warplanes — something the bloc as a whole does not possess but individual countries do.