Rescue workers are making a final push to find survivors of the earthquake in Turkey and Syria that rendered many communities unrecognisable to their inhabitants and led the Turkish president to declare it "the disaster of the century".
The death toll from the quake has now topped 20,000.
The earthquake affected an area that is home to 13.5 million people in Turkey and an unknown number in Syria and stretches further than the distance from London to Paris or Boston to Philadelphia.
Even with an army of people taking part in the rescue effort, crews had to pick and choose where to help.
In Adiyaman, Associated Press journalists saw someone plead with rescuers to look through the rubble of a building where relatives were trapped. They refused, saying no one was alive there and that they had to prioritise areas with possible survivors.
A man who gave his name only as Ahmet out of fear of government retribution later asked the AP: "How can I go home and sleep? My brother is there. He may still be alive."
The death toll from Monday's 7.8-magnitude catastrophe rose to nearly 21,000, eclipsing the more than 18,400 who died in the 2011 earthquake off Fukushima, Japan, that triggered a tsunami and the estimated 18,000 people who died in a quake near the Turkish capital, Istanbul, in 1999.
The new figure, which is certain to rise, includes more than 17,600 people in Turkey and more than 3,300 in civil war-torn Syria. Tens of thousands were also injured.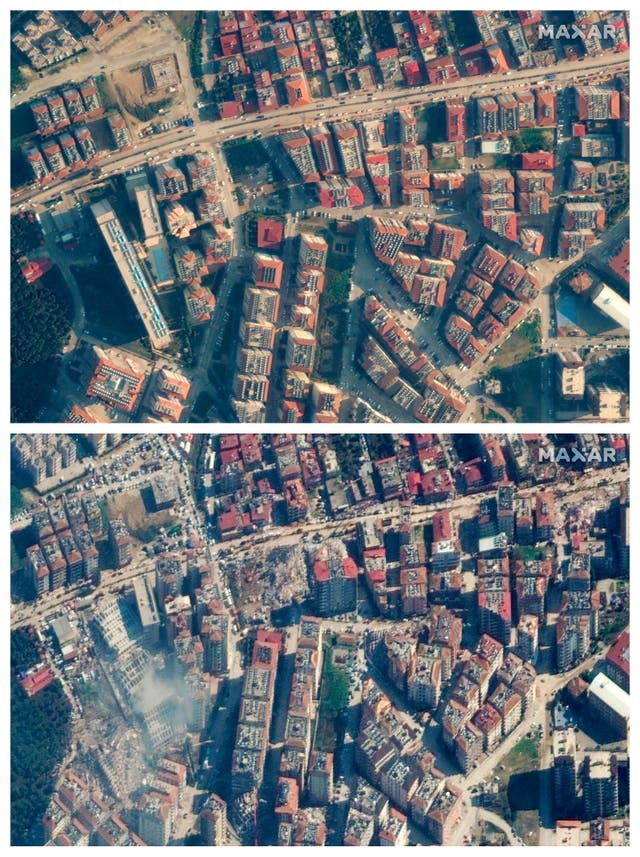 However, a 10-year-old girl was rescued alive on Thursday night in the Antakya district of Turkey's Hatay province.
The DHA news agency said after making initial contact with the child, rescuers worked 32 hours at the site to clear a passage to her.
Medics had to amputate one of her arms to free the girl from the rubble because removing the block that was crushing her would have endangered her further, the news agency reported.
An hour before that, rescuers pulled a 17-year-old girl out of rubble in the province of Adiyaman. Miners and others brought her out and medics took her to an ambulance on a stretcher with an IV bag. They briefly clapped before a rescuer asked for quiet.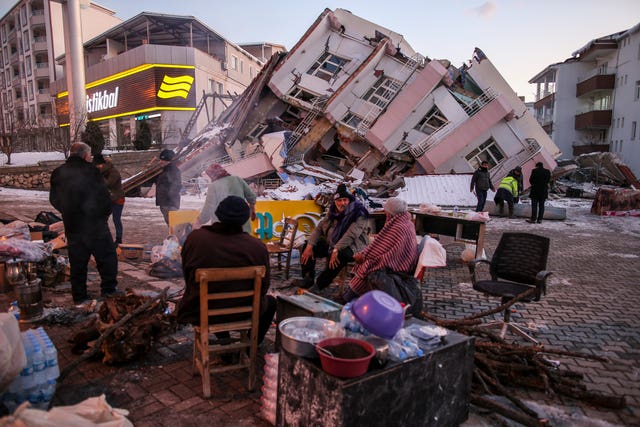 As emergency crews and panicked relatives dug through the rubble across the country the focus began to shift to demolishing dangerously unstable structures.
In Nurdagi, a city of around 40,000 nestled between snowy mountains some 35 miles from the quake's epicentre, vast swathes of the city were levelled, with scarcely a building unaffected. Even those that did not collapse were heavily damaged, making them unsafe.
Throngs of onlookers, mostly family members of people trapped inside, watched as heavy machines ripped at one building that had collapsed, its floors pancaked together with little more than a few inches in between.
Mehmet Yilmaz, 67, watched from a distance as bulldozers and other demolition equipment began to bring down what remained of the building where six of his family members had been trapped, including four children.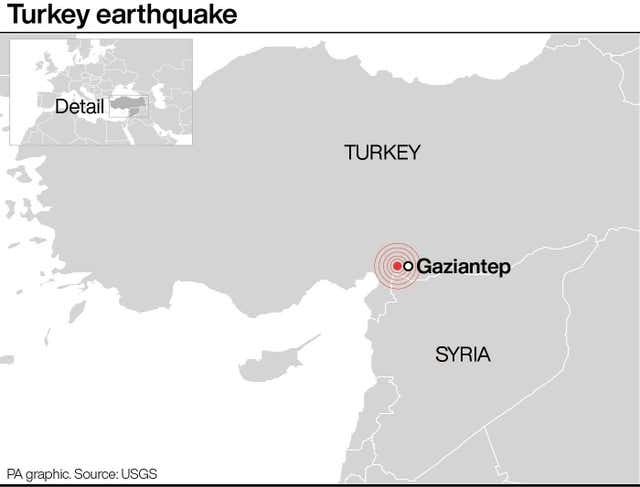 "There's no hope. We can't give up our hope in God, but they entered the building with listening devices and dogs, and there was nothing," he said.
Mehmet Nasir Dusan, 67, sat watching as the remnants of the nine-storey building were brought down in billowing clouds of dust. He said he held no hope of reuniting with his five family members trapped under the debris.
Still, he said, recovering their bodies would bring some small comfort.
"We're not leaving this site until we can recover their bodies, even if it takes 10 days," Mr Dusan said. "My family is destroyed now."
In Kahramanmaras, the city closest to the epicentre, a sports hall the size of a basketball court served as a makeshift morgue to accommodate and identify bodies. On the floor lay dozens of bodies wrapped in blankets or black shrouds.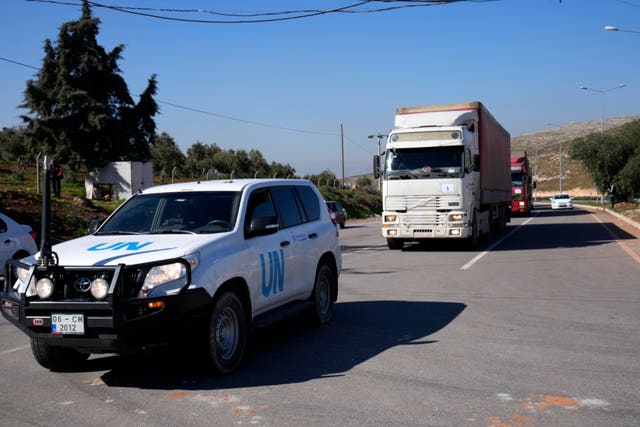 In north-western Syria, the first UN aid trucks since the quake to enter the rebel-controlled area from Turkey arrived, underscoring the difficulty of getting help to people there.
In the Turkish city of Antakya, dozens scrambled for aid in front of a truck distributing children's coats and other supplies.
One survivor, Ahmet Tokgoz, called for the government to evacuate people from the region. Many of those who have lost their homes found shelter in tents, stadiums and other temporary accommodation, but others have slept outdoors.
"Especially in this cold, it is not possible to live here," he said. "If people haven't died from being stuck under the rubble, they'll die from the cold."
The winter weather and damage to roads and airports have hampered the response. Some in Turkey have complained that the government was slow to respond – a perception that could hurt Turkish President Recep Tayyip Erdogan at a time when he faces a tough battle for re-election in May.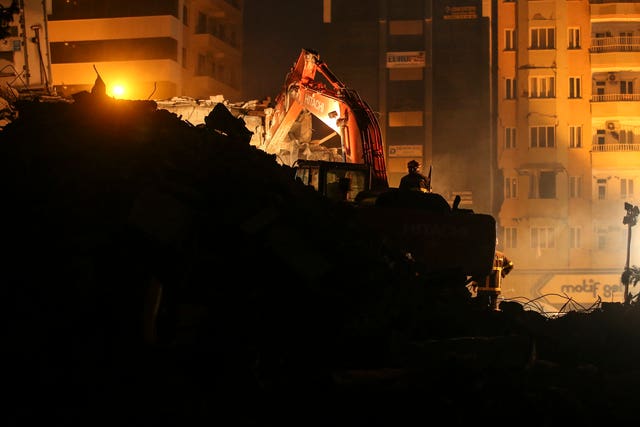 But more and more often, the teams pulled out dead bodies. In Antakya, more than 100 bodies were awaiting identification in a makeshift morgue outside a hospital.
With the chances of finding people alive dwindling, crews in some places began demolishing buildings. Authorities called off search-and-rescue operations in the cities of Kilis and Sanliurfa, where destruction was not as severe as in some other areas.
Across the border in Syria, assistance trickled in. The UN is authorised to deliver aid through only one border crossing, and road damage has prevented that thus far. UN officials pleaded for humanitarian concerns to take precedence over wartime politics.
Turkey's disaster-management agency said more than 110,000 rescue personnel were now taking part in the effort and more than 5,500 vehicles, including tractors, cranes, bulldozers and excavators had been shipped. The Foreign Ministry said 95 countries have offered help.