Ukrainian President Volodymyr Zelensky sought western support for his country in surprise visits to Britain and France on Wednesday.
He pushed for fighter jets to battle Russian invaders in a dramatic speech to the UK Parliament and then flew to Paris to meet the French and German leaders over dinner at the Elysee Palace.
The embattled leader's European tour and pleas for more advanced weapons came as Ukraine braces for an expected Russian offensive and hatches its own plans to retake land held by Moscow's forces.
Western support has been key to Kyiv's surprisingly stiff defence, and the two sides are engaged in grinding battles.
"Nothing is off the table," he said at an evening news conference at a British army base. "We must arm Ukraine in the short term, but we must bolster Ukraine for the long term."
Mr Zelensky said Ukraine needs all kinds of supplies, not just planes, but also ammunition and long-range missiles.
He called his visit to Britain "very fruitful".
Then it was off to Paris for dinner with French President Emmanuel Macron and German Chancellor Olaf Scholz.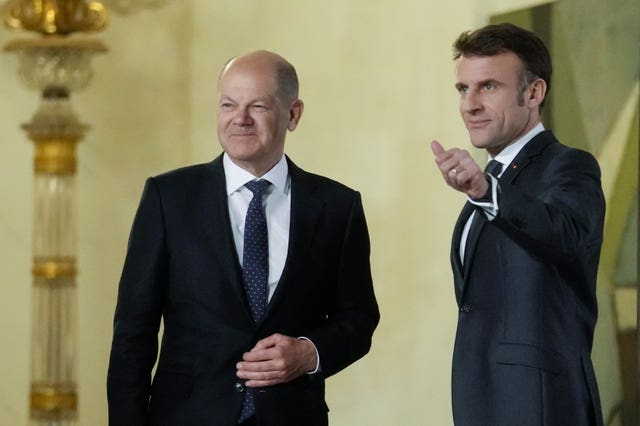 He was then met on the steps of the Elysee Palace with a friendly embrace by Mr Macron, and then all three leaders headed inside.
"Ukraine can count on France, its European partners and allies to win the war. Russia cannot and must not win," Mr Macron said before their working dinner.
He said they would discuss the "operational needs" of Ukraine, adding: "We will pursue the effort."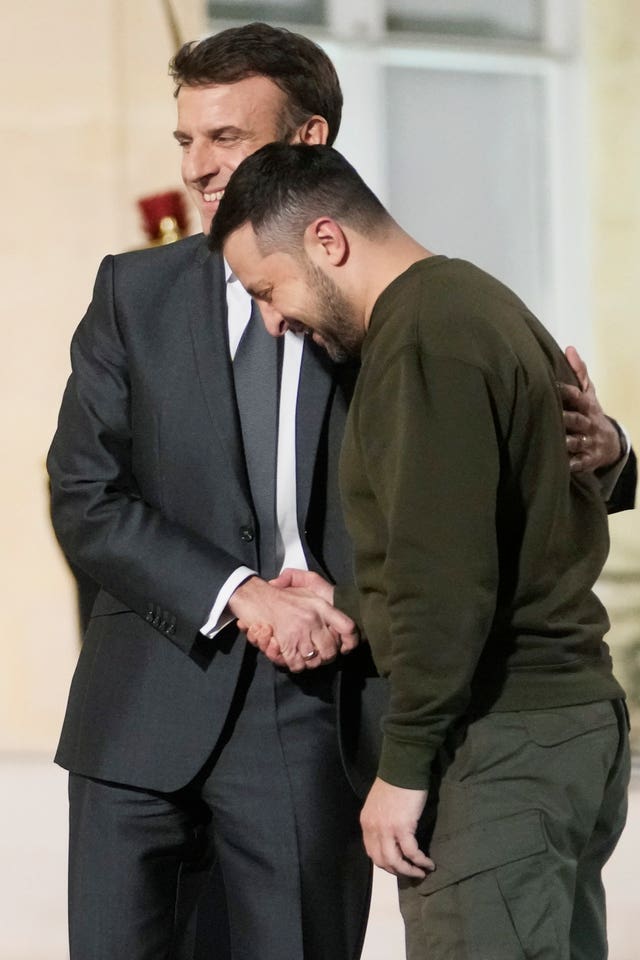 The visit marks a turnaround in Mr Zelensky's relations towards France and Germany, which earlier in the war were viewed by many in Ukraine as not doing enough to help.
The trip was only his second abroad since Russia invaded on February 24 2022, after a December visit to Washington, where he met President Joe Biden and addressed the US Congress.
On Thursday, Mr Zelensky will join EU leaders at a summit in Brussels, which Mr Scholz described as a "signal of European solidarity and community".
His day began when he arrived on a Royal Air Force plane in London and was greeted with an embrace from Mr Sunak. They held talks at 10 Downing St before Mr Zelensky's speech to politicians in Westminster Hall, the oldest part of Parliament.
"London has stood with Kyiv since day one," he said, repeatedly thanking Britons for their aid.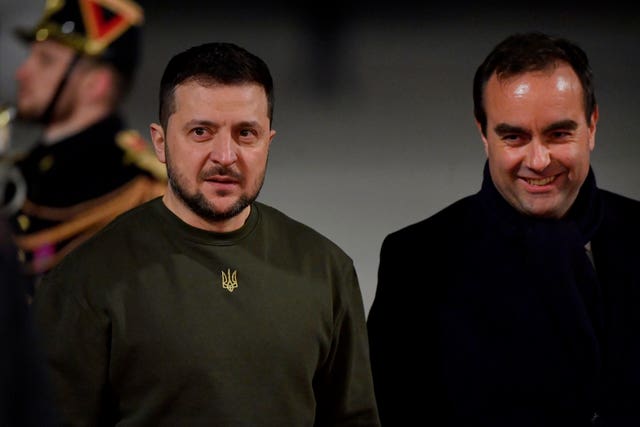 Wearing his trademark sweatshirt, he urged allies to deliver jets to Ukraine, saying combat aircraft would be "wings for freedom".
In a dramatic gesture, he presented the Speaker of the House of Commons with a Ukrainian air force helmet, inscribed by a Ukrainian pilot: "We have freedom. Give us wings to protect it."
The president was trying to soften allies' reluctance to send advanced fighter jets, both because they are complex to fly and for fear of escalating the war.
The UK has repeatedly said it is not practical to provide Ukraine with British warplanes. But in a shift, the Government said on Wednesday it was "actively looking" at whether Ukraine could be sent western jets, and was "in discussion with our allies" about it.
Britain also said it would train Ukrainian pilots in Britain on "Nato-standard fighter jets" within weeks.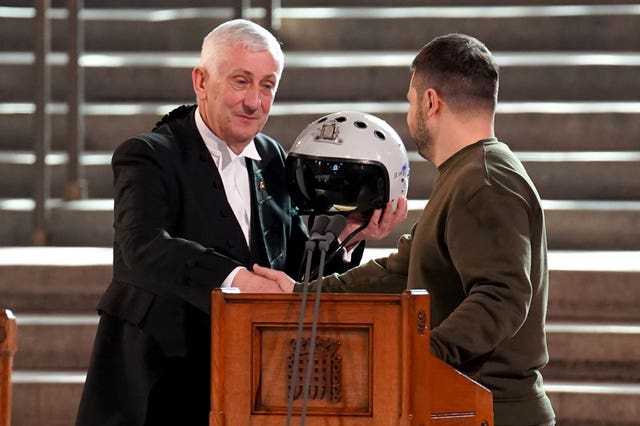 Mr Macron has said France has not ruled out sending fighter jets but set conditions, including not leading to an escalation of tensions or using the aircraft "to touch Russian soil", and not resulting in weakening "the capacities of the French army".
Mr Zelensky also went to Buckingham Palace, where he met with King Charles, who greeted him with a broad smile and a warm handshake before they had tea. The King told the president that "we've all been worried about you and thinking about your country for so long".
The London visit came as Russian forces shelled areas of eastern Ukraine in what Kyiv authorities believe is part of a thrust by the Kremlin's forces before the invasion anniversary.
Moscow, meanwhile, believes Ukraine is preparing its own battlefield push.