The only black designer on Italy's fashion council has pulled out of this month's Milan Fashion Week – citing a lack of commitment to diversity and inclusion.
Stella Jean also announced a hunger strike out of concern other minority designers associated with her will suffer a backlash.
She said the Italian National Fashion Chamber (INFC) significantly cut back support for the We Are Made In Italy (Wami) collective of young designers of colour working in the country after her speech about the personal price she paid for highlighting racial injustice in Italy during a runway show last September.
Along with Jean, the Wami collective is withdrawing from fashion week, which they were set to open with a digital presentation.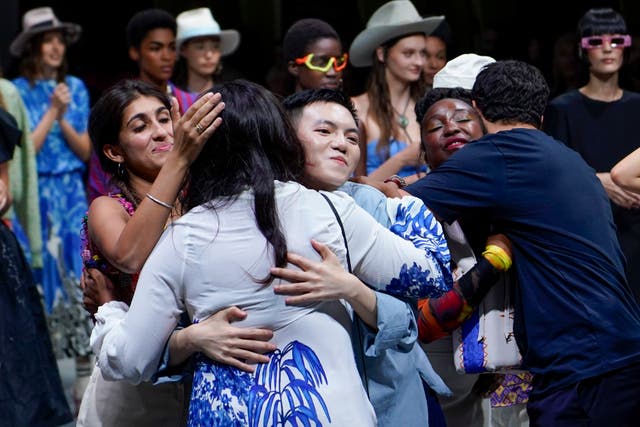 INFC president Carlo Capasa assured her from the dais that the chamber had no intention of retaliating in any way. He expressed regret that neither she nor the Wami members would participate in Fashion Week.
"Stella's contribution has always been appreciated. We Italians need to have our conscience stimulated," he said. "As for Wami, we are not people who retaliate. For us it is important to promote new brands."
He noted that two Wami designers from previous seasons were presenting collections during Milan Fashion Week, which runs from February 21-27.
In addition, the chamber has included on the fashion week calendar the inaugural edition of the Black Carpet Awards recognising the achievements of minorities in Italian society, and was hosting another diversity initiative by the owner and editor of US-based Blanc Magazine, Teneshia Carr.
Jean also said the chamber backtracked on a promise to create a black board within the organisation to promote diversity and inclusion. Capasa told AP that he decided against the board after Wami made social media posts that cast a negative light on some Italian fashion brands.
Italian-Haitian Jean, who made her Milan runway premiere in 2013 on the Armani runway, said she and her family have been subjected to retaliation for her activism for racial justice in Italy. She said that included death threats against her daughter by other minors, and the termination of professional relationships for her.
Wami was launched on the heels of the Black Lives Matters movement in 2020 by Jean, African-American designer Edward Buchanan and the head of Afro Fashion Week Milano Michelle Ngonmo to draw attention to the lack of minority representation in the Italian fashion world.
It followed racial gaffes by major fashion houses which made global headlines.
Ngonmo said financial support for the project from the chamber has dwindled over the three years it has run so far and Afro Fashion Week Milano was not able to come up with the 20,000 euros (£17,800) it would have cost to support the five young designers in making solid looks to present, plus a video.
The Italian fashion chamber fully supported the collections for the two Wami classes, each with five designers, but the third generation has not received any funding from the chamber, Ngonmo and Jean said.
The September show featuring Jean, Buchanan and Wami was financed through other allies and their own contributions.
"Maybe the message is the whole industry needs to open their eyes and say, 'What can we do to make that happen?'" Ngonmo said.