Hong Kong's top court has ruled that full sex reassignment surgery should not be a prerequisite for transgender people to have their gender changed on their official identity cards, in a move that is likely to have a far-reaching impact on the transgender community.
A transgender activist, Henry Edward Tse, and a person identified only as Q, appealed to the court last month over the government's refusal to change the genders on their ID cards because of their decision not to have full sex reassignment surgeries.
Mr Tse and Q are both transgender men who have had their breasts removed, received hormonal treatments and lived their lives as males with professional support and guidance as well as psychiatric treatment.
The judgment by the court of final appeal is expected to have a wide impact on the LGBTQ community because many of its transgender members consider having the operation to be unnecessary and risky.
The two went to court because existing government policy only allows transgender men to change their official gender if they have removed their uteruses and ovaries and constructed male genitalia. Only those who cannot undergo the surgical procedures due to medical reasons can be exempted.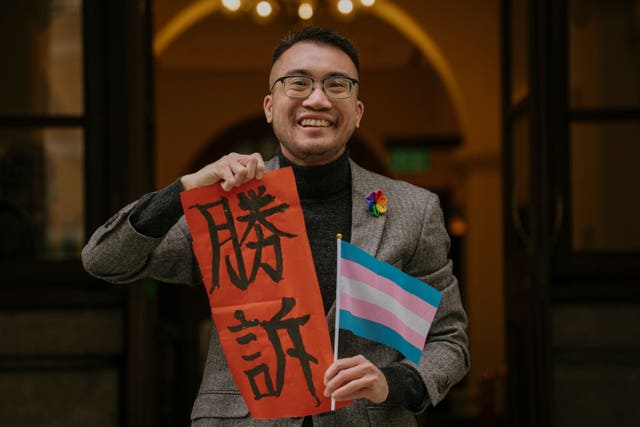 In a judgment made public Monday, the court said the government's policy was unconstitutional and imposed an "unacceptably harsh burden".
They also said that the policy was "disproportionate" in its encroachment upon the rights of the two to gender identity and physical integrity.
The judges also said any administrative issues that usually arise tend to pertain to a transgender person's outward appearance and not the appearance of their genital area, and that leaving the gender on their identity card unamended "produced greater confusion or embarrassment".
Mr Tse welcomed the ruling, saying many transgender people have been longing for a "final victory" for years.
"Now I have a male ID card, it will be a lot easier for me to access gender-segregated spaces," he said.
"I wouldn't be questioned and humiliated by being outed by my ID that's incongruent to who I am."