Pope Francis has sought to console the long-suffering people of South Sudan as he opened his first full day in a country beset by conflict, poverty and humanitarian crises.
After arriving in the world's newest country on the first-ever papal visit on Friday, Francis was spending Saturday ministering first to church personnel and then to South Sudanese people who have been forced by fighting, flooding and other crises to leave their homes.
Francis highlighted in particular the plight of South Sudanese women, half of whom are married before the age of 18, are subject to rampant sexual violence and then face the world's highest maternal mortality rate.
"Let us ask ourselves what it means for us to be ministers of God in a land scarred by war, hatred, violence, and poverty," Francis said at St Theresa Cathedral in the capital, Juba.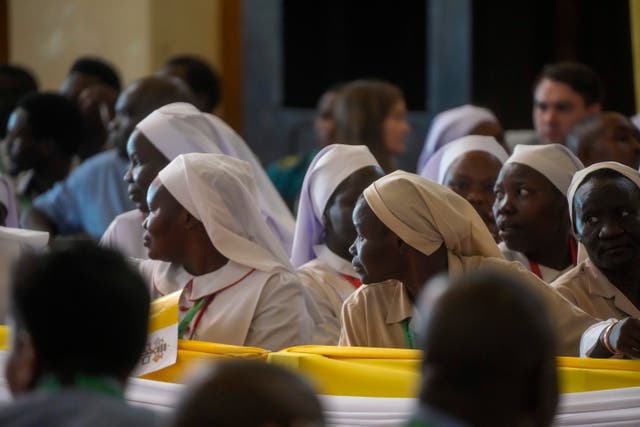 Lush in oil and other natural resources but beset by years of civil war and conflict, South Sudan is one of the world's poorest countries and is responsible for Africa's worst refugee crisis: More than two million people have fled the country and another two million are displaced within its borders.
Francis urged the hundreds of people gathered at Freedom Hall to be "seeds of hope", that will soon bear fruit for the country of 12 million.
"You will be the trees that absorb the pollution of years of violence and restore the oxygen of fraternity," he said.
The head of the UN mission in South Sudan, Sara Beysolow Nyanti, told Francis that women and girls were "extremely vulnerable" to sexual and gender-based violence, with UN statistics estimating some four out of 10 have been victim to one or more forms of assault.
"If the women of South Sudan are given an opportunity to develop, to have space to be productive, South Sudan will be transformed," she told Francis.
The pope picked up her theme in his remarks, saying women were the key to South Sudan's peaceful development.
"Please, protect, respect, appreciate and honour every woman, every girl, young woman, mother and grandmother," he said. "Otherwise, there will be no future."
Joined by the Archbishop of Canterbury, Justin Welby, and the Presbyterian head of the Church of Scotland, Francis is seeking to draw global attention to the country's plight.
Mr Welby, too, addressed the plight of women during his remarks at an ecumenical prayer service later on Saturday.
He praised their "incredible" strength when "on top of the grief of conflict and the responsibility to provide for your families, many of you live with the trauma of sexual violence and the daily fear of mistreatment in your own homes".
To the men in the audience, Mr Welby was more blunt: "You will value and honour women, never raping, never violent, never cruel, never using them as if they were there to satisfy desire," he said to applause from the crowd.
The aim of the novel ecumenical visit is to encourage South Sudan's political leaders to implement a 2018 peace accord ending a civil war that erupted after the overwhelmingly Christian country gained independence from mostly Muslim Sudan in 2011.
The deal and many of its key provisions, including the formation of a national unified army, has stalled amid political infighting and continued clashes around the country that have forced the postponement of the first presidential election for another two years.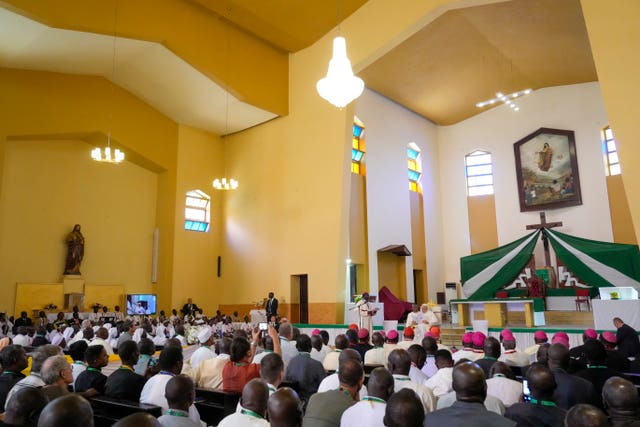 "It is precisely this art of stepping into the middle of our brothers and sisters that the church's pastors need to cultivate: the ability to step into the middle of their sufferings and tears, into the middle of their hunger for God and their thirst for love," he said.
Francis heard of the sacrifice nuns have made over the years, including the 2021 ambush killings of Sisters Mary Daniel Abut and Regina Roba Luate of the Congregation of the Sacred Heart Sisters.
Sister Regina Achan, from the same congregation, said Francis' visit would encourage other sisters to keep serving the people of South Sudan, adding: "We stand with them because we are their voices, we don't run away at difficult times."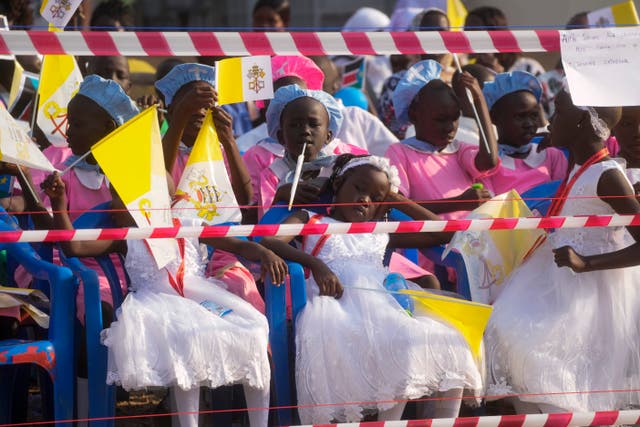 Mr Kiir for his part committed the government to return to peace talks – suspended last year – with groups that did not sign onto the 2018 accord.
And late Friday, the Catholic president granted presidential pardons to 71 inmates at Juba's central prison in honour of the ecumenical pilgrimage, including 36 on death row.
Francis has changed Catholic Church teaching to hold that capital punishment is inadmissible in all circumstances.