Russian missiles hit residential areas in an eastern Ukrainian city for the second time in 24 hours as top European Union officials held talks with the government in Kyiv.
The latest strikes in Kramatorsk came as rescue crews searched for survivors in the rubble of an apartment building hit late on Wednesday by a Russian missile which killed at least three people and wounded 21 others.
At least one more victim was thought to be under the debris, Ukraine's presidential office said.
"Kramatorsk again shattered by explosions — the Russians made two more rocket strikes," regional governor Pavlo Kyrylenko wrote in a Telegram post.
He said at least five civilians were hurt in the latest strikes, which hit residential buildings as well as a children's clinic and school in the heart of the city.
Kramatorsk mayor Oleksandr Honcharenko urged residents to stay in shelters.
Kramatorsk is a major hub for the Ukrainian military in the east.
No further details of Thursday's attack were immediately available.
Russia has frequently hit apartment buildings during the war, causing civilian casualties, though the Kremlin has denied targeting residential structures.
Russian shelling across Ukraine over the previous 24 hours killed at least eight civilians and wounded 29 others, the presidential office said.
Along with the victims in Kramatorsk, the toll included four who died when a Russian mortar shell hit a basement they were sheltering in in the north-east Chernihiv region.
Ukrainian President Volodymyr Zelensky met with European Commission president Ursula von der Leyen ahead of what officials described as a summit on Friday.
The last such summit was held in Kyiv in October 2021 — a few months before the war started on February 24 2022.
Ms Von der Leyen praised wartime Ukraine's "brilliant application" for European Union (EU) membership, though Brussels officials note that Ukraine joining the 27-nation bloc is still a long way off.
Ahead of possible membership, Ms Von der Leyen said, the Commission is proposing that Kyiv joins "key European programmes — this will give Ukraine benefits close to those of EU membership in many areas".
EU assistance for Ukraine, she said, has reached 50 billion euros (£44.6 billion) since the start of Russia's war.
She said the EU plans to adopt a 10th package of sanctions again Russia before February 24.
Ms Von der Leyen also announced that the International Centre for the Prosecution of the Crime of Aggression in Ukraine will be set up in The Hague to co-ordinate the collection of evidence of war crimes.
Ms Von der Leyen, on her fourth visit to Kyiv since Russia's invasion, added that she is "comforted" by Ukraine's anti-corruption drive.
Stamping out endemic corruption is a key condition for joining the EU.
Mr Zelensky on Wednesday took aim at corrupt officials for the second time in the space of a week.
Several high-ranking officials were dismissed.
Mr Zelensky was elected in 2019 on an anti-establishment and anti-corruption platform in a country long gripped by graft.
The latest corruption allegations came as western allies are channeling billions to help Kyiv fight Moscow's forces and as the Ukrainian government is introducing reforms so it can potentially join the EU.
Ukraine's government is keen to get more western military aid, on top of the tanks pledged last week, as the warring sides are expected to launch new offensives once winter ends.
Kyiv expects Russia to "attempt something" on the February 24 anniversary, Ukrainian defence minister Oleksii Reznikov told France's BFM television.
He stressed his government's urgency on getting weapons without delay.
"We are telling our partners that we too need to be ready as fast as possible," he said in an interview late on Wednesday.
US President Joe Biden has ruled out providing F-16 fighter jets to Ukraine, while UK Prime Minister Rishi Sunak said he is unwilling to provide RAF warplanes.
US defence secretary Lloyd Austin said during a trip to the Philippines on Thursday that the focus of American aid is to increase Ukraine's military capabilities by sending artillery, armour and air defence and training Ukrainian troops.
The US is "focused on providing Ukraine the capability that it needs to be effective in its upcoming anticipated counteroffensive in the spring," Mr Austin said.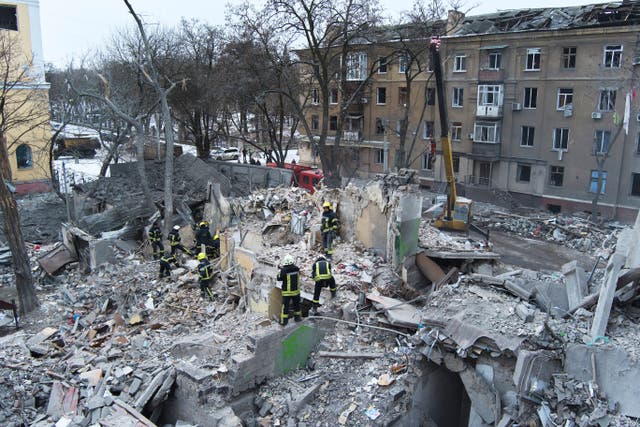 Russian foreign minister Sergei Lavrov said that strategy will backfire by prompting Moscow to ensure potential Russian targets are out of range.
"The longer range the weapons supplied to the Kyiv regime, the farther we would need to push them away from the territories that are part of our country," he said in an interview with Russian state media.
He said Moscow would like to see the war end but the length of the conflict is less important than its desired outcome: to protect Russian territory and "people who want to remain part of the Russian culture", reaffirming Moscow's declared goal to defend Russian speakers in Ukraine.