Flooding and landslides caused by the passage of tropical storm Cheneso across Madagascar has caused 30 deaths, left 20 people missing and affected tens of thousands across the Indian Ocean island nation.
The storm made landfall in the north east of the island last Thursday and impacted close to 89,000 people, Madagascar's National Office for Risk and Disaster Management said.
Madagascar's meteorological agency said the storm saw winds gusting up to 170 kilometres per hour (105.63mph) and unleashed torrential rains.
Colonel Faly Aritiana, of the risk and disaster office, said there had been house collapses and landslides in which people have become trapped.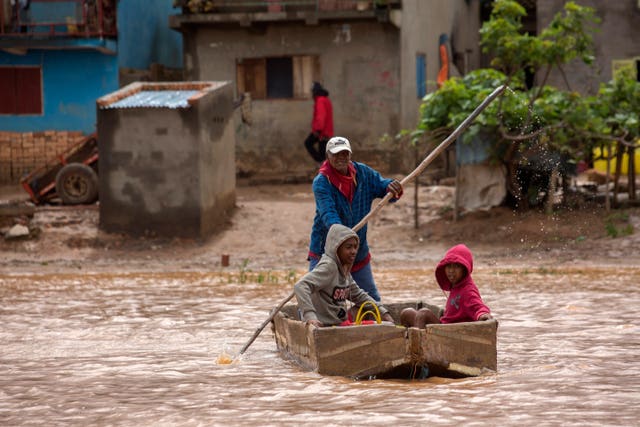 The storm has damaged infrastructure, with many roads cut off by rising waters, landslides and collapsed bridges.
Nearly 33,000 people have had to leave their homes in the Boeny region, in the north west of the island. Locals say the prices of basic food stuffs have rocketed.
"Prices of vegetables and rice increased a lot after the storm" with the cost of tomatoes quadrupling, said Veronique Mamitiana, a teacher in the city of Mahajanga.
"The merchants say it's because the national road is cut," she said.
Marovoay, about 60 miles further south, was one of the regions worst hit by the storm, with stagnant flood waters still affecting many localities. District leader Tolotriniaina Rakotonindriana said the water level is decreasing very slowly.
"Many houses are still flooded and that is why most of the victims are still in the accommodation sites," Mr Rakotonindriana added. "Roads are covered with water and we have to travel by canoe."
Local authorities said essential food supplies are being distributed to help support those in need.