The eyes of the world upon them, US president Donald Trump and North Korean leader Kim Jong Un will head into their historic summit balancing the elusive promise of peace against the spectre of a growing nuclear threat.
Yet even before they met, Mr Trump announced plans to leave early, raising questions about whether his aspirations for an ambitious outcome had been scaled back.
The first-ever meeting between a US president and a North Korean leader was to kick off at 9am on Tuesday (2am BST) with a handshake, an image sure to be devoured from Washington to Pyongyang and beyond.
Up early in Singapore, Mr Trump tweeted with cautious optimism: "Meetings between staffs and representatives are going well and quickly … but in the end, that doesn't matter. We will all know soon whether or not a real deal, unlike those of the past, can happen!"
In another tweet, he added: "The fact that I am having a meeting is a major loss for the U.S., say the haters & losers. We have our hostages, testing, research and all missle launches have stoped, and these pundits, who have called me wrong from the beginning, have nothing else they can say! We will be fine!"
In the run-up to the talks, Mr Trump had hopefully predicted the two men might strike a nuclear deal or forge a formal end to the Korean War in the course of a single meeting or over several days.
But on the eve of the summit, the White House unexpectedly announced Mr Trump would depart Singapore by Tuesday evening, meaning his time with Mr Kim would be fairly brief.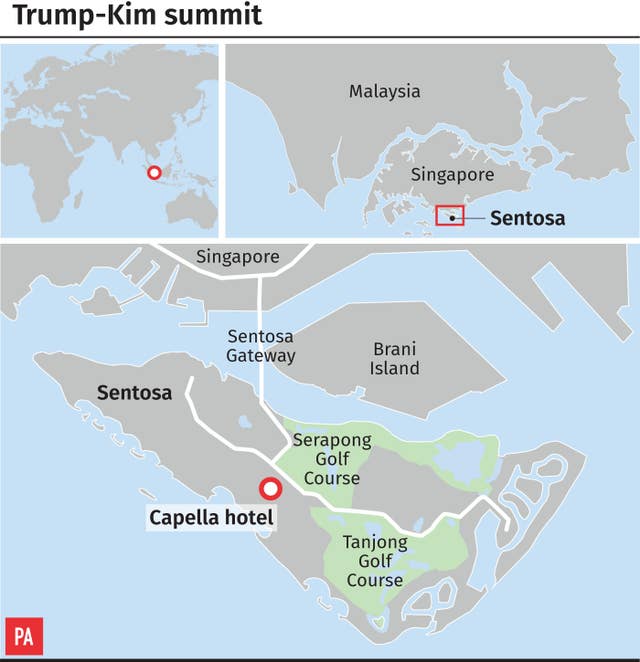 "We are hopeful this summit will have set the conditions for future successful talks," Mr Pompeo said, describing a far more modest goal than Mr Trump had outlined days earlier.
The sudden change in schedule added to a dizzying few days of foreign policy activity for Mr Trump, who shocked US allies over the weekend when he used a meeting of the G7 in Canada to alienate America's closest friends in the West.
Lashing out over trade practices, Mr Trump lobbed insults at his G7 host, Canadian prime minister Justin Trudeau.
Mr Trump left the summit early, and as he flew to Singapore, he tweeted that he was yanking the US out of the group's traditional closing statement.
As for Singapore, the White House said Mr Trump was leaving early because negotiations had moved "more quickly than expected", but gave no details about any possible progress in preliminary talks.
On the day before the meeting, weeks of preparation appeared to pick up in pace, with US and North Korean officials meeting throughout Monday at a Singapore hotel.
The president planned to stop in Guam and Hawaii on his way back to Washington.
Mr Trump spoke only briefly in public on Monday, forecasting a "nice" outcome.
Mr Kim spent the day mostly out of view – until he left his hotel for a late-night tour of Singapore sights, including the Flower Dome at Gardens by the Bay, billed as the world's biggest glass greenhouse.
Mr Trump had earlier tweeted about "excitement in the air!"
It was a striking about-face from less than a year ago, when Mr Trump was threatening "fire and fury" against Mr Kim, who in turn scorned the American president as a "mentally deranged US dotard".
As he was trying to build a bridge with Mr Kim, he was smashing longtime alliances with Western allies with his abrasive performance at the G7.
After his premature departure from Quebec, he continued to tweet angrily at Trudeau from Singapore, saying on Monday, "Fair Trade is now to be called Fool Trade if it is not Reciprocal."
Mr Trump advisers cast his actions as a show of strength before the Kim meeting.
Alluding to the North's concerns that giving up its nuclear weapons could surrender its primary deterrent to forced regime change, Mr Pompeo told reporters that the US was prepared to take action to provide North Korea with "sufficient certainty" that denuclearisation "is not something that ends badly for them".
He would not say whether that included the possibility of withdrawing US troops from the Korean Peninsula, but said the context of the discussions was "radically different than ever before".
Experts believe the North is close to being able to target the entire US mainland with its nuclear-armed missiles, and while there is deep scepticism that Mr Kim will quickly give up those hard-won nuclear weapons, there is also some hope that diplomacy can replace the animosity between the US and the North.