US President Donald Trump has cancelled next month's summit with North Korea's Kim Jong Un, citing the "tremendous anger and open hostility" in a recent statement by the North.
Mr Trump said in a letter to Mr Kim released by the White House that, based on the statement, he felt it was "inappropriate, at this time, to have this long-planned meeting".
In the Korean statement that Mr Trump cited, the North referred to Vice President Mike Pence as a "political dummy" for his comments on the North and said it was just as ready to meet in a nuclear confrontation as at the negotiating table.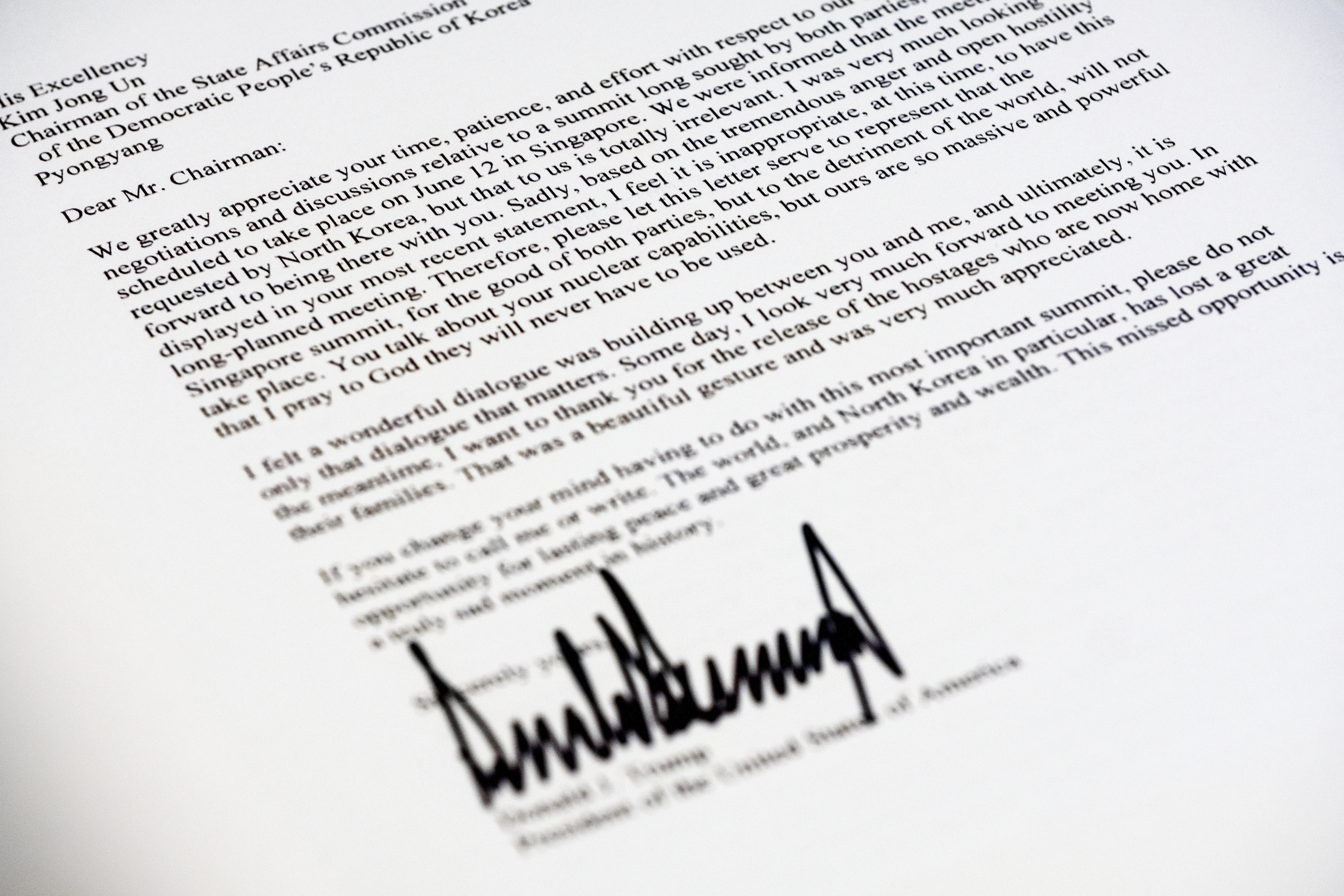 He said the world was losing a "great opportunity for lasting peace and great prosperity and wealth" now that their June 12 summit has been cancelled.
US secretary of state Mike Pompeo read the letter during a hearing before the Senate foreign relations committee.
The president had agreed to the historic sit-down in March after months of trading insults and nuclear threats with the North Korean leader.
But after criticism from North Korea, Mr Trump cast doubt this week on whether the meeting would happen.
A White House official said it was incorrect to focus on the "dummy comments" about Mr Pence.
The official said the North Koreans had threatened nuclear war in their statement released on Wednesday night and no summit could be successful under these circumstances.
White House officials have privately predicted for weeks that the summit could be cancelled once or twice before actually taking place, owing to the hard-nosed style of the two leaders.
Mr Trump has seemed to welcome chatter of a Nobel Peace Prize, but that has yielded in recent weeks to the sobering prospect of ensuring a successful outcome with Mr Kim.
UN chief Antonio Guterres said he was "deeply concerned" by the cancellation of the planned summit.
Mr Guterres told an audience at the University of Geneva that he was urging the parties to keep working "to find a path to the peaceful and verifiable denuclearisation of the Korean Peninsula".
His comments came as he laid out his disarmament agenda, warning that nuclear agreements between states have been threatened like never before.