Around 2,000 masks for protection were handed out on Hawaii as people living near Kilauea volcano braced for pulverised rock, glass and crystal to rain down on them after an eruption at the peak's summit.
Scientists said the eruption was the most powerful in recent days, though it probably lasted only a few minutes.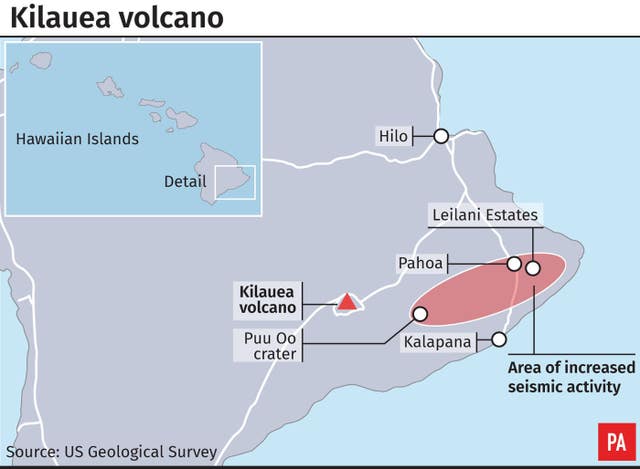 She said both of her children – Kahele Rodrigues, two, and Kayden Rodrigues, three months old – were doing OK, but she and her fiance had both been sneezing all day.
"This morning it smelled like sulfur so we had to close all the windows," Ms Magnani said.
Most residents found only thin coatings of ash, if they saw any at all, as winds blew much of the 30,000-foot (9,100-metre) plume away from people.
The ash was a bit of an irritant, he said, but "not too bad".
Mr Laceby sealed windows and cracks in his home with cellophane wrap to keep out ash and volcanic gases. He has gas masks to protect himself from the toxic fumes and ash.
Geologists have warned that the volcano could become even more violent, with increasing ash production and the potential that future blasts could hurl boulders the size of cows from the summit.
Several schools closed because of the risk of elevated levels of sulfur dioxide, a volcanic gas.
Dr Josh Green, a state senator who represents part of the Big Island, said the immediate health risk comes from ash particles in the air.
Anyone with respiratory difficulties, such as asthma or emphysema, should limit exposure to the ash, he said.
The earlier limit was up to 10,000 feet (3,000 metres). The prohibition applies to a five-mile (eight-kilometre) radius around the crater.
Thursday's eruption did not affect the Big Island's two largest airports in Hilo and in Kailua-Kona.
The crater spewing ash sits within Hawaii Volcanoes National Park, which has been closed since May 11 as a safety precaution over risks of a violent eruption.
Kilauea, one of the world's most active volcanoes, has been erupting continuously since 1983.
It is among the five volcanoes that form the Big Island, and it is the only one actively erupting.
An eruption in 1924 killed one person and sent rocks, ash and dust into the air for 17 days.