Russian president Vladimir Putin has won a fourth term in office with nearly 77% of the vote – his highest ever score – giving him a mandate to pursue his nationalist policies for another six years.
Near-final results showed that the other seven candidates were far behind Mr Putin in the polls.
Observers reported widespread ballot-stuffing and unprecedented pressure on Russians to vote, but that is unlikely to seriously damage Mr Putin given his popularity and his tight control over Russian politics.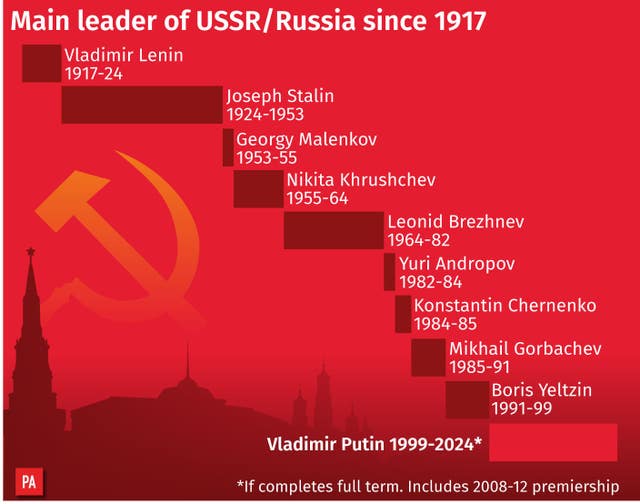 Mr Putin's most serious rival, opposition leader Alexei Navalny, was barred from the race because of a fraud conviction widely seen as politically motivated.
The electoral commission said official turnout was 67%, but the figure was marred by widespread account of workers being coerced to vote and numerous incidents of ballot-stuffing.
The massive victory gives Mr Putin new confidence to stand up to the West.
The election came amid escalating Cold War-like tensions, with accusations that Moscow was behind the nerve-agent poisoning this month of a former Russian double agent in Britain and that its internet trolls had waged an extensive campaign to undermine the 2016 US presidential election.
The accusations ultimately bolstered Mr Putin among a populace that sees him as their defender against a hostile outside world and the embodiment of Russia's resurgent power on the world stage.
"We are bound for success," he told chanting crowds near the Kremlin.
Mr Putin's electoral power has centred on stability, a quality cherished by Russians after the chaotic break-up of the Soviet Union. But that stability has been bolstered by a suppression of dissent, the withering of independent media and the top-down control of politics called "managed democracy".
In his next six years, the president is likely to assert Russia's power abroad even more strongly. He recently announced that Russia has developed advanced nuclear weapons capable of evading missile defences. The Russian military campaign that bolsters the Syrian government is clearly aimed at strengthening Moscow's foothold in the Middle East, and Russia eagerly eyes any reconciliation on the Korean Peninsula as an economic opportunity.
Leaders of the observation mission for the Organisation for Security and Cooperation in Europe (OSCE) said Russian state media's extensive coverage of Mr Putin's activities gave him a significant advantage in the race.
"While the incumbent president did not participate in debates or campaigning, extensive and unchallenging news coverage of his official activities continued to provide him with dominant presence in the media," said Marietta Tidei, of the OSCE's parliamentary assembly.
Michael Georg Link, a co-ordinator of the observer mission, said: "A choice without real competition – as we have seen in this election – is not a real choice."