US vice president Mike Pence has "strongly" urged the Palestinians to return to the negotiating table.
In a speech to the Israeli parliament, Mr Pence said on Monday that "peace can only come through dialogue".
The Palestinians have angrily protested against the US decision to recognise Jerusalem as Israel's capital and say the US cannot be trusted as a mediator. They have said they will reject any peace plan the Trump administration presents.
Mr Pence told Israel's parliament, the Knesset, that Israel "can be confident" the US will never compromise Israel's security.
Mr Pence also said the United States will open its embassy in Jerusalem next year, ahead of schedule.
He defended the controversial decision to recognise Jerusalem as Israel's capital, which has been condemned by the Palestinians and their Arab allies.
Mr Pence said the administration will advance its plan in the coming weeks and the embassy will open by the end of 2019. Previous estimates had been the move would take three or four years.
Arab politicians were thrown out for heckling Mr Pence at the start of his speech.
The main Arab party in the Israeli parliament had warned it would boycott Mr Pence
The Knesset, which is accustomed to such high-profile visits, had added a new layer of security, and besides the speaker and other dignitaries, politicians did not have direct access to Pence.
Mr Pence earlier said it was an honour to be in "Israel's capital, Jerusalem" as he met the country's prime minister Benjamin Netanyahu.
Mr Netanyahu told Mr Pence it was the first time a visiting dignitary could utter those three words along with him, and he thanked Mr Pence for President Donald Trump's "historic" recognition of Jerusalem.
The Israeli leader also lauded the American-Israeli alliance, which he said has "never been stronger".
The brief exchange was part of an exceptionally warm welcome for Mr Pence in Israel, which has praised the Trump administration's decision last month to recognise Jerusalem as Israel's capital.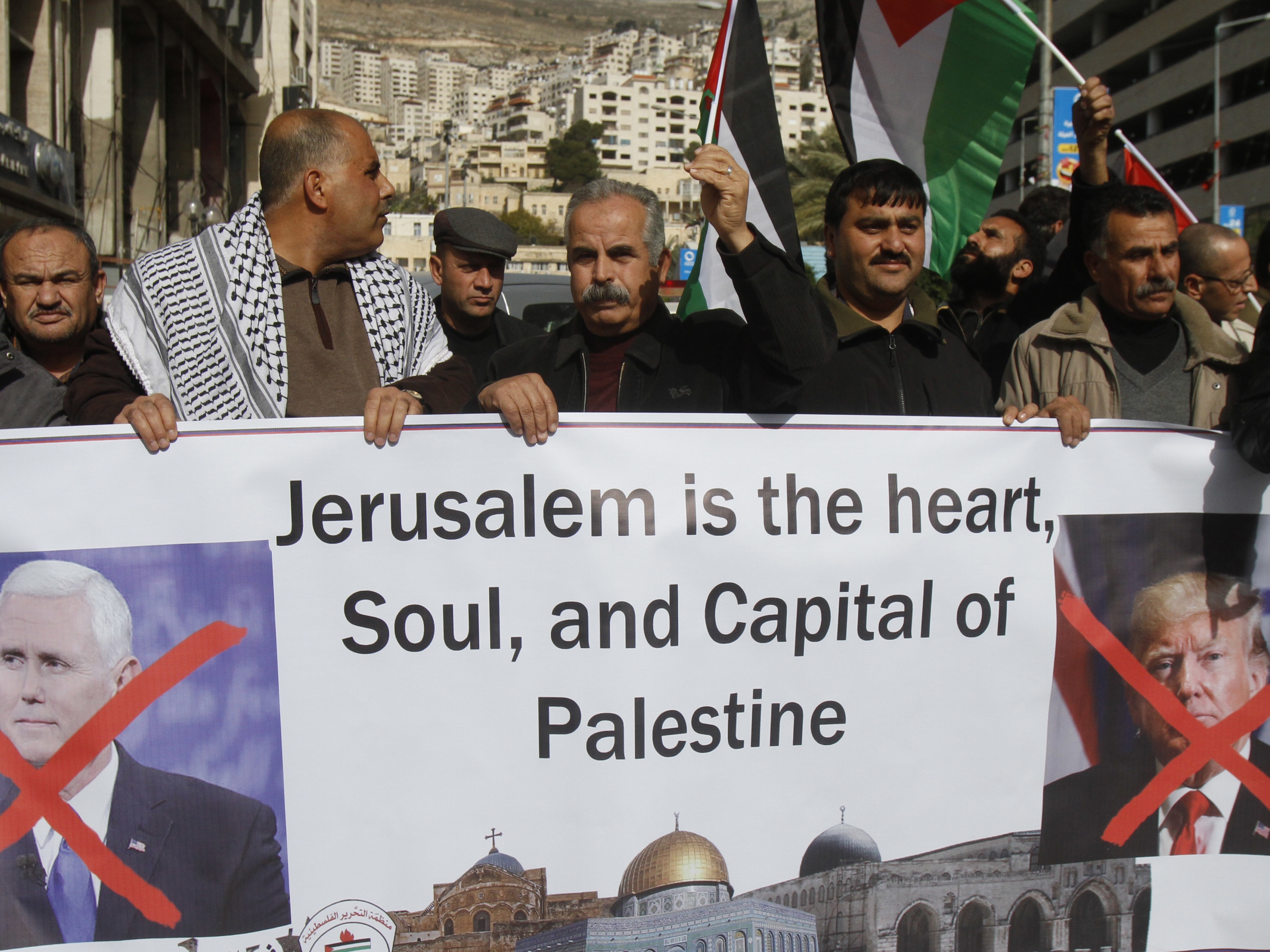 Mr Pence placed his right hand over his heart as an honour guard greeted him with the American national anthem.
White House Mideast envoy Jason Greenblatt, US ambassador David Friedman and the Israeli ambassador to Washington, Ron Dermer, joined the ceremony and Mr Pence chatted briefly with Israeli soldiers before beginning his meeting with Mr Netanyahu.
Mr Pence said he was grateful to be representing Mr Trump and that his decision to designate Jerusalem as the Israeli capital would "create an opportunity to move on in good faith negotiations between Israel and the Palestinian Authority".
The vice president said he was hopeful "we are at the dawn of a new era of renewed discussions to achieve a peaceful resolution to a decades-long conflict".