Staff at a wildlife park have overcome an unusual problem – X-raying a giraffe's leg.
Keepers and vets at the Wild Place Project in Bristol had to X-ray their biggest giraffe, Gerry, who is more than 13ft tall and had a swollen right hind fetlock.
They spent weeks training three-year-old Gerry to walk calmly into a specially designed enclosure and stand still.
Animal manager Will Walker said: "We had to get to a point where he was comfortable with us working around his legs.
"We reward him with tasty treats for doing these training sessions and he is always keen to take part."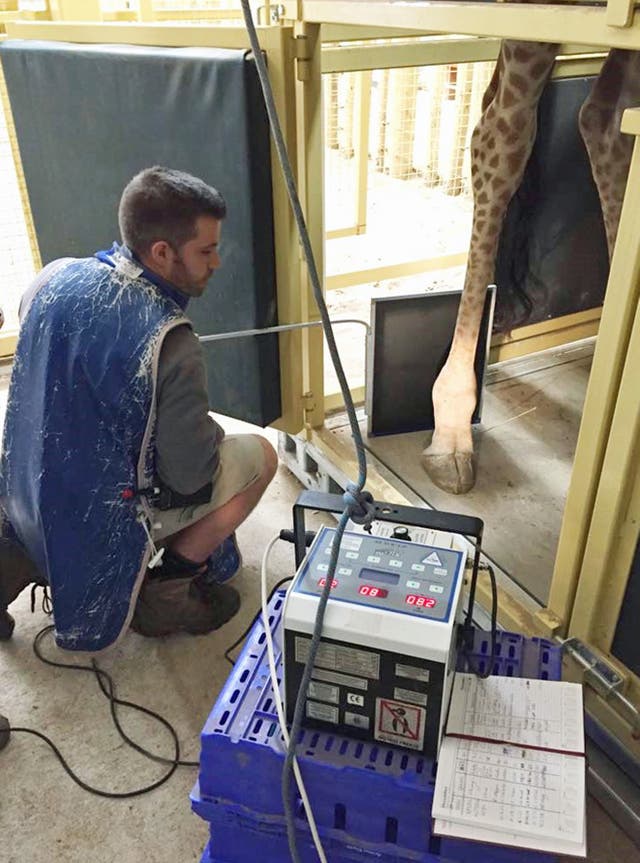 After Gerry was guided into the unit, veterinary nurse Teresa Horspool carefully positioned the machine on one side of his leg while Mr Walker held a large X-ray plate on the other.
As Gerry stood quietly Ms Horspool took a series of four X-rays and the whole process took just 10 minutes. In a few days they will X-ray his other hind leg for a comparison.
The giraffe had developed a slight swelling in his right hind fetlock not long after he arrived at the Wild Place Project from the Netherlands last year.
There were concerns Gerry had developed an infection but this was ruled out after he was examined under general anaesthetic last September.
"The swelling didn't reduce so we decided we would train him to be comfortable with both X-rays and ultrasound," Mr Walker said.
"This allows us to get to the bottom of the cause of the swelling without the need for sedatives and stress."
Gerry, who is one of three giraffes living in a £1 million, purpose-built giraffe house, is continuing to have daily training sessions so keepers can keep a close check on him.