Alton Towers has just announced the name of its newest ride.
As details on the Wicker Man rollercoaster emerged, namely that it will fuse "wood and fire" in a world first, people online reacted to the news with a combination of fear and excitement.
Despite that combination sounding pretty dangerous, rollercoaster enthusiasts were on board regardless.
The coaster will feature a "six-storey high flaming effigy" of the Wicker Man which will "spectacularly ignite into flames as the train bursts through his chest three times".
Others were more than a little confused at the theme park's move.
Might combining wood and fire be the limit for dangerous-sounding rides?
The ride shares its name with the much-loved 70s horror, so comparisons were inevitably drawn between the new ride and the classic movie.
The film tells the story of a policeman searching for a missing girl on an island of pagans, and without giving too much away, ends with a dramatic blazing sacrifice.
To some, the ride's concept all sounded a little much.
Others had a little more faith in the theme park's decision.
The Alton Towers website does say the burning man structure at the centre of the attraction will "appear" to burst into flames as the wooden track goes through it, so they may have given the whole fire and wood thing a little thought after all.
Some social media users had just one concern – they didn't want any recreations of Nick Cage's iconic "not the bees!" scene in the much-maligned 1996 Wicker Man remake.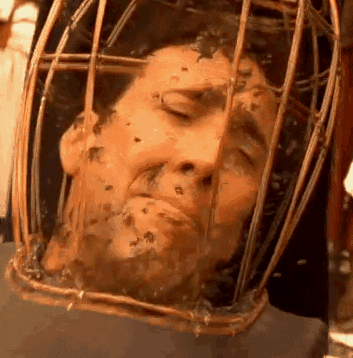 The resort says that Wicker Man has undergone "rigorous testing" and the ride's operators have had hundreds of hours of training ahead of its opening this spring.
In 2015, an accident on the park's Smiler ride injured 16 people, including two who ended up losing a leg.