The Queen has commended journalists "risking their lives" reporting from the Middle East and Ukraine, as she celebrated the 135th anniversary of the Foreign Press Association (FPA) at its annual awards ceremony.
Camilla was made an honorary member of the FPA at the Sheraton Grand Park Lane hotel in Piccadilly, west London, "following in the footsteps" of the King, who has also received honorary life membership.
The FPA in London is the oldest and largest association of foreign correspondents in the world, founded in 1888 by foreign journalists who came to London to cover the case of Jack the Ripper.
Presenting the Queen with honorary membership, FPA director Deborah Bonetti said: "There are not many associations who can show off that they have two crowned kings and queens as their honorary members."
"But I cannot begin without also reflecting that as we gather, journalists, photographers and their support teams are even now risking their lives.
"We think particularly of those reporting from Ukraine and the Middle East in these most difficult of times."
She referred to the King's attendance at the awards ceremony in 2008 when he was Prince of Wales, reiterating his observation that journalists held an "awe-inspiring responsibility" to protect "true freedom of expression" which she believed to be "at the heart of our democratic system".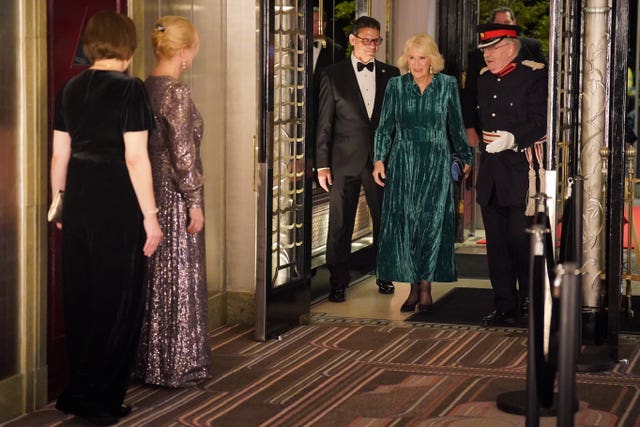 She commended female journalists who are "increasingly targeted on social media" and hailed the work the association does to "promote and protect women".
She mentioned "trailblazers" Martha Gellhorn and Christiane Amanpour as well as two journalists "who have so tragically paid with their lives" – Marie Colvin, an FPA journalist of the year, and Daphne Caruana Galizia.
"The FPA was, of course, founded in 1888, when foreign correspondents came to the United Kingdom to report on the Jack the Ripper murders and decided to band together to secure better access to information and sources," the Queen said.
"And this remains a key part of journalism today.
"You have the ability to break the corrosive silence that frequently surrounds abuse. You bring into the open the voices of victims, you break taboos, you shine a light on these heinous crimes and you guide the public on what they can do to help."
Camilla, wearing a green velvet dress by Me+Em and Van Cleef & Arpels earrings from her own collection, was surrounded by journalists holding up their phones as she made her way into a reception room to greet the 33 award  nominees, before meeting the FPA committee.
Nominees for TV Documentary Story of the Year Kavitha Chekuru and Laila Al-Arian, a Palestinian journalist from the US, told the Queen about their film about the death of their Al Jazeera colleague.
Titled The Killing of Shireen Abu Akleh, they told the PA news agency that their colleague was "killed in May 2022 by an Israeli sniper in the West Bank".