The Supreme Court will deliver its judgment on whether Rishi Sunak's Rwanda policy is lawful after Suella Braverman warned he has no credible back-up to "stop the boats".
Justices at the UK's highest court will on Wednesday hand down their verdict on the Prime Minister's legislation to remove asylum seekers to Kigali if they arrive by unauthorised means.
Defeat for the Government will further frustrate what Downing Street admits is a "crucial" part of his plans to halt Channel crossings and will inflame the row with the sacked home secretary.
In an excoriating letter to the Prime Minister, Mrs Braverman warned he has no "credible Plan B" if the High Court ruling that the policy is unlawful is upheld.
She claimed that even if it gets the go-ahead then Mr Sunak's "compromises" will mean the asylum policy could be "thwarted yet again" by the European Court of Human Rights.
Her replacement, James Cleverly, outlined the possible outcomes during the first meeting of the Prime Minister's new-look Cabinet after the dramatic reshuffle that saw Mrs Braverman shown the door.
Senior ministers have wargamed responses to a possible defeat, but Mrs Braverman warned of a "betrayal" of Mr Sunak's promise to do "whatever it takes" to stop the crossings regardless.
The sacked home secretary wrote in the letter that if they lose he will have "wasted a year" on the Illegal Migration Act "only to arrive back at square one".
"Worse than this, your magical thinking – believing that you can will your way through this without upsetting polite opinion – has meant you have failed to prepare any sort of credible 'Plan B'," she said.
Even in the event of Supreme Court victory, she said the Government "will struggle to deliver our Rwanda partnership in the way that the public expects".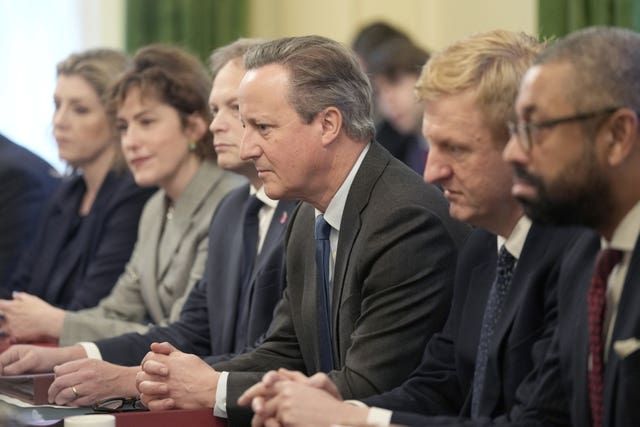 Downing Street vowed to continue to work to tackle small boat crossings "whatever the outcome" in the Supreme Court.
"The Prime Minister believes in actions, not words," a No 10 spokeswoman said in response to Mrs Braverman's declaration of political war.
Leaving the European Convention on Human Rights was not discussed at Tuesday's Cabinet meeting, the Prime Minister's official spokesman said.
Contingency plans have been "discussed among Cabinet ministers", the spokesman said, and "options for possible scenarios" have been prepared.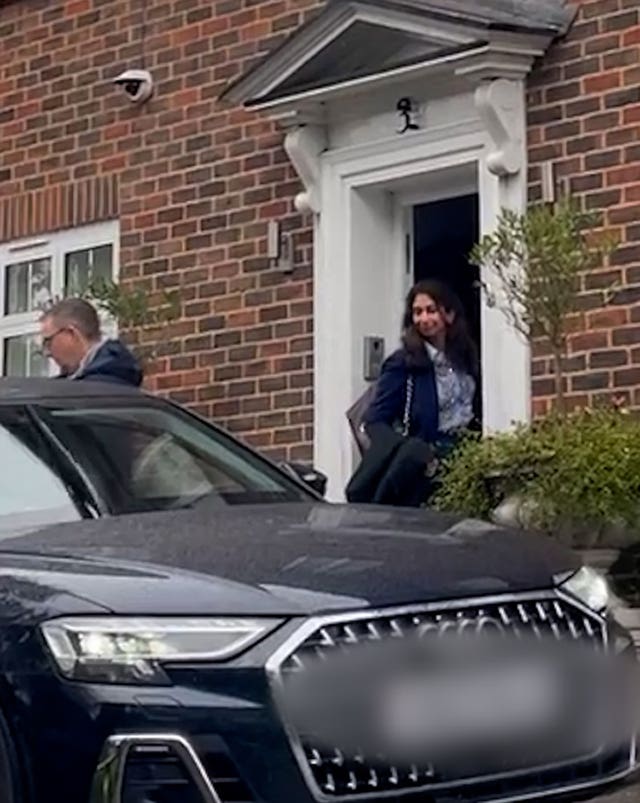 Lawyers representing people facing deportation to the east African nation argue Rwanda is an "authoritarian, one-party state" with a "woefully deficient" asylum system.
But the Home Office has said the policy to remove asylum seekers to a "country less attractive" than the UK, "but nevertheless safe", is lawful.
Five justices at the Supreme Court will give their verdict on Wednesday morning, before Mr Sunak faces Prime Minister's Questions.
The Illegal Migration Act brought into law the Government's policy of sending some asylum seekers to Rwanda.
However, the plans announced in April 2022 have been held up in the courts, with no deportation flights having taken place despite £140 million already being handed to Kigali.
Whereas Mrs Braverman repeatedly signalled she wanted out of the "politicised court", Mr Cleverly said while foreign secretary in April he was "not convinced" the move is necessary.
He said that the European countries that are not signatories – Russia and Belarus – are a "small club", adding: "I am not convinced it is a club we want to be part of."
Mr Sunak has set stopping small boats of asylum seekers from arriving in Britain as one of his five pledges to the electorate.
But more than 27,300 migrants have been detected making unauthorised crossings of the English Channel so far this year, according to official figures.
The Supreme Court ruling by Lords Reed, Hodge, Lloyd-Jones, Briggs and Sales will be handed down on Wednesday after 10am.