Investigations are continuing following a crash involving the Flying Scotsman locomotive which left two people injured.
It was involved in a slow speed "shunting incident" with another heritage train at Aviemore railway station in the Cairngorms at 7.10pm on Friday.
Police said a man and a woman were taken to Raigmore Hospital in Inverness as a precaution. Their injuries are not believed to be serious.
The station is home to Strathspey Railway, a heritage line which takes visitors on steam trains in northern Scotland.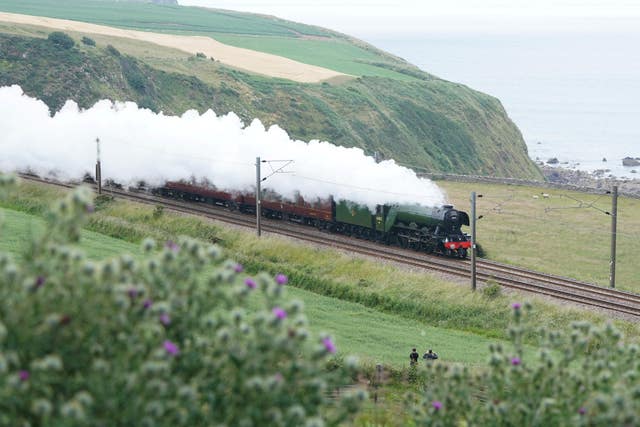 However, in an update on Saturday Strathspey Railway said all Flying Scotsman Saturday services have been cancelled.
It said the Flying Scotsman locomotive will not haul any trains this weekend as it is awaiting inspection on Monday, while carriages from the other train involved, the Royal Scotsman, are currently being assessed.
The statement said: "The Royal Scotsman carriage set involved in last night's incident is currently receiving a pre-inspection by a third party on behalf of its owners prior to its movement to shed to avail thorough inspection which will clear Aviemore platform 3 for further services.
"This is taking longer than initially anticipated as we have been advised that the set has to be split into manageable sections.
The Scottish Fire and Rescue Service (SFRS) sent eight appliances to the scene following the incident in the Highlands on Friday.
Police said inquiries are ongoing to establish the full circumstances.
The Flying Scotsman, which is celebrating its centenary year, is owned by the National Railway Museum in York.
A statement from the Belmond and Strathspey Railway about the incident on Friday evening, shared by the National Railway Museum, said: "A shunting incident occurred when the Flying Scotsman locomotive was being coupled with Belmond's Royal Scotsman train carriages, which were stationary on heritage railway line, Strathspey Railway.
"Flying Scotsman was visiting the railway as part of a planned excursion."
ScotRail services were suspended for a time on Friday while emergency services dealt with the incident on the private line near the mainline, however, they later resumed.
The world-famous Flying Scotsman steam locomotive entered service on February 24, 1923 as it set off on its first journey from the sheds at Doncaster Works.
The National Railway Museum in York, where Flying Scotsman is a working exhibit, has organised a centenary programme featuring events and displays.