Hundreds of demonstrators gathered in Whitehall to demand a rethink of the approval for the controversial Rosebank offshore development.
Robin Wells, of the Fossil Free London campaign group, said: "We are used to U-turns and the government can do a new one over Rosebank."
She led more than 200 climate activists in chants condemning the scheme outside the Department for Energy Security and Net Zero's central London offices.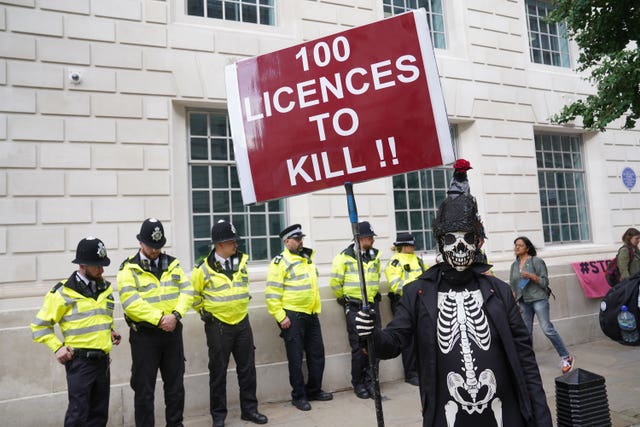 It was among several protests against Rosebank oilfield which were set to take around the country on Saturday.
Located 80 miles west of Shetland, Rosebank is the UK's largest untapped oil field and is estimated to contain up to 300 million barrels of oil.
Development and production approval has been given to owners Equinor and Ithaca Energy, following reassurances over environmental concerns.
Green Party deputy leader Zack Polanski told the Whitehall crowd, before they set off on a march to protest outside the Norwegian Embassy, that public opinion could help stop the scheme.
He told them "we are not just here in anger, we can also be here in hope" and added: "Let's subsidise the people who are the poorest and most vulnerable in society and let's stop subsidising fossil fuel giants."
The plan has faced widespread criticism due to its expected impact on climate change.
Mr Polanski said: "The only liveable future we can have is one where fossil fuels stay in the ground – that is a future where we stand together in solidarity, where we talk with authenticity, compassion and care and where we also talk about the science."
Tessa Khan, executive director and founder of Uplift, an organisation at the forefront of the Rosebank protest movement, said that a legal challenge is being prepared challenge the approval.
To cheers, she said "the decision is dire but we have a plan" which includes "fighting the government and Equinor here on the streets but we are also going to fight them in court".
Actor Sam Swan, of the Equity for a Green New Deal campaign, urged the protesters to "get involved" to help ensure the firms they work for do not invest in fossil fuels.
Earlier this week Prime Minister Rishi Sunak said that using every last drop of oil in Scotland's North Sea was "absolutely the right thing to do".
In an interview with STV News, he stood by the decision to give the go-ahead for drilling at the Rosebank oil field.
Critics – including Scottish First Minister Humza Yousaf – said the development will damage net zero ambitions.