Scotland's First Minister has urged a union to listen to its members after it warned there could be further strike action by school support staff.
Unison members in 24 local authorities in Scotland walked out for three days this week, leading to school closures across much of the country.
It has called on council umbrella body Cosla to provide a copy of the revised pay scales which would apply to the latest offer, saying staff need the information to help them decide whether to accept it.
First Minister Humza Yousaf said he is keen for discussions to continue to get a "fair deal for all of those that work in local government".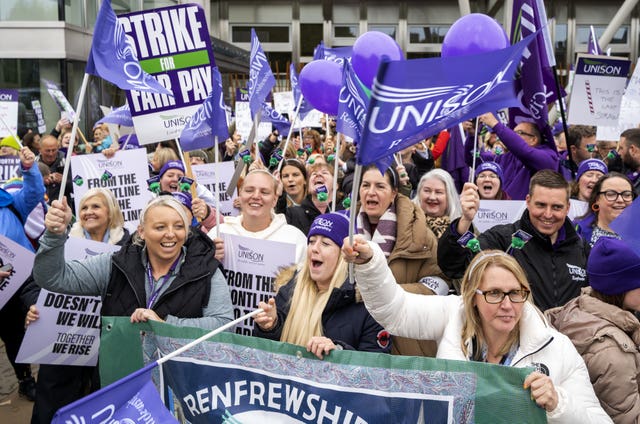 Speaking on a visit to Rutherglen in South Lanarkshire on Saturday, Mr Yousaf said the Scottish Government has already made a "significant contribution" to the pay deal.
He said: "We found more money, and we had additional money that we put into the pay deal even before that, so we put a significant contribution, in fact by the time we get to 2024/25 that contribution to the pay deal would have been close to £250 million from the Scottish Government so a significant contribution has been put on the table in terms of pay.
"I would urge Unison to wait till we hear from their members, I believe they are balloting or consulting their members, and we know that Unite and GMB are doing the same with a recommendation to accept.
"I've got tremendous respect for Unison.
"But I'd say to them nobody wants to see children's education disrupted and we're very keen to continue that discussion with Cosla and I know Cosla continue that discussion with trade unions to get a fair deal for all of those that work in local government."
He said: "I've had many discussions with Cosla, I was just speaking to Cosla on Thursday having a conversation with them about what more we can do to try to support these negotiations with the trade unions.
"We have been alongside Cosla but it is Cosla's negotiation to lead and I really hope we can get to a resolution that doesn't disrupt children's education for a day longer."
The new offer is estimated to cost around £580 million.
It emerged this week that money used to compensate the survivors of historic abuse and provide school-level funding will be "re-profiled" as part of Cosla's pay offer to non-teaching staff.
Cosla has said the new offer represents a minimum wage increase of £2,006 for those on the Scottish Government's living wage and a minimum increase of £1,929 for workers who are earning above the living wage.
The living wage of £10.85 an hour will rise to £11.89 under the new offer, equivalent to a 9.6% increase, but Unison has said that remains a "real terms pay cut" and "below the rate of inflation".
Unison has said its local government committee will meet early in the coming week to discuss and agree the next stage of industrial action, with the details released in due course.
Unison Scotland head of local government Johanna Baxter said: "The First Minister has seen the resolve of local government workers over the past three days.
"They have had enough. Over 21,000 school staff in over 1,800 schools took unprecedented strike action. And Unison membership has surged by thousands over the past few days.
"The Scottish Government is the principle funder of local government so members are looking for Humza to get hands on to help find a solution.
"There must be an improvement in the offer, for all salary scales, and an agreed timescale for implementing a minimum underpinning rate of pay for £15 per hour.
"And our members should be provided with all the details they need to take an informed decision in our consultative ballot.
"We look forward to hearing from the First Minister and Cosla in the coming days. In the meantime, and whilst we remain in dispute, we continue planning for the next stage of our industrial action."
The union previously warned that any future strike days are likely to be even bigger than the ones this week as it has welcomed several thousand new members.