Scotland's former first minister has stood in solidarity with school staff on strike amid a row over pay.
Nicola Sturgeon joined a picket line of Unison members outside the Royal Mile Primary School, Edinburgh, on Thursday.
The MSP was walking down the street when she was beckoned over by the striking staff.
Unison said Ms Sturgeon had stood and spoken with the workers and had wished them "the best of luck".
Sharron Macaulay, who was among the workers outside the school, took a photograph of Ms Sturgeon with the staff.
She said: "It was great to see Nicola this morning, she was very friendly.
"I hope she didn't feel ambushed, as we shouted her over from the other side of the street.
"I just hope she still has some influence in Government to get Humza (Yousaf) around the table to help settle this dispute."
Many schools across Scotland remain shut for the third consecutive day as non-teaching staff continue their action.
Unison's Scottish secretary Lilian Macer said: "It was great to see Nicola Sturgeon meet Unison members on a picket line at Edinburgh's Royal Mile Primary School and they were delighted to meet her.
"At least when Nicola was first minister she got around the table with Unison to negotiate a settlement. Where is Humza?"
Staff on strike includes janitors, cleaning staff, kitchen workers and class assistants.
Strikes went ahead after Unison rejected a proposed pay increase from Cosla, which the union deemed inadequate.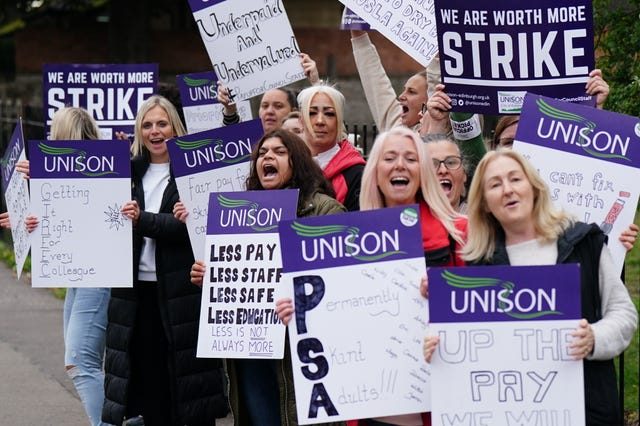 A Scottish Government spokesperson said earlier on Thursday: "We have worked constructively in partnership with Cosla and councils to find a solution, facilitated by an additional £80 million of funding and flexibility from the Scottish Government.
"We have ensured there will be no detrimental impact on jobs or services, including on Pupil Equity Funding levels or operation of the redress scheme, as a result of this additional funding. Despite UK Government cuts, the Scottish Government had already provided £155 million in 2023-24 to support a meaningful pay rise for local government workers, and provided assurances over funding in 2024-25.
"Scottish Government and Cosla will continue to work together to minimise disruption for all affected areas.
"Affected local authorities will ensure that schools and learning establishments remain open as far as is practical, taking into consideration staffing levels and individual establishment risk assessments."
A spokesperson for Cosla previously said the latest pay offer was "very strong" and "equates to 10% or £2,006 for the lowest paid at the request of the trade unions".
They added: "Throughout these negotiations we have met every request of our trade union colleagues."