A schoolboy who died in a hit-and-run incident touched and enriched the lives of everyone he met, his funeral has heard.
Ronan Wilson, nine, from Kildress in Co Tyrone, was killed in the incident in Co Donegal at the weekend.
The principal of St Mary'Äôs Primary School in Dunamore, Eileen Ward, told his funeral mass that Ronan was a 'Äúbeautiful little boy'ÄĚ who was loved by everyone.
The parish priest at St Mary's Church in Dunamore Father Paddy Hughes said the whole community had been left stunned by Ronan's death and it was hard to find the words of comfort to offer to his parents Emma and Dean.
Sinn Fein vice president Michelle O'Neill was also among the mourners.
Ronan's white coffin arrived at the church on the back of a lorry cab with his football jersey on top.
His principal Mrs Ward told the funeral that Ronan was a 'Äúspecial person'ÄĚ.
She added: "He was a character, of that no-one would argue.
"He had such a huge personality and although small in stature, it was hard not to notice him when he entered the room. Everybody loved Ronan.
"Ronan wore his heart on his sleeve and was able to converse freely with his peers and adults.
"He had endless stories to share and couldn't wait to tell them.
"Ronan was a great friend to all in his class and there is no doubt they will miss him dreadfully.
'ÄúWe may have been the educators in school, but Ronan has taught us so much more.'ÄĚ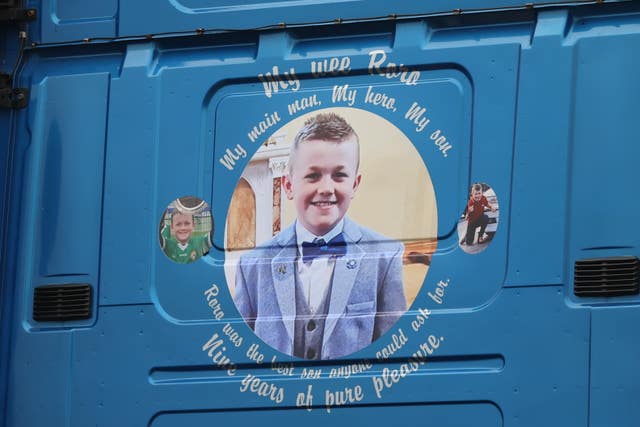 "We will miss him terribly, be it in the classroom or kicking a ball out in the playground, but we know that he will be our angel walking beside us as we walk throughout the corridors and classrooms of the school and he will never be far away.
'ÄúThere are many who live long lives and may not have been as loved as Ronan, his life on Earth was short but he touched the lives of so many and he will always be loved and remembered by all his friends and families in St Mary'Äôs Primary School.'ÄĚ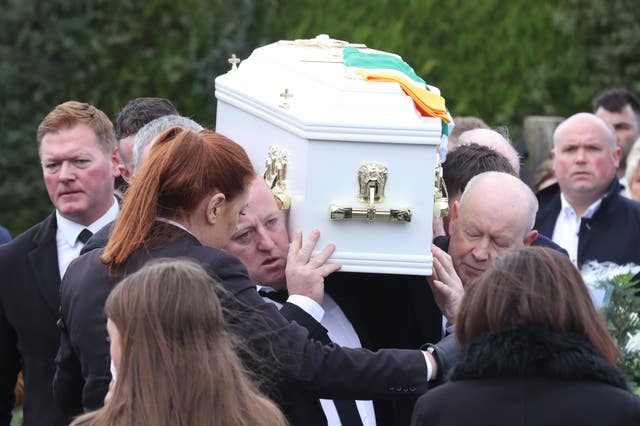 Delivering his homily, he said: "The smile, the sense of boyish fun, he so loved life, he loved football, he was so proud to get man of the match last year.
"He loved being around the Kildress Wolfe Tones field, whether he was playing himself or watching a match or training.
"Following in his father's footsteps, lorries, cars, quads were all important to him, as well as a horse.
'ÄúIn school he mixed well with his class, he was very kindly and helpful to the other children.'ÄĚ
He added: "In his short life he had been involved in a lot of activities and touched the hearts of so many people, young and old.
"Since the news broke late on Saturday night of Ronan's death in a hit-and-run accident, the whole of the parish has been stunned, indeed are lost for words.
'ÄúOne of the sentences you hear is 'Äėwhat can you say?'Äô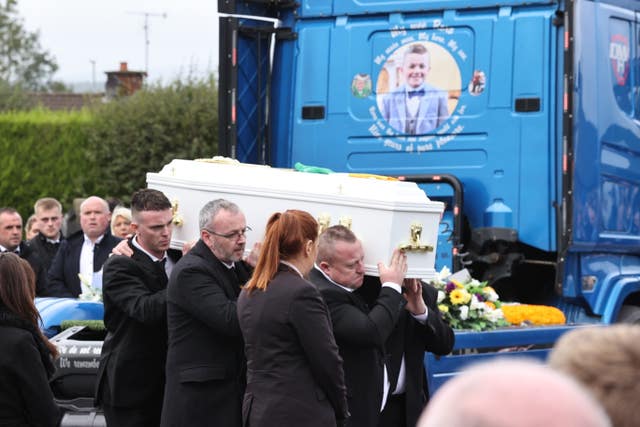 'ÄúThere is no instant solution or no instant words. The death of a child is every parent'Äôs worst nightmare.'ÄĚ
A 23-year-old man has appeared in court in Donegal on charges relating to the hit-and-run incident.