The Prime Minister has said he understands the frustration faced by parents of children whose education has been badly disrupted by the reinforced autoclaved aerated concrete (Raac) crisis.
More than 170 schools around the country have been impacted by the crumbling concrete, with St Leonard's Catholic School in Durham among the worst affected.
Pupils in most year groups there have had face-to-face lessons as little as one day a week since the start of term, and those able to go in for lessons have been taught in the sports hall or in corridors, without desks and with clipboards to lean on.
Parents held a demonstration of support at the school, which has 1,490 pupils and is among the top-performing state schools at GCSE in the North East, while education minister Baroness Barran visited the site on Wednesday.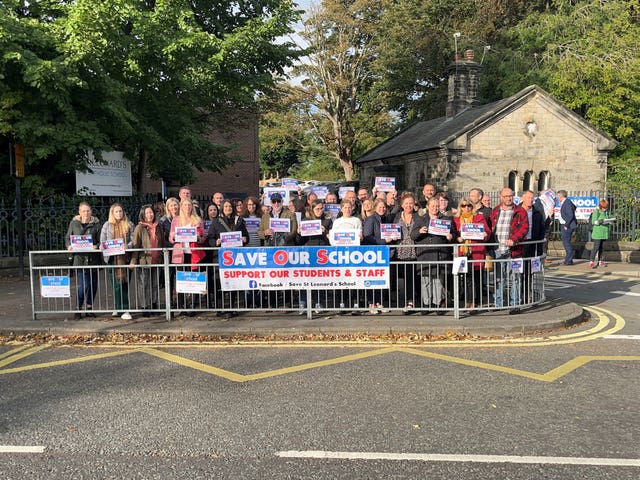 Rishi Sunak was asked about the issue when he appeared on BBC Radio Tees on Thursday.
He said: "I know how enormously frustrating the timing of this Raac situation was, but when the Government received new information, new advice about the risk posed by Raac in schools specifically, it was right that we took action.
"Of course the timing was frustrating, but the worst thing to have done would have been to sit on that and wait and put our kids at risk.
"What I can say is we're working as quickly as possible providing the funding to schools, to get the surveys done to help them put mitigations in place so we can get all our kids back and face-to-face education as quickly as possible."
Speaking about St Leonard's in particular, Mr Sunak said it was on the Government's list to be rebuilt and a feasibility study was almost complete, with the procurement, design and planning happening before the end of the year.
"I seriously doubt the families of pupils at St Leonard's school think the Prime Minister deserves a pat on the back for his neglect of our school estate."
Nick Hurn, chief executive of the Bishop Wilkinson Catholic Education Trust which runs the school, said Mr Sunak's comments were "encouraging".
He said: "For the Prime Minister to today refer to the procurement, design and planning happening by the end of the year reinforces the Government's intentions and commitment."
The Prime Minister was also asked to comment on a North Yorkshire primary school which is holding fundraisers to buy computers to replace its 12-year-old machines.
Mr Sunak said: "I care passionately about our children's education.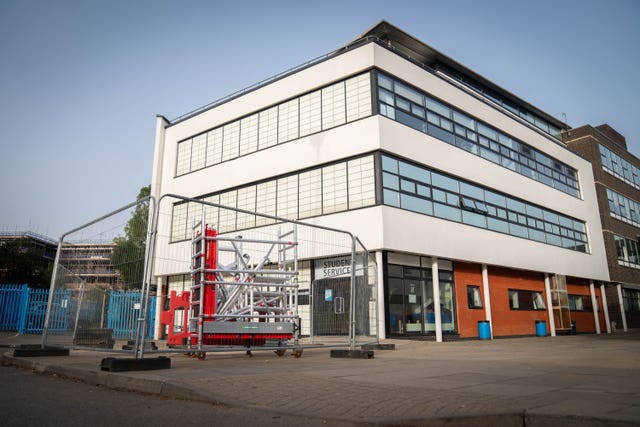 "That is pretty much my most important job quite frankly.
"School funding over this next year is going to be just shy of £60 billion. When you look at it per pupil, divide that by the number of pupils that it goes on, that will be at its highest ever level.
"So on a per pupil basis, there's more money going into our schools than there ever has been in history."
The Prime Minister was asked about almost half of all children in Middlesbrough growing up in poverty.
He said: "The most important thing we can do to ensure children don't grow up in poverty is to ensure that their parents are in work."
Mr Sunak said that since 2010, "several 100,000" fewer children were being raised in workless households.
Families on Universal Credit were being helped with the cost of living with £900 of direct support.
Asked if the child poverty levels were an indictment on 13 years of Conservative rule, the Prime Minister said: "There are over a million fewer people living in poverty since 2010, and hundreds of thousands fewer children living in poverty since 2010.
"And inequality as we measure it is also lower, so I just respectfully disagree. The job is never done."
After presenter Amy Oakden said Raac was also in hospitals as well as schools, the Prime Minister said £700 million had been put aside to tackle the issue in hospitals.
But he would not commit to rebuilding North Tees General Hospital.
Mr Sunak said: "The hospitals that have got the most serious Raac problems have been moved into the rebuilding programme as you would expect us to prioritise those ones."