Covid-19 hospital admissions in England have stabilised after rising for several weeks, although the rate remains at its highest level for four months, figures show.
It comes as the NHS steps up the rollout of the latest Covid booster vaccine, with millions of people due to be invited for the jab this week.
The rollout was brought forward as a precaution against the latest Omicron subvariant of Covid-19, BA.2.86, although experts say there is currently no evidence the new strain is more likely to make people seriously ill than other variants in circulation, while vaccination is likely to provide ongoing protection.
Hospital admissions in England of patients who tested positive for Covid-19 stood at 4.4 per 100,000 people in the week to September 24, up slightly from 4.1 in the previous week but down from 4.6 a fortnight earlier, according to the UK Health Security Agency (UKHSA).
The admission rate was last above four per 100,000 people in May.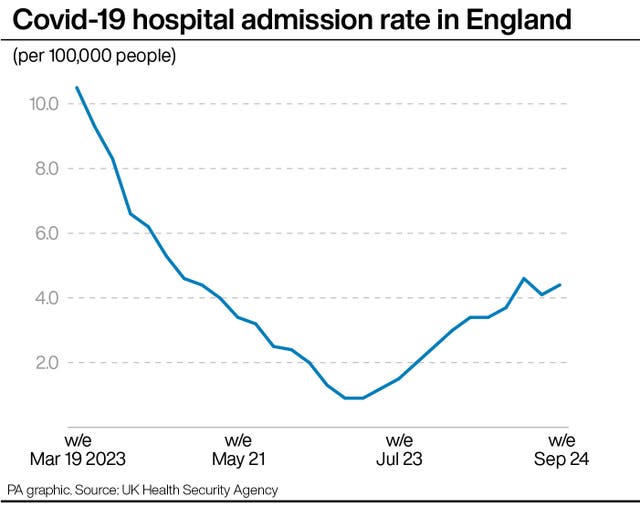 Rates are highest among people aged 85 and over, at 44.9 per 100,000, though this figure is down from 50.2 two weeks ago.
The rate for 75 to 84-year-olds has dropped over the same period, from 21.1 per 100,000 to 20.2.
There are no longer any official estimates of the prevalence of Covid-19 among the UK population, meaning hospital admissions are the only regular guide to possible changes in how the virus is circulating.
Testing for Covid-19 has also been scaled back sharply, so there is not as much data available for analysis.
BA.2.86 was first identified in the UK in August, but so far only a very small number of cases have been confirmed, including 30 that were linked to an outbreak in a care home in Norfolk.
Although the amount of scientific data on BA.2.86 remains limited, there is  "no evidence" at the moment to suggest the strain is "more likely to make people seriously ill than currently-circulating variants, while vaccination is likely to provide continued protection," the UKHSA said.
The data also indicates that BA.2.86 is "no more likely to evade existing antibodies than XBB.1.5", which is a variant that has been circulating widely in the UK for some time.
The latest Covid-19 booster jab is being offered to everyone in the UK aged 65 and over, along with care home residents, frontline health and social care staff, those at increased risk because they are pregnant or have a certain underlying health condition, unpaid carers and household contacts of people with a weakened immune system.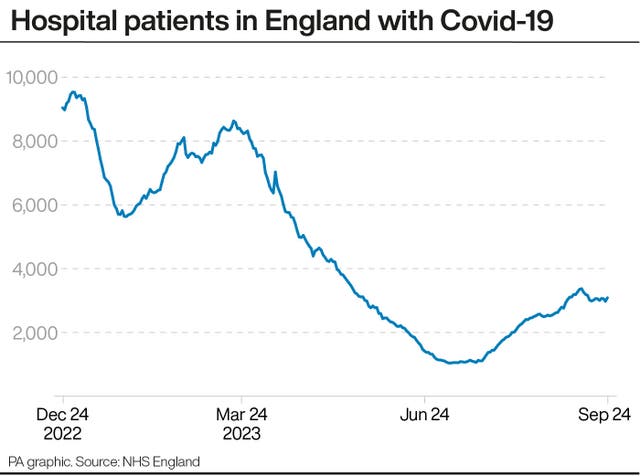 A total of 3,087 patients had tested positive for the virus as of September 24, up very slightly from 3,012 the previous week but down from 3,354 a fortnight earlier.
The number reached nearly 10,000 during the winter of 2022/23 and peaked at over 30,000 in winter 2020/21.
Dr Jamie Lopez Bernal, UKHSA consultant epidemiologist for immunisation, said the latest figures contained "multiple indicators" pointing to a "stabilisation" of Covid-19 rates, adding: "We have also seen a decrease in hospitalisation in those aged over 75 compared to two weeks ago since our last report.
"While this is good news, we will continue to remain vigilant and monitor rates closely.
"The NHS booking system for the Covid-19 vaccine is now live. We urge everyone eligible to come forward to boost their protection and to keep the vulnerable around them safe this winter."