Forecasters have warned the "worst conditions are still to come", with Storm Agnes set to make landfall in the UK after battering the south of Ireland with gale force winds.
Agnes, the first named storm of the season, has triggered a series of Met Office yellow weather warnings for wind and rain, with forecasts of damaging winds and big stormy seas.
Met Office meteorologist Marco Petagna said: "This evening's rush hour could be quite tricky" in some north and north-western areas of the UK, as it is expected to coincide with expected periods of strong wind and rain.
"We are looking at high gusts developing."
Gusts of 53mph were recorded in the Isles of Scilly on Wednesday and "well into the 40mph (zone)" across parts of Cornwall and parts of Wales, but "the  winds are picking up", Mr Petagna said.
He said there is "a contrast in the South East as it is escaping all this and has seen some bright weather".
The alerts include a wind warning until 7am on Thursday stretching across Scotland, Northern Ireland and Wales, as well as the south-west of England, the West Midlands and most of the north of England.
There are also rain warnings for much of  Scotland through to Thursday at 3am.
Just after midday on Wednesday the Met Office tweeted: "Gusts of 65-70 mph have already been recorded in southwest Ireland.
"Strong winds are expected to affect much of the UK as the storm tracks northeastwards this afternoon."
The roof of a building in Youghal, Co Cork, was blown off.
A yellow rain warning for parts of Northern Ireland, which runs to  Wednesday at 8pm, says: "Some areas will see 20-30 mm of rain within a few hours as the storm pushes northeast across the country, whilst some parts of the Mournes and Sperrins may catch up to around 40-50 mm.
"Leaf fall and other debris from strong winds may block some drains, leading to an increased risk of flooding in a few spots."
Several regions have been alerted to strong winds in a yellow warning that runs to Thursday at 7am.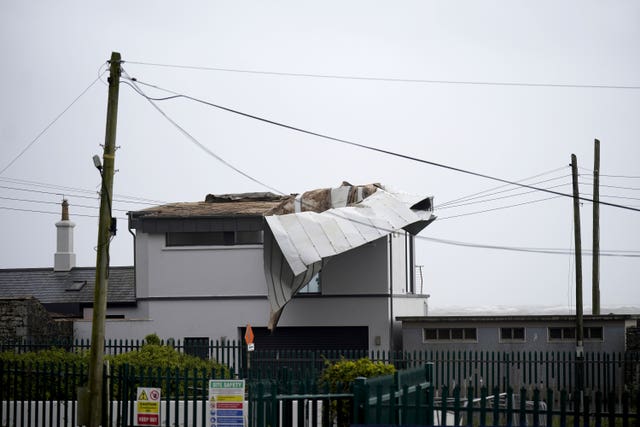 Storm Agnes will bring a spell of strong and potentially disruptive winds through Wednesday afternoon into early Thursday, after approaching southwest Ireland early on Wednesday and then tracking northeast across Northern Ireland and Scotland before clearing on Thursday.
The Met Office said: "Whilst there is still some uncertainty in the exact track and depth of Agnes, gusts of 45-55 mph are expected widely inland and 50-60 mph over hills and around coasts.
"The strongest winds are expected to affect eastern parts of Northern Ireland, southwest Scotland, west and northwest Wales, Cumbria and Lancashire where some inland locations may see gusts of 50 to 60 mph, and perhaps 65-75 mph over hills and around some coasts.
"The strongest gusts are most likely during the second half of Wednesday afternoon and through the evening."
The storm is likely to cause "dangerous conditions" on the coasts around the UK and Ireland, according to The Royal National Lifeboat Institution (RNLI).
They advised staying a "safe distance" away from the water and cliff edges.
Humber Maritime Rescue Coordination Centre Commander Bev Allen said: "The first few storms of the autumn and winter are always a little frightening for us, as people are still in summer mode, the power of the waves can take them by surprise.
"We would encourage people to stay away from the water's edge in stormy weather – it's not worth risking your life for that selfie. Keep off groynes, piers, jetties and harbour walls. If you can feel the spray, you're too close."
On the weather from Thursday, Mr Petagna said: "The weather will stay unsettled for the next few days but we are not expecting it to be as impactful."