Tory London mayoral candidate Susan Hall said she "didn't intend to cause offence" with a string of tweets that caused controversy online.
She was confronted on Wednesday with her history on X, formerly known as Twitter, which included an apparent endorsement of Islamophobic abuse of Labour rival Sadiq Khan.
Ms Hall told an LBC Radio phone-in she "can't remember" supporting a 2019 post by far-right commentator Katie Hopkins which described the Muslim Mayor as the "nipple height mayor of Londonistan".
The London Assembly member was also asked about liking a tweet in 2020 featuring a picture of former Tory minister Enoch Powell, who was best known for his infamous "rivers of blood" immigration speech that was widely blamed for heightening racial tensions in the 1960s.
The post, uncovered by campaign group Hope Not Hate, depicted him with the words: "It's never too late to get London back".
Ms Hall brushed off backing the tweet by saying: "If you're a serial tweeter, you tend to go through liking all sorts of things.
"If anybody is offended, then obviously I would apologise."
Any offence "wasn't intended", she insisted, saying she was "of course not" a fan of Powell.
Challenged over a tweet in which she called reality TV star Gemma Collins a "stupid fat blonde", Ms Hall said: "People will throw these tweets at me and I accept it and if I offended anybody, I apologise."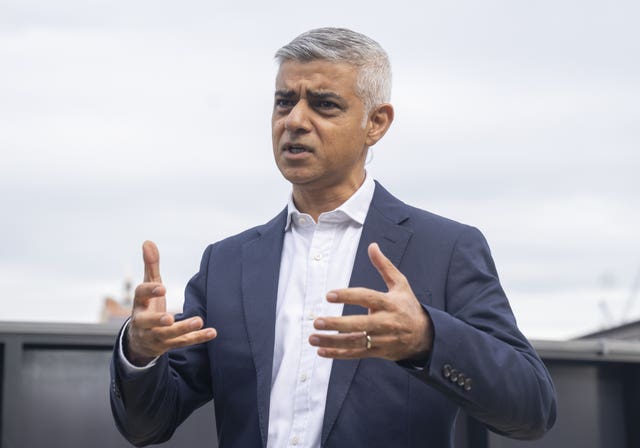 She has made reversing the expansion of London's ultra-low emission zone and a crackdown on crime central to her campaign.
During the phone-in, she was unable to say whether she would have sacked Dame Cressida Dick, more than a year on from the former Metropolitan Police Commissioner leaving office.
"Things are going very wrong in the Met. Sadiq Khan blames everybody for anything going wrong."
Asked if she would have kept her in place: "I don't know is the honest answer."
Referencing a review by Sir Tom Winsor into the former commissioner's exit, she said: "The way she was treated was appalling and nobody in any job should be treated so badly."
Amid speculation Rishi Sunak's Government could be poised to curtail HS2, Ms Hall said she would "obviously prefer" the high-speed rail line to run all the way to Euston rather than stopping short in the capital's western suburbs.
Asked whether the Old Oak Common stop is what she wanted for London, she said: "No, it isn't. And I want the (whole HS2) thing to go ahead. Of course I do.
"But equally, the Government have got to watch to see how much it's costing."
She said ministers have not been in touch with her about this "specific issue", adding: "To be fair, they've got much bigger things to think about at the moment."