Storm Agnes has hit the UK with gale force winds, floods and power outages after battering Ireland.
The first named storm of the season drummed up a high of 79mph winds in Capel Curig, a village in Wales, on Wednesday evening.
Elsewhere, winds were recorded reaching speeds of 68mph in Aberdaron, Wales, 58mph in Glenanne, Northern Ireland, and 54mph in Camborne, Cornwall.
The UK has experienced flooding, travel disruption and power outages.
A woman had to be rescued from her car in Co Londonderry, Northern Ireland, after it was trapped by floodwater.
An easyJet plane was unable to land in Belfast on Wednesday afternoon and the airline told the Belfast Telegraph that the difficulty was due to "winds gusting outside the limits of the aircraft".
Around 135 properties on the Isles of Scilly, in the south-west of England, experienced power outages for just under four hours earlier on Wednesday, according to National Grid.
But the Met Office said the main impact on the UK has been strong winds.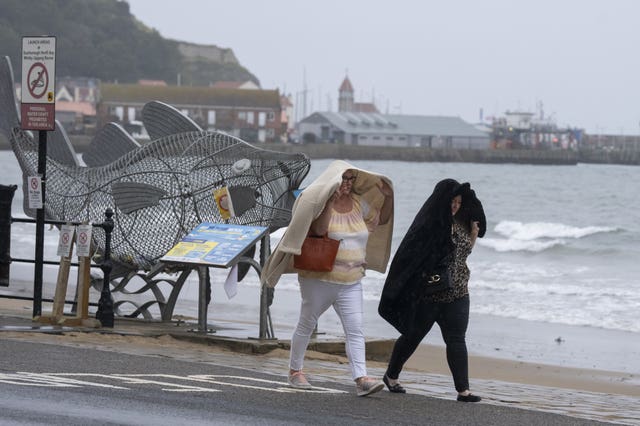 He said: "It's an improving picture across England and Wales but there's still some very strong gusts actually further north across Northern Ireland and Scotland.
"But we're expecting the peak of the wind gusts in Storm Agnes to gradually ease during the overnight period."
Ireland, where Agnes first made landfall, saw flooding and travel disruption, with fallen trees blocking roads and flights and ferries also being affected.
A roof was blown off a building in Co Cork.
The Royal National Lifeboat Institution (RNLI) had warned of "dangerous conditions" on the coasts.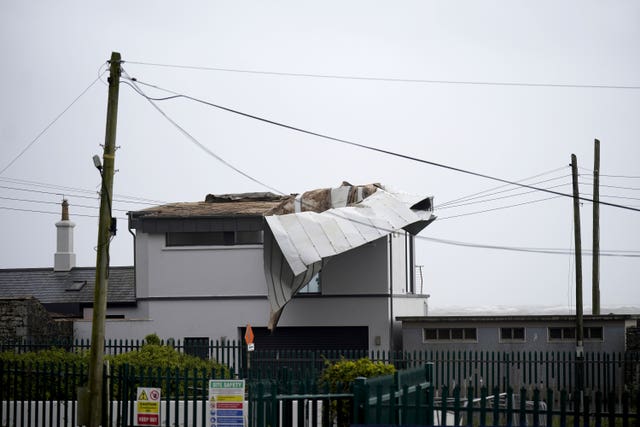 The rescue organisation said in a statement: "Sea conditions at the time were very difficult and the lifeboat crews faced four meter swells, driving rain and Force 8 winds out at sea."
Alerts triggered by Storm Agnes included a wind warning until 7am on Thursday, which was cancelled early on Thursday morning.
The warning stretched across Scotland, Northern Ireland and Wales, as well as the south-west of England, the West Midlands and most of the north of England.
There were also rain warnings for much of Scotland until Thursday at 3am.