The proportion of young women in the UK identifying as lesbian, gay or bisexual (LGB) has more than doubled in five years and now stands at around one in 10, new data suggests.
Some 10.6% of women aged 16 to 24 identified as LGB in 2022, up from 4.8% in 2017, according to estimates from the Office for National Statistics (ONS).
Among 16 to 24-year-old men the proportion is slightly lower, at 7.9% in 2022 – around one in 13 – up from 3.8% in 2017.
LGB identification is higher among young adults than in any other age group, the ONS found.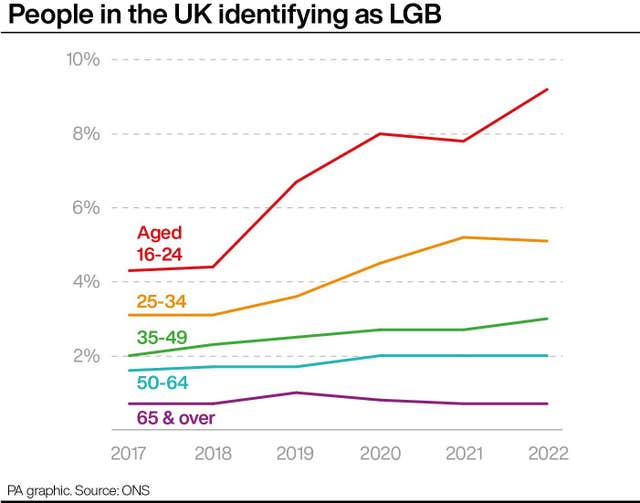 The figure dips to 0.7% for people aged 65 and over, though this proportion has remained broadly stable in recent years and is similar to 2017.
Across the whole UK population aged 16 and over, an estimated 3.3% identify as LGB, the equivalent of 1.8 million people.
This is up from 2.1%, or 1.1 million people, in 2017.
The proportion identifying as heterosexual has fallen over the same period, from 95% to 93.4%.
This drop "may be attributed to more people exploring their sexual identity, in combination with changing societal attitudes towards different groups and the expression of these today," the ONS said.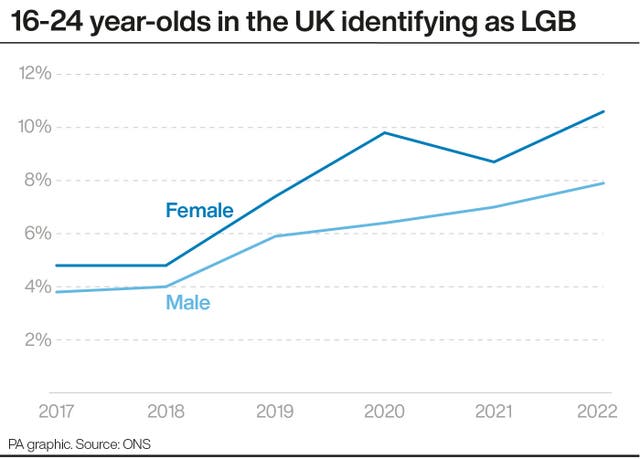 Of the 9.2% of people in the UK aged 16-24 who identify as LGB, just over two-thirds identify as bisexual.
By contrast, just under half of LGB 25 to 34-year-olds identify as bisexual, with the proportion falling to about a quarter for 35 to 49-year-olds and one in seven of LGB 50 to 64-year-olds.
This trend does not continue into the oldest age group, however.
Within the 85,000 people aged 65 and over estimated to identify as LGB, 25,000 – about three in 10 – identify as bisexual.
Robbie de Santos, director of communications at the LGBTQ+ rights charity Stonewall, said: "It's encouraging that more lesbian, bi and gay young people feel comfortable being their true selves. No-one should have to hide who they are because they fear backlash or discrimination.
"While these statistics are welcome news, we must remember that LGBTQ+ people still face rising hate and increasing intolerance.
"The sad truth is that too many LGBTQ+ still feel unsafe simply for being themselves, and it's vital that we all keep on fighting for a brighter future."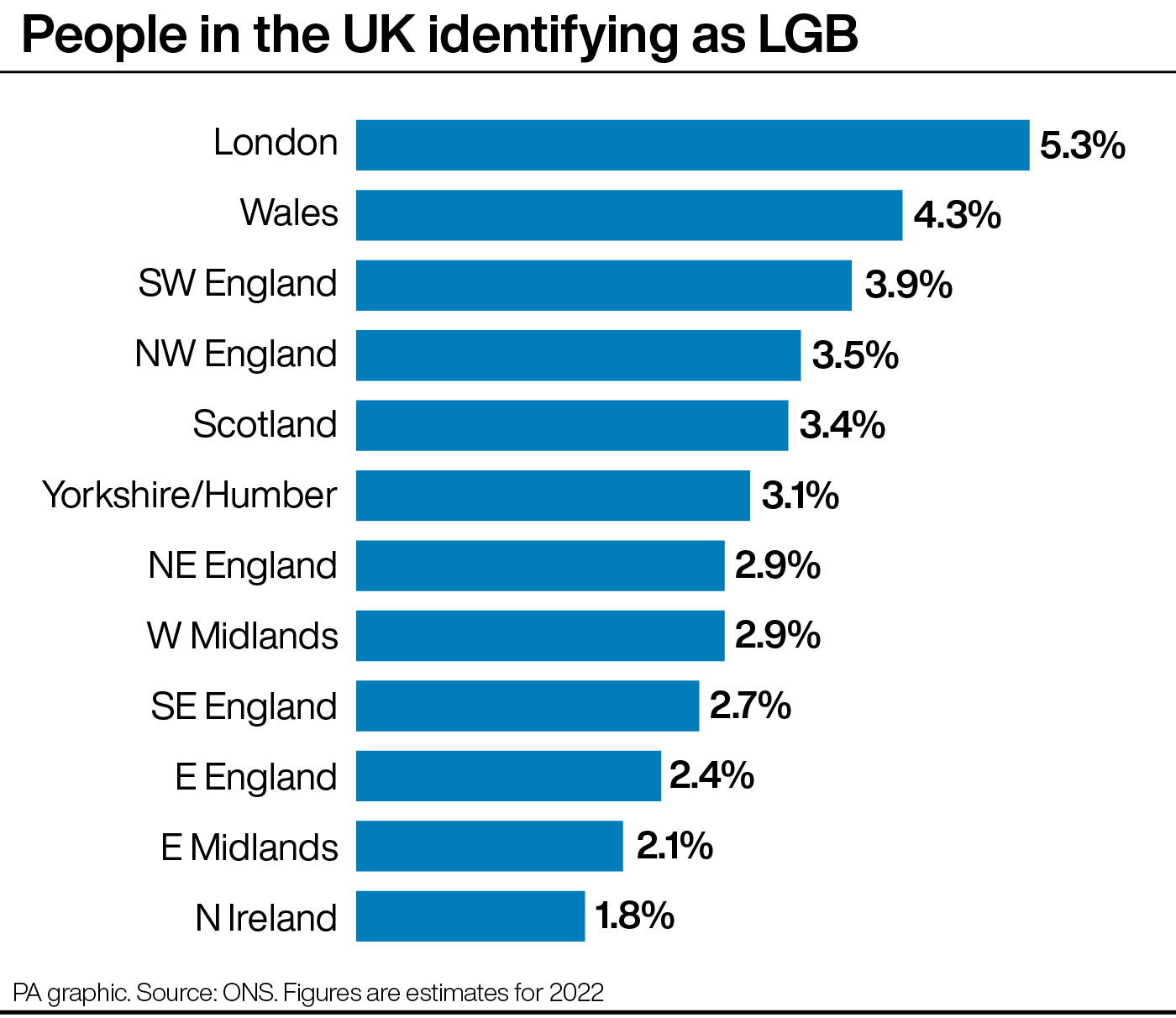 The East Midlands has the lowest proportion among regions (2.1%), while Northern Ireland is lowest among nations (1.8%), some way behind Wales (4.3%), Scotland (3.4%) and England (3.3%).