Developing Rosebank is "the wrong decision" while new oil and gas licences will slow down the energy transition, Scotland's First Minister has said.
Humza Yousaf expressed his opposition to the project after the North Sea Transition Authority (NSTA) announced it had given its consent for the largest untapped oil reserve in UK waters to be developed.
The UK Government said it supports the decision and wants hundreds of new licences to be awarded to producers of North Sea oil and gas.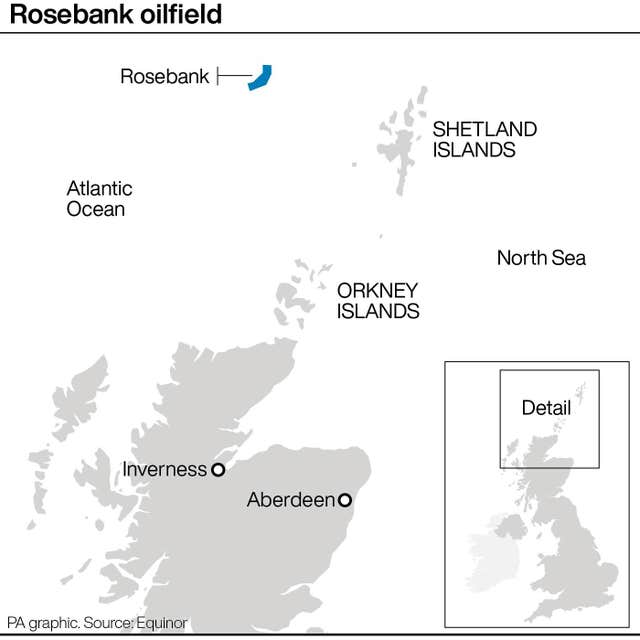 "Scotland's future, the north east's future, is as the net zero capital not just of Europe but of, I hope, the world.
"And, of course, new oil and gas licences being given the go-ahead will slow the pace of that transition down.
"I want to accelerate that transition and take the workers with us."
The UK Government said Rosebank will provide more jobs and reduce the need to import fuel from hostile countries such as Russia.
Secretary of State for Energy Security and Net Zero Claire Coutinho said it "makes sense to use our own supplies" of North Sea oil and gas, although any fuel extracted from Rosebank will mostly belong to Equinor, whose largest shareholder is the Norwegian state.
As the majority of this fuel is expected to be sold internationally, many researchers, campaigners and opposition MPs have questioned whether adding a significant amount of greenhouse gases to the atmosphere is worth any economic and security gains.
Ms Coutinho said: "The jobs and billions of pounds this is worth to our economy will enable us to have greater energy independence, making us more secure against tyrants like (Vladimir) Putin.
"We will continue to back the UK's oil and gas industry to underpin our energy security, grow our economy and help us deliver the transition to cheaper, cleaner energy."
Rosebank's owners say its development will create 1,600 jobs during the peak of its construction and 450 over the long term, while producing £6.3 billion that could be invested in UK businesses.
The oil and gas industry currently supports tens of thousands of jobs in Scotland and Rosebank has been the centre of a debate around how fast North Sea rigs should be shut down, if at all.
Labour's policy of stopping the approval of new licences was criticised by the leader of the GMB union who called the policy "naive", while the Scottish Government has been reluctant to take a strong opposing view until today.
Former First Minister Nicola Sturgeon said at Cop27 last year that it was important to move away from fossil fuels, but did not take a stand on Rosebank specifically.
After the NSTA announcement she wrote on social media that she agrees with Green Party MP Caroline Lucas, who described the decision to give consent to Rosebank as the "greatest act of environmental vandalism in my lifetime".
Ms Sturgeon said: "Agree with @CarolineLucas. Also, by consuming scarce resources that could be going to renewables, it risks slowing the green transition and the jobs that come from it.
"That's not in interests of those who work in oil & gas – they need that transition to happen at pace."
The Climate Change Committee, which advises the UK Government on how to reach net zero, said many jobs will also be created by replacing oil and gas with renewable power.
The International Energy Agency said that globally, replacing fossil fuels with renewables and going net zero by 2050 would save the world economy 12 trillion dollars (£9.8 trillion).