Birmingham City Council has voted to approve spending control measures, after debating a financial recovery plan to tackle an estimated £760 million equal pay liability.
Members of the authority voted on Monday to approve the Section 114 notice it issued on September 5, effectively declaring bankruptcy, at a meeting which heard it faced pressures requiring a "redesign" of services.
The extraordinary meeting of the full council voted to accept the Section 114 notice, to endorse "financial recovery plan" activity already under way, and to receive a revised emergency budget at another meeting late next month.
The vote was passed six days after Communities Secretary Michael Gove outlined plans to appoint commissioners to oversee the council and launched a local inquiry into its finances.
"It has been an incredibly tough month for everyone associated with this council and I apologise to the people of Birmingham, our staff and our many partners across this city that we are faced with such stark choices.
"Tonight's meeting must be the start of our recovery."
Calling for a "re-set and rebuild moment", Mr Cotton added: "I am committed to seeing this through.
"I also welcome last week's intervention announcement.
"Our collective task now is to transform the council. We must act decisively to close off this council's long-standing equal pay liability once and for all.
"We have to do the right thing. We have to make sure our people are paid equally and fairly. We need to ensure that our cleaners, our teaching assistants, our refuse collectors are paid properly and fairly for the work that they do.
"And we need to end gender pay injustice once and for all."
Mr Cotton, who took over as leader of the Labour-led authority in May, claimed the equal pay issue pre-dated the current administration and could be linked to a Conservative-Liberal Democrat coalition in power until 2012.
He added: "This council has consistently failed to close off the equal pay liability and that must end now.
"No stone will be left unturned as we work towards a sustainable medium-term financial plan. The work is already under way to identify savings and I hope to have much more detailed proposals in advance of the arrival of the commissioners."
According to the meeting's agenda report, the Section 114 notice was issued on the basis of a "potential liability" relating to equal pay claims in the region of £650 million to £760 million.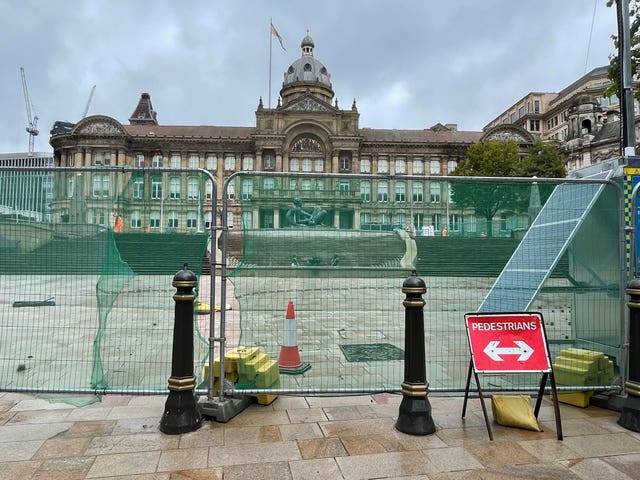 Responding to Mr Cotton, Conservative councillor Matt Bennett, who represents Edgbaston, said the impact of the crisis would be devastating and described the vote as being only "a plan to have a plan".
Mr Bennett said: "When I heard the response from the leader today one word does stick in my mind and that word is implausible.
"I find it implausible when they claim they are genuinely committed to equal pay for women – because they have been in power for 11 years. They've had 11 years to sort this out."
Liberal Democrat Paul Tilsley (Sheldon ward) told the meeting: "We are, lord mayor, facing probably the worst crisis that this council has faced.
"We have got the four horsemen of the apocalypse and I would identify them as the sale of assets, reduced staff, reduced services and increased council tax to pay for it.
"And none of those four issues are attributed to the citizens of Birmingham.
"They are going to be poorer for it and they are going to suffer because of decisions, or lack of decisions, that have been made in this chamber."
In a statement last week, Mr Gove said the commissioners would be able to exercise certain functions as required, including on financial governance, and the council would be expected to prepare and agree an improvement plan within six months.