An endangered male giraffe has been welcomed into a Scottish safari park for the first time in 10 years.
On Wednesday, Blair Drummond Safari and Adventure Park near Stirling introduced Sifa, a five-year-old Rothschild's giraffe, to its grounds.
Sifa arrived at the park at about 8pm on Wednesday after travelling from Dublin Zoo.
As well as a sea crossing from Dublin to Holyhead, Sifa also endured a 337-mile journey north to his new home.
He has so far met new companions Harriet, Bella and Ruby, with the park saying the four are already getting along well.
The overall giraffe population spanning all species has dropped by about 30% since the 1980s, with an estimated 117,000 left in the wild.
Suzi Marshall, team leader for large mammals at Blair Drummond Safari Park, said: "We are thrilled to welcome a new male into our giraffe tower.
"We are used to having an all-female group, so we were a bit taken aback by how tall he is, he's a good couple of feet taller than all our girls.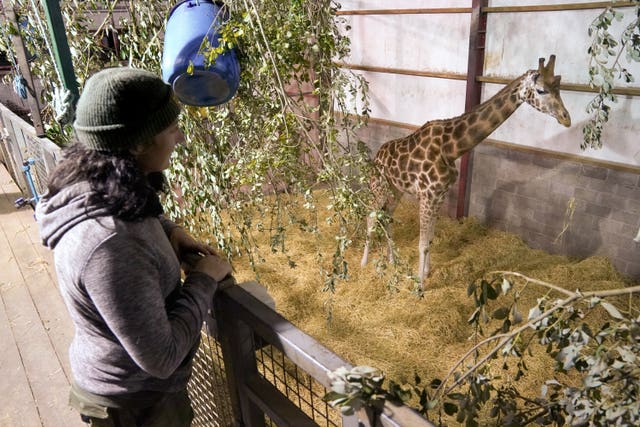 "He made himself right at home and started tucking in right away."