The Government will pump up to £500 million into Britain's biggest steelworks as part of plans to produce "greener" steel – but as many as 3,000 workers are set to lose their jobs.
Tata, the Indian conglomerate owner of the Port Talbot steelworks in South Wales, will use the funding to help switch the plant's two coal-fired blast furnaces to electric arc versions which can run on zero-carbon electricity.
The firm, which employs around 8,000 people across the UK, will also invest about £750 million in the project.
But the company said on Friday the plans will lead to consultations over a "deep potential restructuring".
Union leaders have expressed their anger at being shut out of talks between Tata and the Government and described the deal as a "disgrace".
Prime Minister Rishi Sunak said: "There were fears that around 8,000 jobs could be lost if steelmaking was lost at that plant. That clearly was a risk because those two blast furnaces there are reaching the end of their life.
"I'm pleased that the Government has managed to reach an agreement with Tata to support them in that transition, but they will also be making a very substantial capital investment into the plant to secure thousands of jobs.
"Obviously, there will still be some people affected and I know this will be an anxious time for them."
The £1.25 billion furnaces are expected to be up and running within three years of getting regulatory and planning approvals.
Tata said last year its UK operations were under threat unless it secured Government funding to help it move to less carbon-intensive electric arc furnaces.
The deal also comes two months after parent firm Tata Group confirmed plans to build a £4 billion battery factory in the UK after also getting subsidies from the UK Government.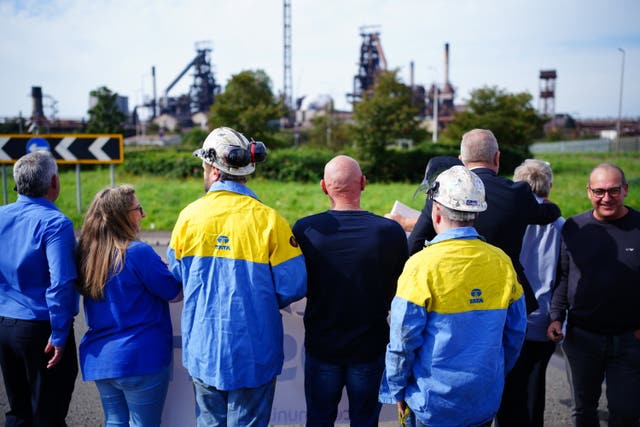 Tata Steel's chief executive and managing director, TV Narendran, said: "We will undertake a meaningful consultation with the unions on the proposed transition pathway in the context of future risk and opportunities for Tata Steel UK.
"With the support of the UK Government and dedicated efforts of the employees of Tata Steel UK along with all stakeholders, we will work to transform Tata Steel UK into a green, modern, future-ready business."
The Government said replacing the existing coal-powered blast furnaces at the Port Talbot site will "reduce the UK's entire carbon emissions by around 1.5%".
Speaking to Sky News, Business Secretary Kemi Badenoch said the agreement was "a great deal. Not just for Port Talbot, but for the UK".
Ms Badenoch said: "What I would say to people who are concerned about job losses is that we do understand and we have a transition plan in place that's funded up to about £100 million to make sure that people have skills to retrain and move on to other things if they don't want to stay in the steel industry."
But union bosses and rival politicians heavily criticised the announcement.
Unite general secretary Sharon Graham said: "These plans are disgraceful, short-sighted and lack ambition.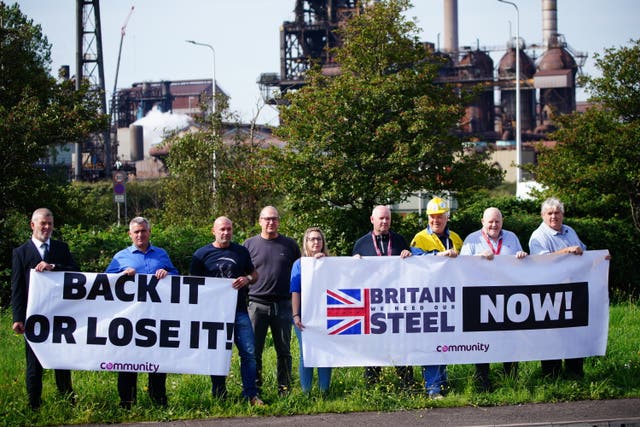 Gary Smith, GMB general secretary, said: "The jobs of thousands of steelworkers are now at risk. The cost to local people and the wider Port Talbot community will be immense.
"Once again, we have the spectacle of leaders talking up the fantasy land of a 'just transition' while the bitter reality for workers is them getting the sack."
Labour claimed the plans would both waste money and hurt workers, with shadow business secretary Jonathan Reynolds MP saying: "Only the Tories could spend £500 million of taxpayers' money to make thousands of British workers redundant."
Labour's Stephen Kinnock, who represents the Aberavon constituency, said a single job lost would be "one job loss too many".
"If they had had a plan that was not just putting all the eggs into the electric arc furnace basket, we would have been able to have much more security about the future and sustaining those jobs.
"If those numbers are right, it would be utterly devastating for the community that I represent."
Plaid Cymru members for South Wales West, Luke Fletcher and Sioned Williams, said: "The potential job losses at Tata's Port Talbot plant will have a devastating impact not only on the people of Port Talbot and its neighbouring communities but on the local and national economy.
"Our solidarity is with the workers at this time and we stand ready to support those who need it."
Downing Street acknowledged it had been an "anxious time" for employees and their families but insisted the changes were necessary.
"We recognise this will have been an anxious time for employees and their families while this work to find the right way forward has taken place," the Prime Minister's official spokesman said.
"Simply maintaining blast furnace production, ie the status quo, was not an option with the steel industry needing a sustainable future using more modern technology and practices."