The Duke of Sussex is giving evidence in his High Court claim against the publisher of the Daily Mirror over alleged unlawful information gathering.
The duke, 38, is suing MGN for damages, claiming journalists at its titles – which also include the Sunday Mirror and Sunday People – were linked to methods including phone hacking, so-called "blagging" or gaining information by deception, and use of private investigators for unlawful activities.
This live blog has now come to an end.
3.24pm
After the Duke of Sussex finished giving evidence, former Daily Mirror royal correspondent Jane Kerr, one of MGN's witnesses in the trial, was sworn in.
In a written witness statement, Ms Kerr said she became a royal reporter and later royal correspondent for the newspaper from around 1997 to 2007.
She said in her statement: "I have never engaged in voicemail interception at MGN or elsewhere and I have never engaged the services of private investigators or other third parties to engage in unlawful information gathering activities."
3.13pm
At the end of his re-examination by his barrister David Sherborne, the duke appeared to become emotional as he was asked about the impact on him of bringing this case.
Mr Sherborne asked him: "Finally, Prince Harry, you have been in that witness box for over a day and a half.
"You have had to go through these articles and answer questions knowing this is a very public courtroom and the world's media are watching. How has that made you feel?"
After a long pause, in which he appeared emotional, the duke eventually answered: "Erm, it's a lot."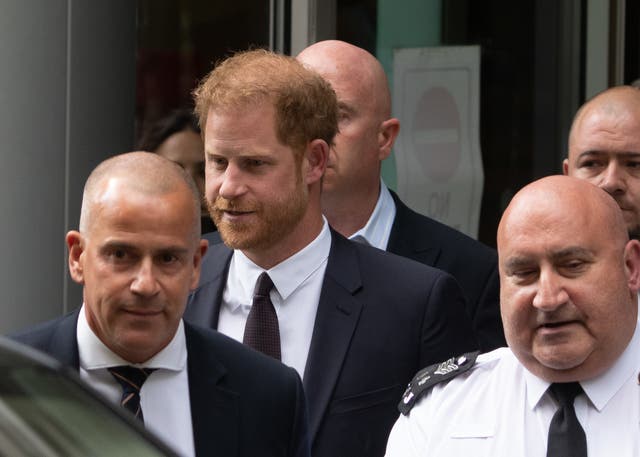 Responding to a question from the judge about when he first experienced unusual activity in relation to his voicemails, the duke said: "From the moment I had a mobile phone."
Asked if there were times the activity was more frequent, he said: "I can't remember. I remember a lot of missed calls that lasted one second and remember a lot of people asking me 'Did you get my voicemail?'. I don't remember how consistent that was."
He said he was sure there was more activity around certain events or when he featured in the press, which he said was "most of my life", because lots of people were trying to find out information around those times.
3.05pm
The Duke of Sussex told the court toward the end of his evidence that photo agency Ikon Pictures "stalked and harassed" him "for well over a decade", creating an "enormous security issue".
He claimed they were "always turning up at places before we got there".
Harry recounted a story of when he was leaving a friend's pub in central London, someone he said was "having his phone hacked", and he recognised the car of an Ikon photographer in the dark.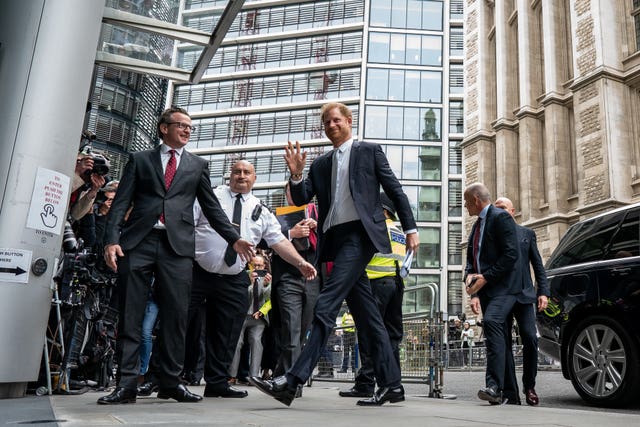 Harry said a "protection officer" later "jumped out to speak to the individual" but the car went on to the other side of the road, "endangering everybody around him".
The duke said there may have been "some form of illegal device" in the car that meant it had been instructed not to be stopped "no matter what".
2.50pm
Beginning his re-examination of the duke, his barrister David Sherborne asked him about an earlier part of his evidence in which he said hacking him would have been "an incredibly risky thing to do" and whether he meant no-one would have hacked him as a result.
Harry replied: "No. I believe they would have gone to extreme lengths to cover their tracks."
There was a brief moment of laughter from the public gallery as Mr Sherborne told the duke he was not going to take him through all 33 of the articles again and Harry appeared visibly relieved as he replied: "Thank you."
Referring to a quote said to be from passers by, he described how the school had two "long driveway exits" and therefore no members of the public would have been able to see. He said: "No member of the public would ever have been able to see her (Diana)."
Mr Sherborne asked if the duke was saying the passers by referred to were made up, to which he replied that it was "incredibly suspicious".
2.47pm
The Duke of Sussex repeatedly denied engaging in "total speculation" during his evidence over his allegations of unlawful information gathering by MGN.
Harry's lawyer David Sherborne took the duke back through articles covered during his cross-examination by Andrew Green KC, MGN's barrister.
"The terminology of entering the realm of total speculation was used a few times by Mr Green," the duke said.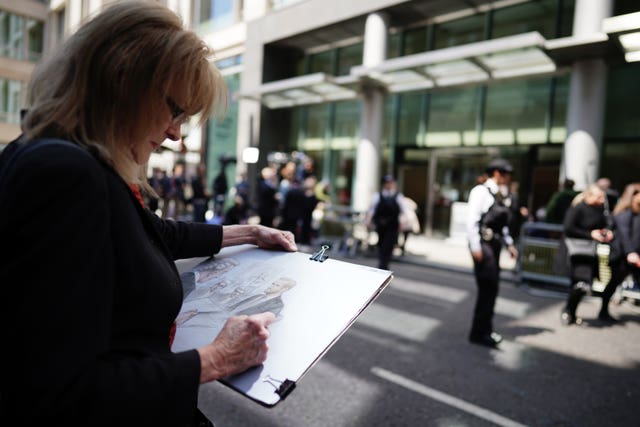 The duke said: "For my whole life the press has misled me and covered up the wrongdoing.
"For me to be sitting here in court knowing the defence has the evidence in front of them, and Mr Green suggesting I'm speculating, I'm not entirely sure what to say."
2.35pm
The Duke of Sussex has finished giving evidence after almost eight hours of questioning on Tuesday and Wednesday.
2.16pm
Proceedings are back underway after a break for lunch.
2.13pm
Earlier, Andrew Green KC for MGN asked the duke if his initial discussions with his lawyers were with a view to bringing his separate hacking claim against News Group Newspapers (NGN).
Harry said he believed there was a discussion about him wanting to put a stop to the "absolute intrusion and hate that was coming towards me and my wife and see if there was any way to find a different course of action, rather than relying on the institution's way".
Mr Green asked if he had wanted to bring an action against NGN first and then decided to also sue MGN, to which Harry replied: "No, I believe I filed the claims at pretty much the same time." Harry added that there was "industrial-scale destruction of evidence on all sides".
The duke said he was not aware there was no existing call data in relation to him, and was then asked if he believed he was being hacked on a daily basis.
He replied: "It could have been happening on a daily basis, I simply don't know." Completing his cross examination of the duke, Mr Green asked if he was aware of any evidence which gave "any indication whatsoever" that he was being hacked. Harry replied: "No, that is the … reason why I am here."
1.57pm
Earlier in his evidence, the Duke of Sussex denied he was "cavorting" with a woman at rugby match at Twickenham in London in March 2009.
Harry challenged the contents of March 2009 Daily Mirror article which alleged he "openly cavorted with his new girlfriend Astrid Harbord" in a hospitality box.
He told the court that he and Ms Harbord were "never in a relationship", adding: "Everything that was highlighted was not true".
"I wasn't cavorting," Harry said, after Andrew Green KC, for MGN, said he had been in public.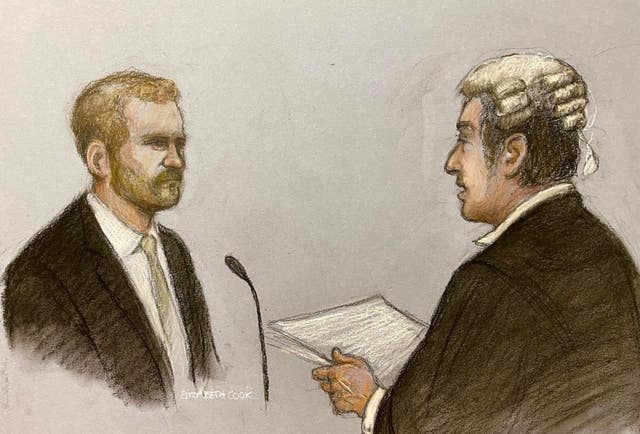 "Friends teased me, it created an awkwardness between me and whichever girl was at the subject of the story."
He said he had been shown six payments to a private investigator relating to Ms Harbord, "which shows that she was of prior interest to the Mirror".
Asked in court whose mobile phone he thought was hacked, Harry replied: "I'm not sure because the evidence has been destroyed."
1.54pm
After taking the duke through all of the 33 articles being considered in the case, Andrew Green KC asked him when he first approached solicitors about making a claim against MGN.
Harry said: "I didn't go to them, I bumped into Mr Sherborne in France. It's in my book."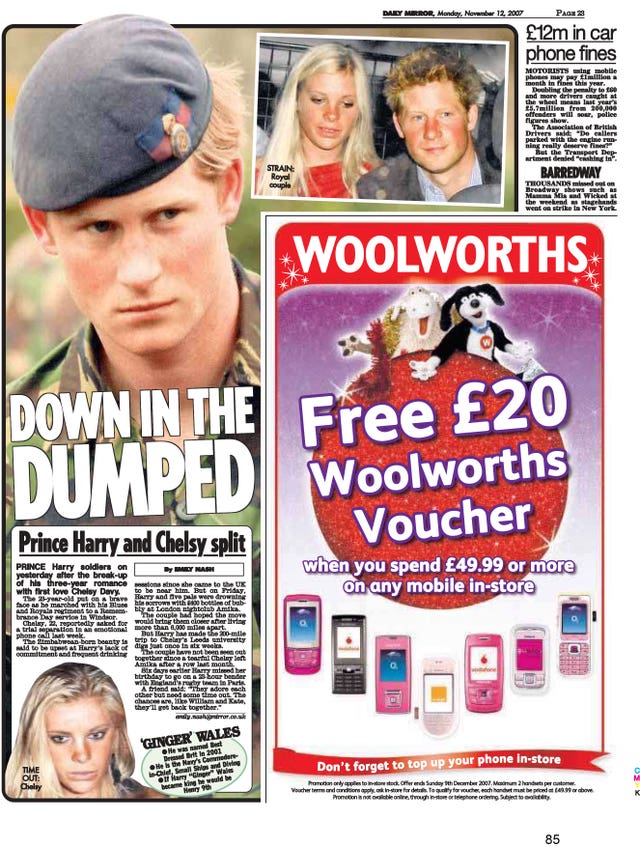 Mr Green asked if, before he spoke to lawyers, he had concerns over any particular articles being the result of unlawful activity.
Harry said: "No, I was never shown anything. It was all contained within the palace." He added that even if he had been shown anything, he "would not have been allowed" to make a complaint.
Harry replied: "I think that is a question for my legal team. There is hard evidence to suggest an incredible amount of suspiciousness and I believe that burner phones were used extensively."
When asked if there was a particular voicemail which he believes was intercepted, he answered: "I can't remember a specific voicemail that I left over the last 20 years."
1.49pm
Before the lunch break, the Duke of Sussex spoke about "feeling down or frustrated" with his then-private secretary over decisions related to his deployment to Afghanistan.
Harry's claim against MGN includes complaints over information in a September 2008 People article which reported he had been "banned from going back to war".
Andrew Green KC, for MGN, told the court the duke had been earlier withdrawn from the conflict after an Australian journalist revealed his location and an American website broke an embargo over reporting where Harry was serving.
"This wasn't about your private life was it?" Mr Green asked of the People article.
Mr Green suggested the "well-connected" author of the article would have been able to source information in it.
"It's suspicious that so much is attributed to a royal source," the duke said, explaining his private secretary, Jamie Lowther Pinkerton, was someone he spoke to when he was "feeling down or frustrated about decisions being made".
In his written witness statement, the duke said it was "obvious that MGN commissioned inquiries to obtain private details about me using unlawful means".
Asked in court why Mr Lowther Pinkerton was not giving evidence in the trial, Harry said he had finished working "within the institution" and "preferred a quiet family life" after settling his own phone-hacking claim against News Group Newspapers.
1.11pm
The court broke for lunch just after 1pm, with the duke's barrister David Sherborne saying he expects to take about 10 to 15 minutes re-examining Harry after the break.
Andrew Green KC, for MGN, completed his cross-examination of the duke shortly before the lunch break.
1.04pm
Proceedings have halted for a lunch break.
12.50pm
The Duke of Sussex and his former girlfriend were "not sharing anything with anyone" amid a report she had asked for a "trial separation" in November 2007, Harry told the High Court.
The Daily Mirror article said Ms Davy "reportedly asked for a trial separation in an emotional phone call".
Andrew Green KC, for MGN, said information in the story had been previously reported by other media outlets.
The duke said quotes in the article "are attributed to friends", adding: "By this point myself and Chelsy were not sharing anything with anyone."