Rishi Sunak will use a trip to Washington to push for action on artificial intelligence (AI) regulation, seek greater economic co-operation and reconfirm Western support for Ukraine.
The Prime Minister will meet US President Joe Biden on Thursday in the White House but will also use his trip to meet senior business leaders and key political figures on Capitol Hill.
Mr Sunak wants the US and UK to be at the forefront of a new era of economic co-operation, in the same way they have led on defence through the Nato alliance.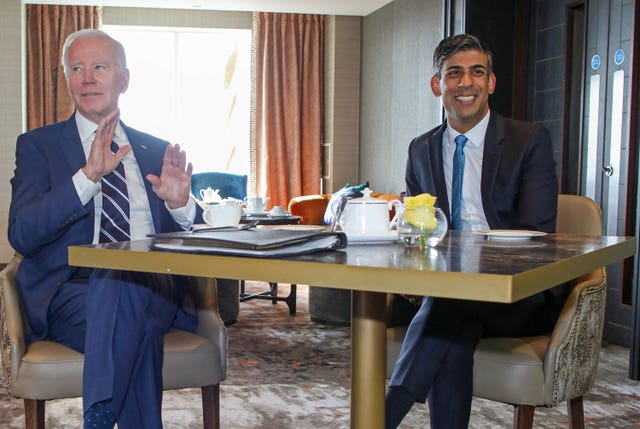 "As the challenges and threats we face change, we need to build an alliance that also protects our economies.
"Just as interoperability between our militaries has given us a battlefield advantage over our adversaries, greater economic interoperability will give us a crucial edge in the decades ahead.
"By combining our vast economic resources and expertise, we will grow our economies, create jobs and keep our people safe long into the future."
One of the key issues on the agenda will be AI, with countries around the world grappling with the emerging technology.
Stark warnings about the risks it could pose have come from leading tech experts, including Matt Clifford, who is advising the Prime Minister on the development of the UK Government's Foundation Model Taskforce and has cautioned that AI could have the capability to be behind advances that "kill many humans" in only two years' time.
The Prime Minister's official spokesman said: "We are seeing AI companies show significant investment into the UK. And we think our approach on regulation, which is agile and able to adapt with the fast pace of this technology, makes the UK well placed to take a leading role here.
"So that's something we will want to discuss. Clearly, this is not something that can be achieved unilaterally.
"And we think there is scope to have further discussions with our partners and like-minded allies on what can be done."
Despite the risk of being shut out from conversations between the two main Western economic powers – the US and EU – the UK Government believes that the post-Brexit break from Brussels gives it greater freedom to act quickly.
Mr Sunak, who will stay at the President's guest house, Blair House, during the trip to Washington, will also push for greater business links with the US, although hopes of a full free-trade agreement have been shelved.
The UK pointed to £14 billion of US investment in the UK since October 2022, including £9 billion from financial firm Blackrock plus projects including World Fuel Services and Meld's green hydrogen facility in Hull, a new Mars facility in the London Gateway Freeport, expansions of BNY Mellon and Vanguard's Manchester offices and a new HCA Healthcare facility in Birmingham which, between them, will create almost 2,500 jobs.
The Prime Minister will meet business leaders at a Washington Nationals baseball game on Wednesday – although, despite speculation, he will not throw the ceremonial first pitch – and will also address CEOs at the Business Roundtable forum on Thursday.
He will hold talks with senior figures in the House of Representatives and Senate on Wednesday.
The Prime Minister's talks with Mr Biden will cover the ongoing support for Ukraine as it launches its counteroffensive against the Russian invasion, with extra air defence measures likely to be considered.
Mr Sunak could also use the trip to lobby for Defence Secretary Ben Wallace to be handed the job of leading Nato when Secretary General Jens Stoltenberg steps down at the end of September.
The Prime Minister's talks with Mr Biden will be the fourth time the pair have met in as many months.