Inspections and searches have been continuing of the sightseeing boat at the centre of the investigation into the death of two youngsters who got into difficulty in the water off Bournemouth beach.
The Dorset Belle has been impounded by Dorset Police after the incident on Wednesday in which a 12-year-old girl from Buckinghamshire and a 17-year-old boy from Southampton died.
Another eight people were treated by paramedics.
A man in his 40s who was "on the water" at the time was arrested on suspicion of manslaughter, and was released under investigation on Thursday while police inquiries continue.
On Friday the 49-year-old sea-going passenger boat Dorset Belle remained at anchor at Cobb's Quay, Poole Harbour, guarded by a police van.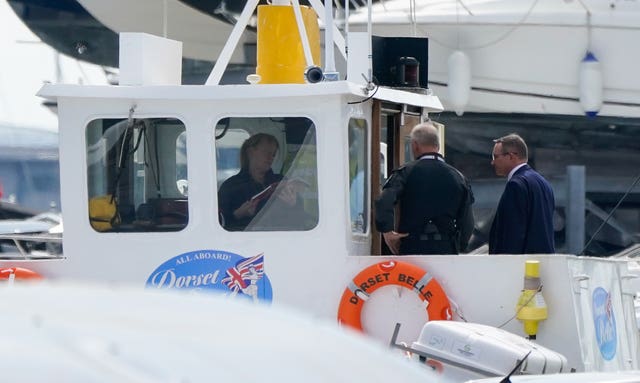 According to the website Marine Traffic, the vessel had visited Bournemouth Pier, the scene of the incident, at 4pm, minutes before the first 999 calls were made, and returned again afterwards.
Dorset Police said no physical contact was made between the swimmers and any vessel or jet-ski and those involved had not been jumping off the pier.
A spokesman for Bournemouth, Christchurch and Poole Council earlier told the PA news agency: "We do not license this boat."
The authority's website says: "Any person who wishes to be in charge or navigate a pleasure boat/vessel, including Poole Harbour and Christchurch Harbour, for the purpose of letting it out for hire to members of the public, or to be used for carrying passengers for hire, must obtain a licence from us."
A council spokeswoman added: "Concerning the Dorset Belle, the MCA (Maritime and Coastguard Agency) is responsible for issuing licences to operate vessels of this size and capacity.
"BCP Council does not issue licences for vessels of this nature to operate in open water.
"We apologise and acknowledge that the website doesn't make this clear."
Dorset Police have declined to comment on any investigation into the Dorset Belle and refused to say what or if any vessel was involved
He said: "There needs to be a review, the police are conducting their investigation, there needs to be a review of the circumstances to see whether any safety measures and protocols need to be upgraded to ensure this doesn't happen in the future.
"I encourage Dorset Police to clarify the general circumstances of this tragic accident to avoid further wild speculation and uncertainty for parents who may be cautious about going to any part of the beach, unclear of exactly what happened in this terrible incident."
The vessel's website states that it was purpose-built as a passenger boat to operate locally and could "cope with the occasional challenging swell conditions encountered at local piers".
Eyewitnesses have suggested that the swimmers had got caught up in a dangerous riptide leading to the fatal incident.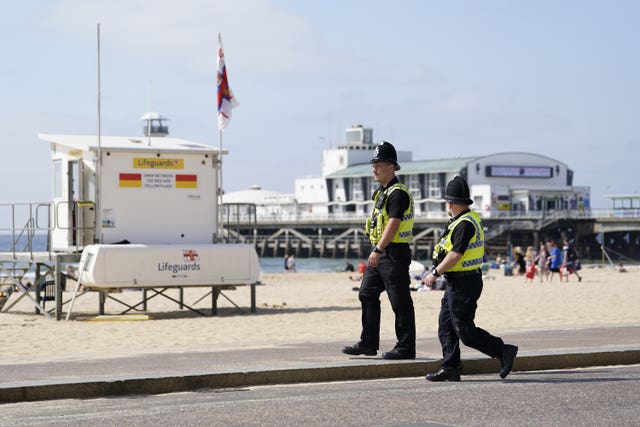 The local authority's website states that from April to October, yellow marker buoys are set out 200 metres from the low water mark to indicate that watercraft must not "go beyond six knots, annoy or endanger other beach users or run ashore or launch from the beach."
The nearby Boscombe artificial reef has the speed limit all-year round.
Cllr Slade said: "There is no evidence to suggest any of those rules have been breached.
"We are confident with our partners that any lessons that need to be learned in the future will be learned."
The council released a statement saying: "While the cause of last Wednesday's tragic incident is still being investigated, safety is our priority and as a matter of course after any sort of incident, we work with our partners to review safety provision.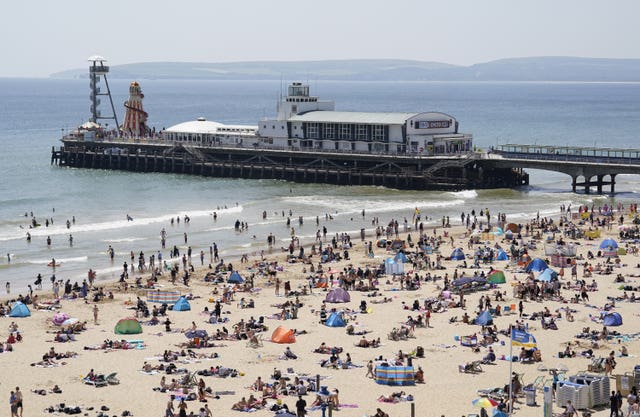 "All coastal waters have inherent risks that change with tide and weather conditions, changes to the seabed etc.
"We work with other agencies to assess the risks and put safety measures in place, such as RNLI lifeguards, safety signage and restricting the use of boats close to shore. Lifeguards assess local conditions throughout the day and react accordingly.
"We want anyone visiting our beaches to enjoy them in safety, so are asking people to follow the RNLI's beach safety advice:
"Choose a lifeguarded beach and swim between the red and yellow flags, check the weather and tide times before you go.
"If you get caught in a rip current, don't swim against it – instead, relax and float until you are free from the rip, then swim to safety.
"If you find yourself in danger in the water, relax and float.
"If you see anyone in trouble in the water, call 999 and ask for the Coastguard."
Dorset Police has said they are working with the Marine Accident Investigation Branch and the Maritime and Coastguard Agency to investigate the incident.