Parts of Scotland are in a state of water scarcity while southern England has seen above average rainfall, according to Met Office analysis.
Spring has seen slightly above average rainfall across the UK as a whole but this masks strong regional differences, meteorologists said.
The Scottish Environment Protection Agency (Sepa) has announced a water scarcity alert for many parts of the northern Highlands and the Outer Hebrides, as well as parts of the Scottish Borders.
A moderate scarcity alert is in place around Loch Maree – only one step way from the most serious category – with almost every other Scottish region in an early warning state.
March was very wet in England with Cambridge, Dorset and Norfolk all saw above average spring rainfall.
It is the driest spring in northern Scotland since 2018, the Met Office said, with Inverness and Sutherland recording just under two-thirds of their expected rainfall.
"Initially, there were early warnings of water scarcity in the north and west of Scotland with rainfall and river flows low for the time of year. But in recent weeks we have experienced more rapidly drying conditions and river levels are now very low across much of Scotland.
"We have already issued alerts for water scarcity in the north-west and south-central areas, and with little rain in the immediate forecast we expect the situation to escalate quickly and extend across a much wider area in the coming weeks. Sepa will continue to report weekly on the emerging situation."
Across the UK, the mean average temperature for the spring was 8.36C, only slightly above the long-term average between 1991 and 2020, though this season has been only one of three since 2000 when the warmest day of the year so far has exceeded 25C on May 29 or later.
The warmest locations for mean temperature were across Scotland, northern England and Northern Ireland, with some locations seeing 1.4C above the average for 1991-2020.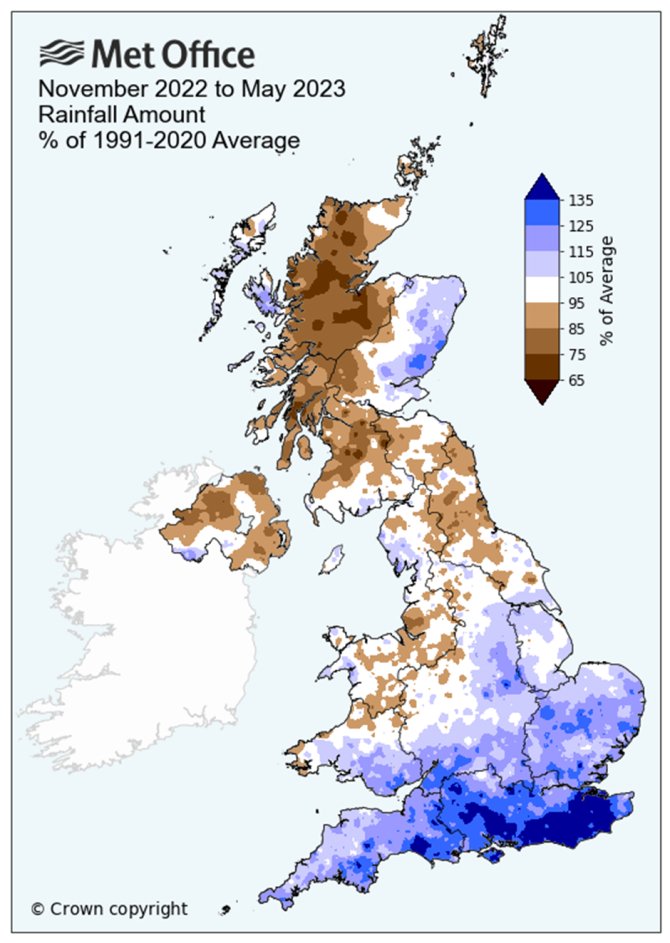 In May, Manchester had only 39% of its average rainfall for the month making it the driest area of England compared with the average.
Across the UK only 55% of expected rainfall was recorded in May, making it one of the driest Mays in recent times, the Met Office said, though the one in 2020 was even drier.
Orkney saw the least amount of sunshine hours in May, only 95, half of what is expected. Cornwall saw the most for May with 289.5 hours, which is 137% of the average.
Mike Kendon of the Met Office's National Climate Information Centre said: "Although mean temperature for May has been above average, it is notable that we haven't seen any particularly significant peaks of above-average temperature especially during the second half of the month."