A 15-year-old girl has died after swimming in a reservoir in Merseyside, police have said.
Emergency services were called to Carr Mill Dam in St Helens at 12.30pm on Thursday after reports of a concern for safety for a teenage girl who had "got in distress" while swimming with friends, Merseyside Police said.
Reading a statement to reporters at the scene, Chief Inspector Paul Holden said: "Upon their arrival at the scene, officers entered the water in an attempt to find the teenage girl.
"They were joined by officers from Merseyside Fire and Rescue Service.
"Unfortunately, despite their best efforts, the search culminated in the recovery of the girl's body."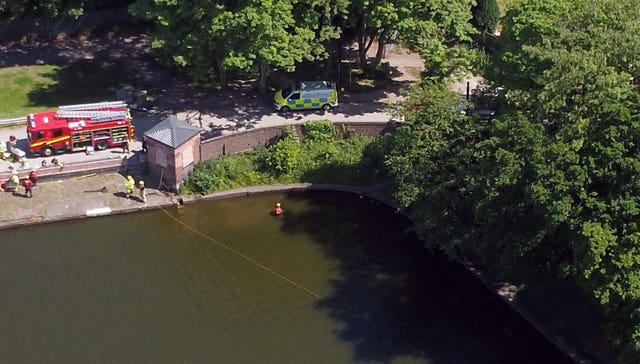 Adele Laitak, 50, from Liverpool, said she had been walking around the dam when she heard shouting.
She told the PA news agency: "I heard a girl shouting. It sounded like she was in distress but we couldn't see anything from where we were. As we came round, we saw fire engines.
"It sounded to me like she was saying 'help' but because we were over the other side of the lake we didn't know if it was just kids messing around.
"A police lady who was at the edge of the lake said a child's gone missing and some women told us two children had gone into the water but one had managed to get out."
A man who had been walking his dog in the area said: "Three police officers went into the lake, we saw one of them afterwards and he was wringing wet.
"The helicopter has been up as well.
"It's such a nice day and people are just attracted to these natural beauty spots."
"We know how tempting it can be to cool down in the water on a hot summer's day, but we want to ensure that young people are equipped with the right knowledge to keep them safe around water."
Police vehicles, including an underwater search van, ambulances and fire engines were parked in the car park of a nearby pub as the search took place. A large area was cordoned off to the public.
Officers could be seen patrolling the path around the dam.
A force spokesman said the death was not being treated as suspicious and a file would be prepared for the coroner.
St Helens area manager for Merseyside Fire and Rescue Service Kevin Longshaw said: "Firefighters in water kit entered the dam to search. They were assisted with an airborne drone and an underwater drone.
"Working jointly with our police and ambulance colleagues, we were able to establish the location of the young person and tragically were able to confirm that a body was recovered shortly after.
"Our thoughts are very much with the family and all those affected by this tragic incident."