Rail passengers are suffering fresh travel disruption because of more strikes in long-running disputes over pay, jobs and conditions.
Members of the drivers' union Aslef walked out on Wednesday, meaning several operators such as Avanti West Coast, CrossCountry, Northern and Thameslink are running no trains.
The Rail, Maritime and Transport union (RMT) has called a strike on Friday, while another Aslef walk out will take place on Saturday.
Passengers are being advised to plan ahead and check the times of first and last trains.
"If you spend months in a room, tell people things aren't acceptable to you, then they produce a deal that contains those things then they are setting the deal up to fail.
"That is a deliberate act on behalf of both the Government and the people that we're dealing with.
"They do not apparently want a resolution."
He added: "They seem to want (a) thousands of percent productivity (increase) for a 20% pay cut."
The strikes are affecting 15 train companies.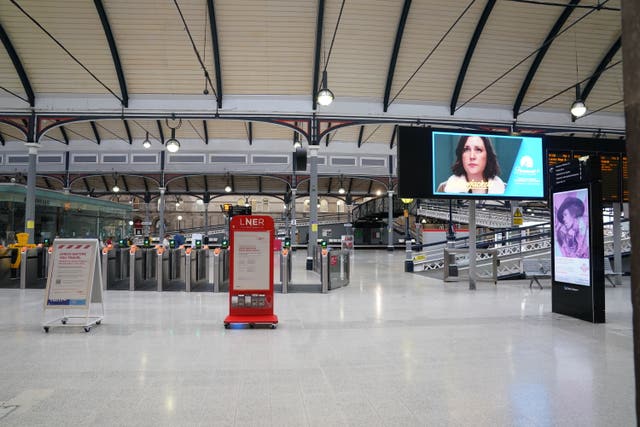 On the RMT strike day on Friday, around 50% of normal services will run.
Evening services on some lines are being affected on the days before each strike.
Aslef also starts an overtime ban on Thursday that could cause disruption, especially in and out of London.
She said: "I have to wait an hour for my train so all my patients will have to wait.
"Whatever the reason is for strikes, they shouldn't affect working people who can't change their situation.
"It's affecting my patients because they are from different parts of the UK and many are elderly.
"I'll try to work late if patients are happy to wait but others might have other things to attend.
Another delayed passenger at Paddington, Uwe Kraeker, 60, an accounts director from Freiburg, Germany, said: "I just cancelled my meeting with my colleague in Newport.
"I was supposed to get the train at 7.48am but it was cancelled.
"It's pretty frustrating.
"I understand people fight for better working conditions and wages but when they strike on public transportation they take the rest of the country hostage."
Industrial action will affect football fans travelling to London for the FA Cup final between Manchester City and Manchester United on Saturday at Wembley Stadium.
Fans wishing to travel to the game by train from Manchester are being advised not to attempt to do so on the day.
There will be a limited service on Friday due to the RMT industrial action.
Industrial action on Saturday will also affect more than 100,000 people travelling to the annual Epsom Derby as well as fans attending Beyonce's Renaissance world tour concert at Tottenham's stadium and cricket fans travelling to watch the England v Ireland Test match at Lord's.
"It will also inconvenience families who have been looking forward and have planned their half-term holidays. It will also further burden our people who have already lost thousands of pounds at a time of financial strain.
"We understand the impact of these strikes on individuals and businesses alike, and we can only apologise for this unnecessary and damaging disruption.
"While we are doing all we can to keep trains running, unfortunately there will be reduced train services between Wednesday May 31 and Saturday June 3, so our advice is to check before you travel.
"Passengers with advance tickets can be refunded fee-free if the train that the ticket is booked for is cancelled, delayed or rescheduled."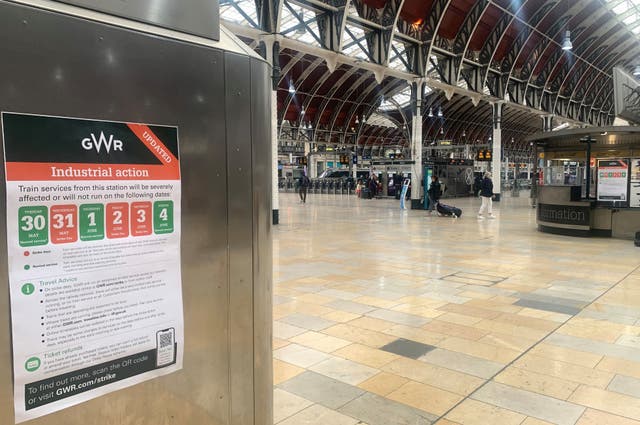 Officials say support for industrial action remains strong among workers as well as the public.
Aslef says train drivers have not had a pay rise for four years.
Both unions claim the Government is preventing the train companies making an acceptable offer, which ministers deny.
A DfT spokesperson said: "These strikes have been co-ordinated by union leaders to disrupt passengers in a week which will see major events such as the first ever all Manchester FA Cup final, the Epsom Derby and a number of concerts and festivals across the UK.
"Not content with impacting the hundreds of thousands of people who have looked forward to these events all year round, unions are also targeting their own members' pockets by forcing them to miss out on pay every time they strike.
"The Government has facilitated a fair and reasonable pay offer, now union leaders must do the right thing and put this to their members."