There were signs on Tuesday that the rapidly rising increase in the price of food may have reached its peak as a survey of prices in shops suggested they fell between April and May.
Food inflation fell to 15.4% in the year to May, according to a survey by the British Retail Consortium (BRC) and Nielsen.
It was down from 15.7% in April.
It is still an incredibly high figure, meaning that a person who spent around £20 in a food shop a year ago would now be paying a little over £23 for the same items.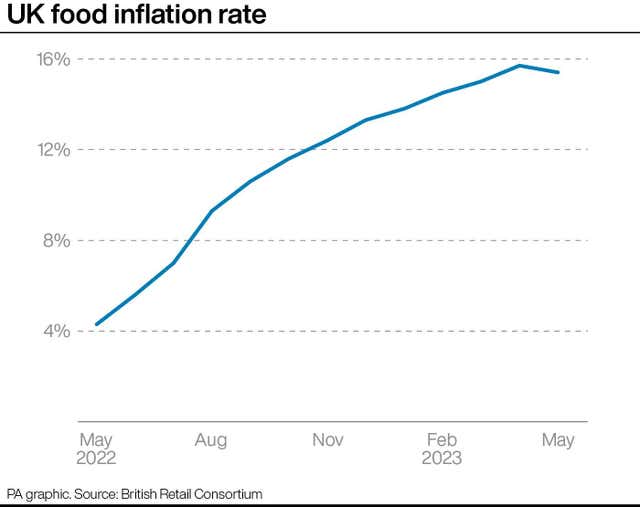 Although May's figure is a little lower than the food inflation seen in April, it is still the second fastest annual increase the BRC has ever measured, it said.
It added that the price of fresh food increased by 17.2% in the year to May, down from 17.8% in April.
However, ambient food inflation – that is to say shelf-stable items that can be stored at room temperature – rose from 12.9% in April to 13.1% in May.
Overall inflation in shops rose from 8.8% to 9% between April and May, the BRC said, an all-time high.
"The slow in inflation was largely driven by lower energy and commodity costs starting to filter through to lower prices of some staples including butter, milk, fruit and fish.
"Conversely, the price of chocolate and coffee rose off the back of the ongoing high global costs for these commodities. While non-food inflation rose, consumers are benefiting from heavy discounts in footwear as well as books and home entertainment.
"Fierce competition between supermarkets has helped keep British food among the cheapest of the large European economies.
"While there is reason to believe that food inflation might be peaking, it is vital that Government does not hamper this early progress by piling more costs onto retailers and forcing up the cost of goods even further.
"The biggest risk comes from policies such as the incoming border checks and reforms to packaging recycling fees."
Mike Watkins, head of retailer and business insight at NielsenIQ, said: "To help mitigate the impact of inflation, shoppers are saving money by looking for seasonal promotions on the high street and taking advantage of the price reductions offered by supermarket loyalty schemes.
"Food retailing in particular is competitive, so hopefully the recent price cuts in fresh foods is a sign that inflation has now peaked, albeit ambient inflation may take a little while longer to slow."