Health Secretary Steve Barclay has insisted Boris Johnson has a "huge role to play" in politics and should remain an MP after the next general election.
His backing comes after the former prime minister hit out at the Cabinet Office for handing over information to police relating to further potential lockdown breaches during his premiership.
Mr Barclay, who was appointed Health Secretary by Mr Johnson after Sajid Javid dramatically quit the role and helped trigger a wave of resignations that ended in his downfall, defended his former boss on Sunday.
Asked on Sky's Sophy Ridge On Sunday show whether the former prime minister was "toast", he replied: "No, I think Boris has a huge role to play. We saw his leadership in the country's response to Ukraine where he took the lead on that."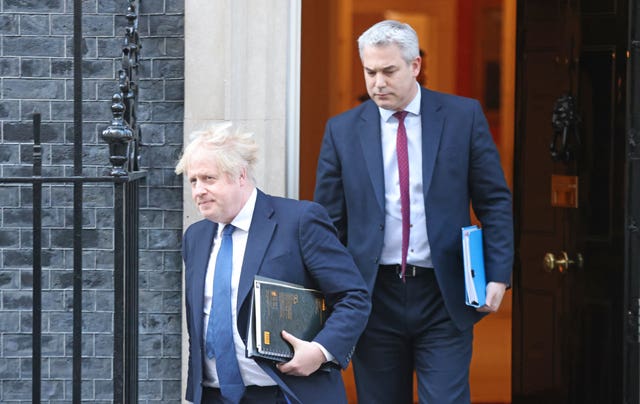 MP Andrea Jenkyns, a Johnson loyalist, denied the Conservative Party is "falling apart" after questions surrounding the former prime minister's time in Downing Street once again dominated headlines last week.
"I'm sure on the Labour Party's WhatsApp you get people who are happy, not happy, and it's been very leaky for the eight years that I've been an MP so that's politics," she told the same programme.
Mr Johnson appeared flustered when he was approached by Sky News at an airport in Washington DC on Friday and quizzed about entries from his ministerial diary which have been referred to two forces.
The Times, which broke the story, reported the documents show visits by friends to Chequers – the prime minister's grace and favour country residence – and further events in Downing Street.
Asked what the entries reveal, he replied: "They merely record events in my day."
"This whole thing is a load of nonsense from beginning to end … I think it's ridiculous that elements in my diary should be cherry-picked and handed over to the police, to the Privileges Committee without even anybody having the basic common sense to ask me what these entries referred to," he said.
The new information came to light during a review by Government-funded lawyers ahead of the Covid public inquiry.
Mr Johnson has since announced he is severing ties with his legal team and seeking new lawyers, which the Sunday Mirror reported could cost taxpayers up to £1 million.
A department spokesman said there is an "established precedent" that former ministers may be supported with legal representation when matters relate to their time in office.
The Cabinet Office said ministers played "no role" in the decision-making process behind the police referrals, while Mr Johnson believes he is the victim of a "politically motivated stitch-up".
But, as reported by the Sunday Times, Paymaster General Jeremy Quin is understood to have approved the handing over of documents to the Privileges Committee investigating whether Mr Johnson lied to Parliament over partygate.
The fallout adds to the problems confronting Prime Minister Rishi Sunak, who was handed a fixed penalty alongside Mr Johnson over the June 2020 event and now faces unrest from the former prime minister's allies.
Labour leader Sir Keir Starmer has said he believes the public is "fed up to the back teeth" with stories about the former prime minister.
"These are deeply personal things and increasing revelations about Boris Johnson, I think, just add to that sense of hurt and people are fed up with it," he told broadcasters on Friday.
"I do think there are questions now about why have these allegations not come out before, all these allegations."