Family members have paid emotional tributes to one of the last black RAF servicemen to have fought in the Second World War following his funeral at a historic central London church.
Flight Sergeant Peter Brown died aged 96 at his home in Maida Vale, west London, in December last year.
Mourners flocked from far and wide to pay their respects, with relatives Brooke Alexander and Myrtle Gutzmore travelling more than 4,000 miles from Jamaica.
Speaking outside the church, Ms Gutzmore, 91, whose husband Isiah, 96, is the last remaining cousin of Mr Brown, said: "I am really happy to know that so many people turned out.
"He lived his life and he served his country, and that is very important."
Meanwhile, Rachel Ramsay, a distant niece of Mr Brown, described the occasion as "surreal" and "amazing".
She attended the funeral with her mother, Natalie Ramsay, 96, who shared a great grandfather with Mr Brown.
Ms Ramsay, from Luton, said: "My mum's very big on history, so she's always told me about her uncles and her cousins that perished in the war. So now we're actually seeing this in real life."
Cards that could have helped track down his family were cleared out soon after police decided the death was not suspicious, The Sun reported.
But after a council appeal to trace his relatives was picked up by historians, military researchers, genealogists, community groups and the media, there was a surge in requests to attend from well-wishers.
During the military service, Air Chief Marshal Sir Mike Wigston gave a reading, while music was provided by the Band of the Royal Air Force Regiment – the first band to play the Royal Salute at the King's coronation.
Mr Brown's coffin was draped in a Union Flag, on top of which lay flowers, an RAF service dress hat and a cushion bearing his two military medals.
Mr Brown, who was born in Jamaica in 1926, enlisted in the RAF Volunteer Reserve in September 1943 and became one of the so-called "Pilots of the Caribbean" – carrying out missions on Lancaster Bombers as a radio operator and air gunner.
He is one of, if not the last, among this group to have passed away.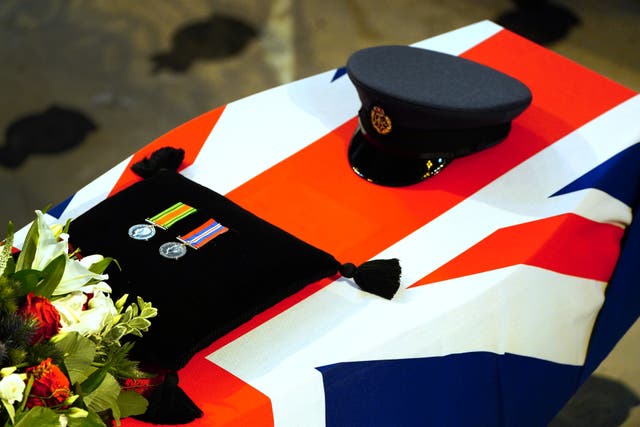 Family members were joined by representatives from Caribbean community organisations and those who helped trace his relatives.
Reverend Michael King, son of the Windrush Foundation founder Sam King, said the service reflected Britain's "rich history".
He said: "My father Sam King came on the Windrush. Ninety-five per cent of them were ex-RAF. They were military heroes and veterans come to rebuild the mother country as volunteers, just as Peter did.
"Today reflects the contribution these heroes have made and helps us understand the rich history of this nation."
Retired Major Johanna Lewin, 64, chair of the Jamaica Branch of the Royal Air Forces Association – who helped track down Mr Brown's family, said: "Today is a celebration of Peter's life and his service, and it's symbolic of those African and Caribbean servicemen who to a large extent are forgotten."
Celebrities including Top Boy actor Michael Ward, Holby City actor Colin McFarlane and Coronation Street actor Trevor Georges also came to pay their respects.
Mr Georges said: "As a youth I was actually going to join the RAF. I was in the cadet force. But at the last minute, for various reasons, I changed my mind and decided to become an actor.
"When I heard about Peter, I thought it was a very sad situation and I had to come to pay my respects."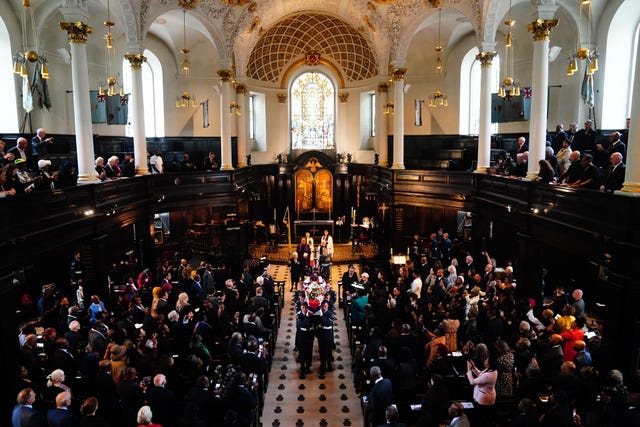 Mr Campbell, who served in the RAF for 36 years, added: "I wish I'd known about people like Peter because it would have given me the confidence to say, my forebears fought for this country, some of them died, so I have a right to be here.
"There are so many Peter Brown's out there whose stories are of benefit to future generations."
Westminster City Council leader Adam Hug said: "The national response to Peter Brown's story has been overwhelming.
"The details of his life and subsequent search for relatives have truly captured the public imagination and moved people around the world."
Sir Mike Wigston said: "Flight Sergeant Peter Brown epitomised the selfless commitment of the generation who fought for our freedom in the second world war. Their courage and resilience is an inspiration to us all.
"We mourn his passing, but I am very proud the Royal Air Force has been able to provide a fitting tribute to one of our own."